Well it was another tempestuous week here in the Linux blogosphere, thanks not just to the ongoing controversy over Systemd, but also the apparent arrival of DRM on none other than our favorite free and open source browser.
"Mozilla holds its nose and supports DRM video in Firefox" is Linux Girl's favorite headline of the lot; "Can This Web Be Saved? Mozilla Accepts DRM, and We All Lose" is a close second.
It's an emotional subject, no doubt. Luckily, we here in the blogosphere have a time-tested remedy for getting through tough times: Namely, when the going gets tough, the tough turn their attention instead to the merits of their favorite Linux distributions. As if on cue, the new Linux Voice magazine was there to oblige.
'Do You Plan to Stick With It?'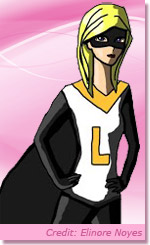 "We all have our favorite distro(s), so here's an opportunity to tell the world about your pick of the bunch," the Linux Voice article begins.
"What made you choose it? Did you come across it by accident, or was it recommended to you?" the introduction reads. "Have you been running it since your first forays into the world of Linux, or is it a more recent discovery? And do you plan to stick with it for a while?"
More than 80 comments appeared on the article in short order. Down at the blogosphere's rowdy Broken Windows Lounge, FOSS fans didn't need a second invitation to add their own.
'For a Long Time I Hopped Distros'
"I use Kubuntu, and have for a number of years now," Google+ blogger Kevin O'Brien told Linux Girl. "I prefer KDE to other desktops, I prefer Debian packaging to RPMs, and what distro better combines those two?
"It is a polished and very usable distro that lets me sit down and do my work without a lot of fiddling around," O'Brien added. "I want to work with my computer, not on my computer."
Linux Rants blogger Mike Stone was "really lazy" about his choice of distro, he said.
"For a long time I hopped distros on a regular basis, and my primary system was in a constant state of flux," Stone explained. "After my second child was born, I found that I was having less time to play around with my computer like I used to, and I wanted my computer to be ready to use."
'I've Changed DEs Many Times'
Stone's solution?
"I went with easy-to-install and -use Ubuntu 12.04," he said. "It had an additional advantage being an LTS version, so I knew that I would have support for quite a while.
"Since then, I've changed out my DEs many times, but I've stuck to the same basic installation," Stone noted. "Even now, with 14.04 out and 14.10 on the horizon, I don't currently have any plans to move to a new version. Maybe when I get a new computer."
Consultant and Slashdot blogger Gerhard Mack had similar motivations.
"I used to love distros that let me do everything myself, but when I started my first full-time job and was left with 20 servers, I quickly saw the logic of Debian, where the package manager just works," he said.
'A Rich Combination'
"I basically use two different distros for different things: For my laptop, I use Fedora; for our hosting at Efficito, we use Debian," explained Chris Travers, a blogger who works on the LedgerSMB project.
"For the hosting business, Debian is the obvious choice, as it is flexible in ways that most other distros are not due to backports, and it has long-term stability; the community is really amazing," Travers explained.
"When I first got started using Linux back in 1999, though, I tried a bunch of distros: SuSE, Caldera, Slackware, Debian, etc.," he recalled. "I settled on Red Hat because it seemed at the time the easiest for me to learn. I think I started with Red Hat Linux 5.2 and worked my way forward."
Then, "as the Red Hat Linux distribution evolved into Fedora, I went with it," he added. "Using Fedora and Debian on a daily basis means I get to stay familiar with both Debian-like distros and Red Hat-like distros. It is a very rich combination."
'I Ended Up Liking the Debian Way'
Google+ blogger Gonzalo Velasco C. also taps more than one option.
"I've been playing around with many distros since the late 90's," he told Linux Girl. "For different reasons, not all of them in my control, I ended up knowing and liking the Debian way and used many derivatives: Knoppix, Kurumin, Poseidon, Ubuntus and now SolydXK. I chose this one for being stable yet modern and semi-rolling."
Also part of Gonzalo Velasco C.'s arsenal across some 20 machines is PCLinuxOS — "also rolling, solid and polished," he said. "For older hardware I use Xubuntu LTS and GALPon MiniNo."
'Til Death Do Us Part'
Blogger Robert Pogson is a particularly devoted Debian fan.
"In my readings I found many wrote that Debian was 'hard to install' and had a terrible installer," he told Linux Girl.
After trying out Ubuntu and getting "bitten" with some inter-package tweaks that broke his installation, however, he switched to Debian, "which has policies against breaking things.
"I never found the installer the least bit difficult to use because I can read and I can type," Pogson asserted. "I love APT. It's the greatest thing since sliced bread once you figure out what repositories and flavors are. From then on it was smooth sailing and I have never been tempted to roam again."
Pogson's "relationship with Debian has been solid for 7 years now," he added. "I've had more arguments with my wife in a month than I've had with Debian in all that time."
Though he does diverge from Debian on the issue of non-Free firmware for devices in the installer releases, "that divergence is akin to a loving couple disagreeing about which way the toilet tissue unrolls," he concluded. "It's not a deal-breaker. I expect to be close with Debian til death do us part."
'Reunited With My First Love'
Why did Google+ blogger Alessandro Ebersol choose PCLinuxOS? That's a long story, he told Linux Girl.
"Back in 2003, when I first studied GNU/Linux, my first Linux was Conectiva 8," he began. "It was a Brazilian distro that rocked! Light, fast, stable…"
Then, in 2005, "Conectiva was absorbed by Mandrake, and Mandriva was born," Ebersol recounted. "First, I thought it was great: All the good things from Conectiva and the financial backing of Mandrake. What could go wrong?"
Well, "it went wrong," he added. "Mandriva only got the talent from the deceased company and Mandriva was bloated, slooooow and heavy on resources."
In 2007 Ebersol came across PCLinuxOS and "it was like my first love, back into my life," he said. "I felt it was like Conectiva reborn. Everything that made Conectiva great was present in PCLinuxOS: Fast, small, light and very well-thought-out."
In 2010 Ebersol became a contributor to the distro; in 2012 "I started to make localized PCLOS versions," he said. Today, "I'm reunited with my first love."