My wife and I just completed a move from California to Oregon, and it was far less painful than it could have been, thanks to technology. It used to be incredibly painful to move. While a lot of the pain is still there, technology has advanced a lot since we last moved — about 18 years ago — and at least some parts of the process now are far easier.
For instance, with a little foresight, you actually can take your home phone numbers and saved programs with you. There is one Web service that will move all of your magazines and affinity cards.
Another thing you might consider is selling your house furnished. When I first started out, I tended to move every couple of years, and I rented my furniture. Moving was a matter of packing a couple of suitcases of clothing, a couple of boxes of stuff, and making maybe two car trips, if I had a small car. While I doubt I could ever go back to it being that easy, with current tools and modified behavior, it's possible to get pretty close.
I'll share some observations about our moving experience this week and, as always, I'll close with my product of the week.
Moving Your Phone Number
One of the most annoying parts of moving used to be that every way anyone knew how to get hold of you changed, and invariably you spent a ton of time getting people your new contact information. Well, with VoIP (Voice over Internet Protocol services), you can take your phone number with you. You just need to plan ahead.
I've mentioned the Ooma VoIP service before — largely because it typically is ranked the highest in voice quality. Many people don't know you can move your existing phone numbers to this service, and then you just take the Ooma box with you when you move. Presto, your phone numbers move with you.
Yes, it likely will mean you'll get sales calls for services hundreds of miles away from where you now live, but you probably didn't listen to those calls anyway. Now you have a great response — they likely don't provide service at your new location.
It can take up to two months to move the phone numbers — it took about three weeks for me — depending on how big a pill your current provider is, so you do need to plan ahead. Phone quality on Ooma is likely as good or better than you currently have, and,one of the advantages of VoIP is that it tends to cost a fraction of what a hard line costs.
You can end up saving a ton of money. I operate my business out of my home, so I have several lines. I was able to move them all to Ooma, so dealing with my phone numbers wasn't something I had to sweat during the move.
Change of Address
There are a ton of warnings about address change scams on the Internet, so we were really careful about the choosing a service. The site we fell in love with is Updater.com — it was created by someone who hated the moving process and wanted to fix it.
This one lets you forward your snail mail, update your accounts, schedule the connection of your utilities and services, search for movers, and share a moving announcement. This covers most of the basics, though you still have to download and file change-of-address forms for your taxes — something we almost missed doing.
The accounts include your magazines and affinity card accounts, but not your bank or credit card accounts. For safety, you really should do that account by account. Giving any third party access to those accounts would be incredibly dangerous.
You just have to remember which magazines you subscribe to and provide your current information so the publications can reconcile your old address, and presto — they get your new address. Since the post office is notified as part of this process, your mail is rerouted to where you are going.
I should note that even though we used a future date for our move, the post office appeared to start forwarding immediately, so be aware that the post office may not read the date of the move on the form.
Moving Your DVR Content
If you are using a cable service DVR, you likely have days of saved programs you haven't watched or want to watch again at some future time. Chances are, you can't take your DVR with you, because your cable provider wants it back. If you did take it with you, it probably wouldn't work in your new location.
However, you can move a TiVo, and it will work at your new location.
In fact, while we were trying to live in both houses, I picked up the low-cost TiVo Roamio OTA version — doesn't take a cable card and costs just US$49. Then I'd copy programming to it before packing the box and taking it with me to enjoy at the new house.
Once you program your primary TiVo to the new service — you'll likely have to swap out the cable cards — you are back up and running with minimal effort. You just have to put a bunch of TiVo Minis around your house, and all your old shows and movies are everyplace you are.
With Netflix, Amazon Prime and Hulu, I wasn't even sure I wanted to hook up a cable service, but I found it was only $10 more a month, given a bundle discount for the Internet, so I'm still plugged into it for now.
Leaving Your Furniture
Moving furniture isn't just a pain — it often leaves you with a bunch of stuff you then don't want to replace that really doesn't go with your new house. There's nothing high tech about this, but both we and the people buying our house sold our homes with the furniture in them.
In the Silicon Valley, in particular, a lot of people are buying their first homes or are coming in from out of the country and don't have furniture. One of the reasons your buyers bought your house may have been because it was so nicely staged with the furniture, wall coverings and accessories you likely bought over time to showcase unique aspects of your home.
Moving all this stuff is expensive. Further, the moving process tends to damage the furniture — and then it might not work well in the house you're moving to, which typically has different dimensions and architecture. While we love modern, only a handful of small pieces worked in both homes. The buyer of our home had a similar issue, and his buyer didn't have any furniture.
Not having to move the furniture made the move far less stressful and significantly cheaper. Plus, we were moving from a 4,000 sq. ft. house to a 2,700 sq. ft. house with far fewer rooms, meaning we'd have had to get rid of a bunch of stuff anyway.
In the end, we are pleased that the new buyers aren't destroying the look of the home we so lovingly created, and we don't have to deal with having to live with furniture that won't work or fit in our new home.
By the way, in both homes we have a lot of built-in furniture — like cabinets, desks and wall units — so we aren't even tempted to move it.
Wrapping Up
Moving is still a pain. It puts a lot of stress on a marriage, and the older you get, the more crap you tend to accumulate. (We've thrown away two good-size truckloads of things, on top of 10 or 15 trips to Goodwill). That's lots of crap.
We thought having a ton of storage space in our San Jose home was a benefit, but when you move, it is anything but that. We now vow to keep tighter control over what we store in our home in the future.
In the end, though, with tools like Ooma and Updater.com, and with practices like leaving your furniture behind and keeping your accumulated stuff to a minimum, a move can be pretty painless.

One of the things that helps a move, and — at least for me — makes the new place feel like home is having stuff that is familiar close at hand. Music can make a huge difference when packing and unpacking.
There is nothing faster or easier with regard to getting music around your home than Sonos, and it is amazingly quick and easy to set up a Sonos system.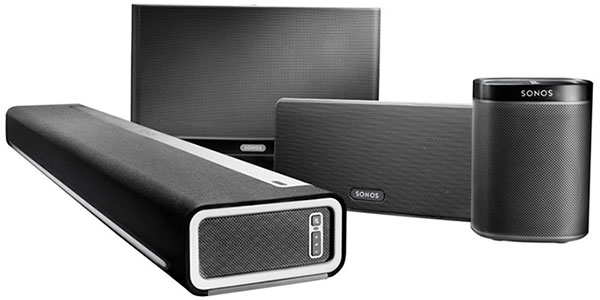 Sonos Play System
You log in to your accounts, plug in and sync the speakers or other endpoints, and then fire up the cellphone or tablet app, and you have a house full of music to work in, which makes the whole experience much better.
The sound quality is really good, the experience is amazing — particularly if you want every room playing the same song — and no one else can yet touch Sonos for reliability.
Granted, Sonos has been a tad slow with outdoor speakers, but our move would have been far more difficult if I couldn't put music almost everyplace I wanted it. As a result, Sonos is my product of the week.