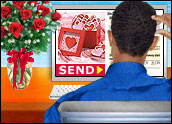 Well the Day of Love is safely behind us again for another year, and not a moment too soon!
For some it may be a joyous occasion — a time of bubbles, flowers and pink puffy pillows — but let's just say that sentiment is by no means unanimous.
No, for those of us at the other end of the introversion scale, Valentine's Day is fraught with anxiety, doubt and *way* too much time in the card aisle.
'More to Life Than Bash Scripts'
It's not often that geeks wax philosophical about the World of Amour, but HeliOS's Ken Starks was recently brave enough to venture into those treacherous waters — and treacherous they were.
"When Linux nerds choose mates from the Windows herd" is the title of Starks' post, and he paints a grim picture of the dating scene on the FOSS side of the fence.
"You come to realize that there is more to life than bash scripts and LAN parties with other Linux Geeks," Starks writes. "So you decide to put yourself back on the dating market. Where do you start?"
Neck beards, geeky pickup lines and — of course — the requisite request to fix a Vista computer are all involved, and let's just say the results aren't pretty.
Can Linux geeks succeed at dating? Bloggers fell all over themselves in their haste to add their two cents.
'Geeks Are People Too'
"Ken, you probably hit closer to home than many will admit," opined one anonymous reader in the HeliOS comments, for example. "You are right. The tech field whether it's linux or any other system is a horrible environment for the dating pool."
Then again: "Computer geeks are people, too — it is just that some re-wiring between the left and right sides of the brain is commonly in order," asserted Gavin. "There is no shame in that; there is only shame in never trying.
"After all, if Linux geeks in particular want someone to open their world to a non-Windows existence, they have to be willing to meet that person half-way," Gavin added. "Life, as in technology, is about compromises."
'Linux Geeks Are the Cutest Kind of Guys'
The conversation even enjoyed the benefit of a female perspective: "I personally happen to think linux geeks are the cutest kind of guys a girl can ever hope to find; and I know what I'm saying since I'm in an extremely happy, long-term relationship with one," chimed in Raluca. "Couldn't explain exactly why they're sooo nice — may have to do with the culture of sharing :)."
It didn't take long for the bawdy crowd over at LXer to pick up on the topic, trying to outdo each other with suggestive geeky puns and pickup lines.
Linux Girl's favorite: "being able to fsck all night long and on command," as first suggested by azerthoth.
No Wonder We're All Still Single'
At one point, tuxchick tried to restore order — "you know … this thread is beyond pitiful. No wonder we're all still single, living on Cheetos in our mom's basements," she wrote.
But her effort was soon overwhelmed.
Linux Girl knew it was time to take the conversation down to the Broken Windows Lounge, where she asked her barmates for some perspective. Is Starks' account true to life?
"Ugh. Ineptitude in social interaction and ineptitude in Linux proselytization in one package," was Hyperlogos blogger Martin Espinoza's assessment. "It's like a train wreck that's hit an orphanage."
'A Fancy Way to Get Your Darwin Award'
On the other hand, "my first thought was, 'Isn't that just a fancy way to get your Darwin Award without actually killing yourself?'" quipped Barbara Hudson, a blogger on Slashdot who goes by "Tom" on the site.
"I don't know, maybe I'm (more) different than I thought I was, but I just don't socialize with 'computer people,'" Hudson said. "I like being able to hang around with friends for an evening and not once mention computers, linux, Windows, the Intert00bs. I spend enough time with code as it is."
Bailey's and chocolate both figured much more prominently in Hudson's V-Day plans than did either Linux or Windows, she pointed out.
"There's a reason opposites attract," Hudson concluded. "Less common ground makes for more interesting conversations, and you can get to appreciate other people for who they are, rather than unconsciously dismissing them because they're not GPL-compatible."
'Smells Like a Stereotype'
Starks' article "smells like a stereotype," Slashdot blogger David Masover protested. "Why assume the Linux person is a guy, anyway?"
That said, "until fairly recently, it wasn't far off for me," he admitted.
Yet there's also something else absurd about the article, Masover added: "What would Linux have to do with it?
"I look for common interests," he explained. "Sometimes that's technological, sometimes not — sometimes purely physical. Certainly, to bring it up on a first date reeks of this."
So, "introducing her to the wonders of Linux and open source software comes much later in the relationship," Masover concluded. "If she ever asks me to fix her computer, Linux is almost certainly going to be involved at some stage."
'Normal Folks Just Aren't Like Us'
Slashdot blogger hairyfeet was downright sentimental.
"Brenda often says she doesn't know how come we work so well together when we are such opposites," hairyfeet began. "I am a bass playing computer nerd that loves the spotlight, she is shy and won't even get near a karaoke stage; I have been tweaking and building computers since the days of the VIC 20, she is lucky to know which button to push to turn it on; I am a vampire and she is my little daywalker.
"But I think that works in our favor," hairyfeet told LinuxInsider, "as she reminds me that normal folks just aren't like us geeks. Because of my sweetie I have really tweaked my optimization pack to be easier."
Using what he's learned in the relationship, in fact, hairyfeet has also changed the apps he gives to his customers, he said.
"Instead of CDBurner it is now IMGBurn," for example. "Picasa for managing photos, Open Office instead of Abiword, and Firefox set up with ABP and ForecastFox," he explained. "It is the little touches that she seems to appreciate, that just let her do what SHE wants without having to sit reading manuals all afternoon."
'Easier Than Making a Date'
Finally, for blogger and educator Robert Pogson, the love of FOSS makes it all worthwhile.
"I am too old for the love part, but I love GNU /Linux," Pogson told LinuxInsider. "I love the joy of being able to decide to do something and making it happen just as soon as apt-cache tells me the names of the packages I need."
In the end, he added, "apt-get install is much easier than making a date, as I recall."