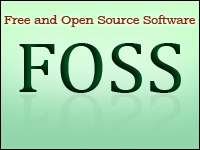 There's never a dull moment here in the Linux blogosphere, as Linux Girl has noted so many times before, but some weeks there's even less of a dull moment than usual.
Case in point: To "celebrate" the launch of Windows 8 just a few days before Halloween, activists from the Free Software Foundation played a little trick and handed out some treats at a launch event in New York City.
With a costume-clad "GNU" leading the effort, the FSF representatives handed out DVDs loaded with Trisquel along with FSF stickers and information about the group's new pledge, "which asks Windows users to upgrade not to Windows 8, but to GNU/Linux," the FSF explains.
Marketing genius or awkward attempt? That's what FOSS fans have been trying to decide.
'People Just Don't Care'
"Although their points are kind of redundant to techies, they do make some good ones," wrote blogger jhoeglon Slashdot, for example.
"Way to spread the word!" enthused Slashdot blogger colinrichardday.
Then again: "The word has spread. The problem is people just don't care," countered jellomizer. "It isn't like back in the 90's where people don't know about Linux and Open Source… They Do, they just don't care. They are willing to take the tradeoffs to get windows.
"The problem when you give people a choice, they will often choose something you don't like," jellomizer added.
'Seems Kind of Pointless'
Down at the blogosphere's Punchy Penguin Saloon, a similar mix of sentiments could be heard.
"Okay, exactly what did they expect to achieve by doing that?" mused Robin Lim, a lawyer and blogger on Mobile Raptor.
"Delivering a message that Windows restricts your freedom, invades your privacy and exposes personal data to a room full of journalist with Androids, iPhones and Windows Phones seems kind of pointless," Lim opined. "Most people are willing to give up some degree of access to their personal data, to companies they trust, so that they can give us better information and services."
In fact, "the Free Software Foundation seems out of touch with reality," Lim suggested.After more than a decade of Microsoft domination, and Apple and Google's rise in mobile, the world has not ended.
"People want alternatives so they can have competitive pricing," he concluded. "'Software Freedom' does not factor in. There is this thing called the Internet, you see, where people share all kinds of information about themselves; it doesn't work when everyone on it is anonymous."
'An Embarrassment'
Indeed, "sad and pathetic is what it is — a pitiful 'LOOK AT ME!!' that frankly the whole community should look on as an embarrassment," Slashdot blogger hairyfeet asserted.
"Linus posing by the Windows sign was just cute, snarky fun, but to go to all the trouble to make a GNU costume and show up at a Windows 8 launch? It makes the whole community look like losers," hairyfeet added.
Others, however, saw it differently.
'We Have to Get Noticed'
"I've heard that many people feel that this tact was immature, and part of me even agrees with them," began Google+ blogger Linux Rants. "It probably wasn't the most mature way of getting the message across."
Still, "unfortunately our current situation is that Microsoft has billions to spend on advertising their OS and Linux doesn't, so Linux users and corporations have to get their message out in other ways," he added. "Showing up at a Microsoft OS launch and telling people about a really great OS that's free, faster, and more secure is a good way of doing it, in my mind.
"We need to let people know that there's a better solution," Linux Rants concluded. "To do that, we have to get noticed, and the FSF's Trick or Treat certainly accomplished that."
'This Hit the Right Tone'
Similarly, "I like the fact that they approached this in a more light-hearted manner than the Free Software Foundation sometimes does," offered Google+ blogger Kevin O'Brien.
"I am proud to be a FSF member, but I sometimes cringe when they get a little too much 'holier than thou,'" O'Brien explained. "I thought this hit the right tone."
And again: "It is an interesting idea, and the Linux distro they used seems like a good one," consultant and Slashdot blogger Gerhard Mack told Linux Girl. "So it may do something positive to spread the word."
'The Last Unconquered Frontier'
Last but not least, "I think folks standing in line for that other OS make a dandy target for enlightenment about Free Software," opined blogger Robert Pogson. "After all, there are few salesmen pushing GNU/Linux by comparison. Concentrating one's meagre forces where they make the biggest effect makes sense."
Consumers are "the last unconquered frontier for Free Software," Pogson added. "It's about time there was a major breakthrough."
Both 2011 and 2012 have been "a breakthrough for consumers and Free Software on Android/Linux," he concluded. "GNU/Linux needs some opportunities as well."