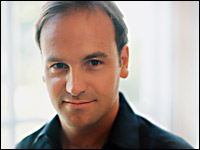 Canonical founder and CEO Mark Shuttleworth, developer of the Ubuntuopen source operating system, announced in December that he wasstepping aside to develop cloud product design and curry new partners.
He named Chief Operating Officer Jane Silber to take his place as CEO.Several weeks ago, Silber announced the hiring of open source industryveteran Matt Asay to fill her old job as COO.
Canonical, the London-based commercial sponsor of the Ubuntu Linuxdistribution, set high performance standards with its commitment fornew distro releases for its popular desktop and server editions everysix months.
LinuxInsider discussed with Shuttleworth the rise of adoption ofUbuntu Linux and how Canonical is adapting to the demands of winningconverts from other operating systems.
---

Listen to the podcast (27:20 minutes).
---
Here are some excerpts:
Linux Insider: Given the growing reach of the Ubuntu server and desktop editions, what do you see as the driving factors for their acceptance?
Mark Shuttleworth:
I think the most powerful drivers of the historicaland wonderful adoption rate of Ubuntu have been the combination of therelentless focus we've put into the delivery of the system and theterms under which we do it. On the delivery front we recognize thatthe distributions play an important but ultimately quite a humble rolein the formation of the open source ecosystem.
People think of Ubuntuas Linux, or Red Hat as Linux, or they think of Debian as Linux. Butactually the real work gets done in many upstream communities. Thedistributions get a lot of credit. And our focus has been to reallytry to serve those upstream communities well by delivering their codeto users on a very predictable schedule with the highest levels ofquality and integration.
So what that means to users is they get on avery predictable schedule a high-quality drop of the very best ofwhat's available from the open source ecosystem which they canembrace with confidence.
LIN: What about developers?
Shuttleworth:
For the developers it means that their code landson peoples' desks with us bearing the full brunt of interaction of endusers around that code. There is nothing stunningly insightful inthere. But by really focusing on the art of delivering a complete andeasy-to-use system, that represents the very best of what's going on inthe ecosystem and is quite impartial in its assessment of that. Ithink we've really given users something that they really want.
LIN: What will take Ubuntu to the next level?
Shuttleworth:
In terms of looking forward and breaking into newareas of production, we are seeing sort of a real shift in the waypeople think about at Ubuntu in two different environments.
On theconsumer front, we're seeing a shift in the way people think aboutalternative platforms to Windows amongst the PC companies. It used tobe a kiss of death to present yourself as a genuine alternative toWindows. But the success of the Web and the success of Apple havereally made the PC companies think that it is possible to offersomething that is perceived to be valuable even if it is not Windows.
So we're seeing a rapid ramp-up of the number of PCs that ship aroundthe world with Ubuntu, which is good for us. And those are going tofolks who are not Linux enthusiasts and are not Linux specialists. Soit has really raised the bar on the quality and crispness of theexperience you have to deliver in order to keep those people happy.