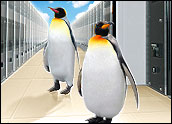 They say everyone has a story to tell, and certainly Linux geeks are no exception.
So it was with great anticipation that Linux Girl came upon an "Ask Slashdot" posting recently titled, "How Did You Become a Linux Professional?"
"I'm interested in taking my skills to the next level — and making a career out of it — but I'm not sure how best to appeal to prospective employers, or even what to specialize in (I refuse to believe the only option is 'sysadmin,' though I'm certainly not opposed to that)," wrote blogger ternarybit.
'What Do You Do?'
"Specifically, I'm interested in what practical steps I can take to build meaningful skills that an employer can verify, and will find valuable," ternarybit added. "So, what do you do, and how did you get there?"
Almost 300 comments and at least as many cups of coffee later, Linux Girl had a fresh understanding of all the many roads that lead to Linux.
Next, she put the question to her fellow diners down at the Linux blogosphere's Punchy Penguin Cafe.
'I Started Recreationally'
"It just kind of happened," began Google+ blogger Linux Rants.
"I started using Linux in the mid- to late-'90s, more recreationally than anything else," Linux Rants added. "I'd spent the better part of that decade doing Windows support. I used Linux because as a Computer Science student we developed on a Unix based system and I could use my local Linux system instead of having to dial in to my school servers."
After college, Linux Rants got a job doing development, again in a Linux environment.
'I Used the Best Tool'
"After a couple years, I went back to doing Windows Systems Administration," he told Linux Girl. "I took care of Windows servers running any manner of junk for longer than I care to admit, always with a little voice in the back of my head whispering, 'You could do this faster, cheaper, and easier in Linux'."
Meanwhile, "sometime during this window Linux had become my default OS on my main system at home and at work," Linux Rants recalled. "Eventually I left that job to take my current position, where I take care of a couple Linux servers, and do development (again).
"I didn't even set out to be a 'Linux Professional'," he concluded. "I used the best tool, and everything else came naturally."
'I Was Bored Out of My Mind'
Consultant and Slashdot blogger Gerhard Mack had a completely different tale.
"I was stuck in a boring town where it seemed like the only thing people did was drink themselves stupid or travel to Vancouver for fun," Mack began. "Since I can't stand cheap beer, don't like being drunk and didn't have enough money to travel to Vancouver regularly, I was bored out of my mind."
Mack's solution? Start a Linux help channel on an IRC network.
"I quickly gained a reputation for being a good place to get help rather than a place where the experienced people could spend their time laughing at 'newbies'," Mack explained.
'I Was Shown 30 Servers'
"A few times I had a programmer come in asking questions about how to fix servers, and in the end he arranged a talk with his boss," Mack recounted. "I moved across the country to Montreal, where I was shown 30 servers that no one had any idea how anything about them worked, since the old admin simply stopped coming to work one day.
"The nice thing was that just as I was wondering how to maintain my help channel with a day job, OpenProjects (now freenode) replaced me as the best place to get Linux help," he added.
In short, "between my admin experience and the things I learned working on IRC daemons and reading Linux-kernel, I've managed to keep myself working for most of a decade," Mack concluded.
'My Systems Just Kept Running'
"I became a GNU/Linux professional when that other OS could not keep five PCs running in my classroom for one hour in arctic Canada," blogger Robert Pogson told Linux Girl. "I installed GNU/Linux and had no problems for six months. While some organizations were reeling from waves of malware, my systems in schools just kept running."
A few years later, "I became a 'computer' teacher and taught students how to maintain PCs and to install GNU/Linux," Pogson added. "I set up labs, clusters and whole schools with GNU/Linux and had a lot of satisfaction in using hardware to maximum capability, not the limits of M$'s EULA."
"Switching to GNU/Linux was one of the best choices I ever made," he said. "I have not regretted it and have saved schools a lot of time and money while providing better performance. There's nothing that can be better by that other OS."
'I Started a Tech Support Business'
Last but not least, Chris Travers, a Slashdot blogger who works on the LedgerSMB project, told the story of yet a different path.
"I quit my job at Microsoft during the dot com crash due to family issues," Travers began. "When I was able to get back into the game there were few jobs available, so I started a tech support business, focusing on home users and small businesses."
Over time Travers "started to do more website management (I guess that counts) and some business support solutions backed by Linux," he explained. "I started hacking on code on these packages and pretty soon ended up doing it all the time.
"In the end I fell into building open source financial accounting software and doing database consulting, and most of my clients run Linux or *BSD," he said.
'There Is So Much Growth Possible'
Meanwhile, "I had supported shell accounts on a DEC Ultrix server back when I was in college, so when a friend of mine introduced me to Linux when I had started working as a temp at Microsoft, I took to it very quickly," Travers went on. "I was already comfortable at the shell and already understood where and when it was better than a GUI.
"As my short career at Microsoft progressed, I developed a reputation by everyone around me as the resident Linux geek," he noted. "I studied, and even took the LPI level 1 and 2 tests (2 was in beta when I took it) while I worked at Microsoft. Those tests were far harder than any of the Microsoft Certified Professional tests I had taken."
In any case, "by the time I left Microsoft, all of my own computers were running Linux and a lot of my time was actually spent trying to develop software on that platform; I wrote a basic CRM program which never really caught on, the functionality of which is still being slowly merged into LedgerSMB."
Today, "I love what I do and find I am still growing in this role," Travers told Linux Girl.
"Most of my software development happens on Linux, and I provide support for customers running on Ubuntu, CentOS, Slackware, Gentoo, and others, as well as *BSD," he said. "This is the wonderful thing about it: There is so much growth possible."