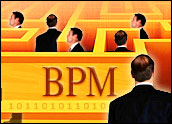 After more than 20 years of evangelization by vendors and consultants, many companies are now fully aware of the benefits of business process management and the value of business process management solutions (BPMS). These benefits include cost reduction through targeting inefficiencies, improvement of process quality, creation of better customer experience and higher customer satisfaction, and increased business agility.
However, the market for BPM solutions is dominated today by a few commercial vendors that generally provide their technologies to large accounts via lengthy, complex and expensive business and information system reengineering projects. This high-end positioning allows providers to charge a high price for their products — usually bundled with high-level consulting that is intended to change the customer's information systems organization from the top down.
Companies that want BPM, but not complex IT reengineering or intensive ongoing support, often just can't justify the premium cost of proprietary solutions. Even large enterprises can't afford to deploy proprietary solutions for every single project. Traditional BPM solutions not only demand a steep initial investment, but also often require significant resources to manage implementation and ongoing operation. Most of the currently available BPM solutions are complex to deploy and complicated to use, so they are not suited for small or medium projects.
Therefore, BPM solutions are not yet "democratized" — that is, widely employed in companies without access to big budgets, or commonly implemented for smaller projects. As I see it, price and complexity are what is impeding the democratization of BPM.
I foresee a radical change over the next few next years with the increasing maturity of open source BPM vendors. As in other domains, such as business intelligence, enterprise resource planning, or ETL (extract, transform and load), open source vendors are the key to the democratization of BPM in all types of organizations — if they are able to provide intuitive, powerful, and easy-to-use BPM solutions that any organization can afford.
Strong Position
Open source is already applied more and more frequently in all segments of information systems to allow companies to reduce expenditures. Today, companies like MySQL, SpringSource or Talend are gaining significant ground in the information systems of well-established companies and are successfully completing with the big names (like IBM, Oracle, and Microsoft) in the software industry.
Open source vendors are taking business from the high-priced proprietary incumbents, in part because of the added value that open source brings to the table:
no need to lock in with one vendor;
reduced cost to implement;
faster time-to-market; and
better responsiveness to customers.
Another reason for the successful wide dissemination of open source solutions over the past few years is the ease of adoption. Open source allows vendors to leverage a new distribution channel for products: the community of users. Through the community, a good open source product goes global automatically. This brings a tremendous time-to-market advantage, compared to traditional product distribution processes.
Talend, an open source ETL provider, provides a good example of fast product dissemination. Created in 2006, Talend now has millions of users around the world, and has become in only three years a viable open source alternative to the ETL giants such as Oracle, IBM and Informatica.
The Key for Democratizing BPM
"Nearly all BPM vendors reported double digit revenue growth over the first three quarters of 2009, and many are already reporting strong pipeline growth for 2010," according to Forrester.
While this is exciting news for the BPM market, this statement does not take into account a hidden aspect of BPM deployment: only a small percentage of applications worldwide are currently using BPM solutions. I would even say that perhaps no more than 5 percent of the applications developed every day in organizations are currently using BPM, while potentially 90 percent could be.
I'm talking about processes that are followed every day in sectors such marketing and sales, human resources, online services, product manufacturing, insurance, banking or public administration domains. Anywhere a repeated process that is important to day-to-day operations can be partially or fully automated, or monitored and improved, there is a useful application for BPM.
For the 85 percent of projects for which BPM could be potentially useful, the only viable alternative to intensive manual coding is open source BPM. The BPM market is likely to be bigger than is forecasted by analysts simply because there are a lot of potential customers who have not yet even considered implementing a BPM solution.
The customer's requirements in these types of projects are clear:
A new application is needed and has to be developed quickly;
The application should be maintainable overtime for low cost; and
The application must interact with existing systems inside the customer's organization (and therefore does not demand re-engineering existing systems).
How can an open source BPM solution democratize BPM when traditional vendors have not succeeded? The answer is complex and based a number of factors.
Try, Use and Adopt
The open source model allows customers to pay only for what they need. Customers can actually try the free solution before they buy anything. This allows "total transparency," and it's clearly the opposite of the traditional software model.
For this model to work, open source BPM vendors must provide a fully functional solution to the market. This means offering BPM solutions in which a user is able to validate the essential steps of a process implementation:
process definition;
process connectivity with the existing information system; and
process execution.
If the potential customer can validate these points, and so validate the solution under consideration, this will allow him to reduce development and maintenance time when deploying the new applications ultimately created with the solution.
Optimum Cost
The total cost of implementation and maintenance of a process-based application should be considerably reduced with the use of an open source BPM solution, when compared to the total cost of traditional proprietary solutions. In the open source business model, customers do not pay for licenses, but only for support and services.
Lower cost to adopt, implement, and maintain, a BPM solution will allow organizations to start using BPM solutions where they were previously not cost-effective.
Strengths of a Community
The power of open source community, with its interactive communications through Q&A, responses to requests for help, translations, discussions about desired features, and actual development and sharing of new features, has already been shown to be phenomenal. For example, SpringSource, an open source provider of Java development and management solutions, has built a community of more than 50,000 members who have exchanged more than 250,000 messages in its community forums over the last four years.
The information exchanged via the community can dramatically accelerate an open source vendor's extended feature set and help create a robust product in a very short time.
The community is also a valuable global distribution channel, so it is important to encourage its international growth.
If an open source vendor provides an effective means of communication to the community, along with easy-to-use tools to develop new features, the more valuable the contributions and the wider the distribution it will get.
Focus on the Customer's Needs
This is probably the most important factor for BPM democratization to take place. Are BPM solution technologies in sync with customer's requirements? I don't think so.
While customers talk about their day-to-day requirements — "I need to develop a new application to solve a particular problem" or "I want to provide a new service" — most BPM vendors seem to be focused on talking about processes and not about the end-user applications.
Process automation is great, but it really makes sense only if we also provide customers with the right tools to appropriately interact with those processes during the execution. Potential BPM customers are looking for process-based applications with the same level of functionality and usability as the ones they are already manually coding.
An Eye on the Future
Open source has already revolutionized business applications in database management, vertical integration and business intelligence, to mention just a few. Open source providers for these key functions have already challenged the proprietary market and proven the open source business model.
BPM is following the same path. Democratization has begun — keep an eye on the BPM open source providers and the market response to the solutions that open source BPM offers.
---
Miguel Valdes Faura
is chief executive officer of
BonitaSoft
.