Marketing channels have evolved over the past few decades from just print to electronic media to the Internet. With the advent of information technology, today's marketers have the luxury to decide on the most potent mix for the products they are trying to sell.
With marketers using these myriad channels, it becomes essential to understand the difference between a multichannel marketing approach and a cross-channel marketing approach.
Multichannel vs. Cross-Channel Marketing
Multichannel marketing allows channels to operate in silos. Let us take an example of a campaign in which multiple communication stages (waves) are planned.
Multichannel marketing, in this case, will execute these stages across all channels in parallel, irrespective of the response each channel generates. Cross_channel marketing, on the other hand, leverages the benefits of one channel and hedges the drawbacks by the use of alternate channels.
The main purpose of cross-channel marketing is to coordinate efforts across channels to drive a consistent message for a marketing campaign. Cross-channel marketing uses different channels as a function of time and individual, or the message it carries. It ensures enhanced ROI by optimizing the channel usage, ensuring higher interaction among the channels at regular intervals.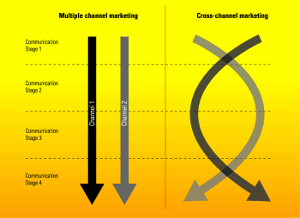 (click image to enlarge)
In order to touch today's on-the-move customers, it becomes essential to define and orchestrate a cross-channel strategy and target customers regardless of their location. With a cross-channel marketing approach, marketers can contact the same audience through a set of multiple integrated channels.
For example, a website can offer not only a set of promotional coupons for printing, but also an SMS message reminding customers to redeem their coupons before the expiration date. Such a mechanism of delivering the same message across different channels gives customers multiple options for responding to the marketing message.
When effectively synchronized across channels, the same marketing budget can significantly raise brand awareness, boost purchase intent and considerably increase sales. Thus, the success of this kind of cross-channel marketing lies in effectively evaluating the channels and appropriately aggregating and analyzing the data thus generated to maximize the reach of the marketing message across the target audience.
Planning a Cross-Channel Marketing Strategy
The decision to pursue a cross-channel marketing strategy is an outcome of various factors; it's primarily market forces, product maturity and customer/prospect profile that drive marketers to choose this route. The optimum value creation opportunities that cross-channel execution offers — versus the multiple channel strategy — propel the decision for this approach more than any other factor.
Instead of looking at marketing as only a message to the customers, one must look at it as an experience. Also, marketers should have a storyboard of customer experiences across all possible touchpoints. Before finalizing the strategy, all options must be considered by re-organizing the frames of the storyboard to ensure that all the interactions present a uniform marketing experience to the customer and drive home a unified message.
With lines between channels fading, marketers should not invest in overlapping channels without a clear-cut strategy. Measuring and analyzing a customer's path through the marketing experience helps in leveraging different contact points and structuring measurement metrics. It also puts the product in a context that is familiar to the customer. For a cross-channel marketing strategy, it is imperative to have response attribution systems that can give insights into the effectiveness of a channel.
Hence, for a successful cross-channel marketing strategy rollout, it is imperative that the organization align the following three pillars of its organizationwith the cross channel strategy:
No. 1: Process
Ensure that the following processes are in place:
Shift from a multichannel to a cross-channel approach
Plan on the channel mix
Ensure a single view of customer
Provide a uniform customer buying experience
No. 2: Technology
Identify the technology components affected or needed for successful execution:
Cross-channel marketing applications
Centralized marketing data-mart
Online-offline interoperability
Unified customer communication history
Use of mobile and digital marketing
Analytical tools
No. 3: People
Re-visit the following people-centric policies to ensure that they are in sync with the cross-channel approach:
Accountability and philosophy
Performance measurement approach
Organization hierarchy
Periodic updates to staff
This three-pronged approach will be elaborated in Part 2 of this article.
The Paradigm of Cross-Channel Marketing, Part 2
Aniruddha Bhattacharya is a lead consultant with enterprise solutions atInfosys Technologies Limited and has more than nine years experience in consulting and project management across domains, particularly in CRM systems.
Laukik Desai is a consultant with enterprise solutions atInfosys Technologies Limited and has more than six years experience in CRM consulting with a keen interest in SaaS. His domain expertise lies in the banking sector.