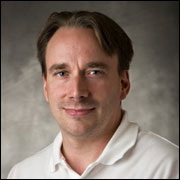 It was just a few short weeks ago that we here in the Linux blogosphere were rehashing the open source world's documentation dilemma — one of those perennial topics bloggers love to resurrect whenever there appears to be a lull in the conversation.
At the time, alert readers may recall, Linux Girl compared the topic to the ongoing "Year of Linux on the Desktop" debate — another favorite that just keeps coming back for more.
Well guess what? That one's now back too, courtesy of none other than Linux creator Linus Torvalds himself.
"I still want the desktop," Torvalds reportedly said at LinuxCon in Chicago last week. "The challenge on the desktop is not a kernel problem. It's a whole infrastructure problem. I think we'll get there one day."
Thunderous applause ensued — at the conference and beyond — but it was quickly drowned out by the din down at the blogosphere's Broken Windows Lounge.
Linux Girl settled in and started taking notes.
'I'm With Linus'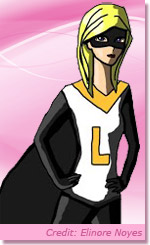 "I, for one, would still like him (us) to have it," Hyperlogos blogger Martin Espinoza began. "I simply find myself unable to trust Windows or MacOS. I can use Windows for browsing, but I don't use it for banking."
Similarly, "I'm with Linus," agreed Linux Rants blogger Mike Stone. "I still want the desktop too, and I think we're going to get there."
The trouble is that "Linux is now in a race with irrelevance when it comes to the desktop of the average person," Stone added.
"There will always be a number of people that are just going to need a desktop computer — that's not going to change for the foreseeable future, if ever," he explained. "But I also think there will be a great number of people that the desktop is going to cease being relevant for.
"Whether Linux can make its presence known on the desktop before those people move on to other types of devices is the more relevant question at this juncture," he concluded. "Also, a harder one to answer."
'I Surely Need Desktops'
"Real work is done on real computers," Google+ blogger Gonzalo Velasco C. asserted.
"Code writers, application developers, small and huge offices, governments and education centers need 'desktops,'" he explained. "I surely need desktops or even laptops to do all my things comfortably and fast."
Even in schools, "when somebody tried to push tablets, the tide turned into Chromebooks that have keyboards and the aspect of a traditional laptop," he pointed out.
Making the desktop a priority for Linux, meanwhile, is "an effective way to promote the OS to the masses and get feedback from everyday users," Google+ blogger Rodolfo Saenz offered.
Indeed, "that Linus publicly states he 'wants the desktop' may be great news," Slashdot blogger yagu said. "Heavy-handed or not, controversial or not, Linus makes things happen. (With all due respect and recognition to all contributors — Linux would not have happened without them either).
"I could see a rally around Linus that delivers 'the year of the Linux desktop,'" yagu added. "That would be fine with me. How many people are already using a flavor of Linux desktop on their Android devices?"
'Linus Wins!'
In some ways, Torvalds already has the desktop, Google+ blogger Brett Legree pointed out.
"'The desktop' as we used to know it was for all intents and purposes 'the personal computer,' but at the time, the PC was the big tower, the keyboard and mouse, the display," Legree explained.
"Of course, for many people this is still the case — it is for me at work — but for many others (and again, for me when I am not at work), the 'personal computer' is a pocket-sized smartphone, and many of these run Android."
So, "if we say 'desktop = personal computer' and 'personal computer = smartphone,' then Linus wins!" Legree concluded. "In any case, there are quite a few 'traditional desktop' personal computers running Android for sale already, and I would expect to see many more in the coming months and years."
'Let Microsoft Feast on the Rotten Corpse'
Google+ blogger Alessandro Ebersol wasn't so sure.
"The desktop is a market controlled with an iron claw by Microsoft," Ebersol told Linux Girl. "To protect its monopoly, Microsoft surrounded it with pitfalls, and those pitfalls — set in the 90s — continue to this day, so it will be a Herculean task to clear the territory for GNU/Linux in the desktop to become a hit."
Instead, "let Microsoft feast on the rotten corpse of the desktop while we use our Android phones, Ubuntu tablets and Chromebooks," he concluded.
'Nobody Is Gonna Take That Mess'
"I think you have to look at what stands in the way of a switch from Windows to Linux," Google+ blogger Kevin O'Brien told Linux Girl.
"There are several factors, but the one I think we can maybe get some success in addressing is formats for Office," he added. "If we can get mandates for open formats to allow interoperability, that gets rid of one of the major pain points.
"As long as people who use Microsoft Office cannot read a LibreOffice file, we will be stuck," he said. "I see this all of the time."
Another necessity will be "more talent to improve both the GUI back end and APIs," consultant and Slashdot blogger Gerhard Mack suggested.
Linux drivers, meanwhile, "are about on par with Windows 98, certainly not up to Windows 2K much less XP," SoylentNews blogger hairyfeet opined. "As long as basic security updates can break major drivers like video and sound, nobody is gonna take that mess."
'A Few Niche Workstation Markets'
To take over the desktop, "we need to stop thinking about the desktop," suggested Chris Travers, a blogger who works on the LedgerSMB project.
"Most computers serve as workstations, and thus the key is to go after specific workstation markets in order to encroach on the general-purpose 'desktop' market," Travers explained. "Succeed in the business workstation market and consumers will follow."
Key challenges are "driver stability for hardware for workstations and laptop and productivity/entertainment software," he added. "Both of these have come a long way in the last few years, but there still isn't a critical mass necessary for things to really take off.
"That critical mass requires success in a few niche workstation markets first," Travers said.
'Space on Retail Shelves'
Finally, the last barrier for the Linux desktop is not technical, blogger Robert Pogson asserted. "GNU/Linux gives the same benefits to the user whether on server or smart thingy or thin client or desktop."
Rather, "the last barrier is space on retail shelves," he said. "M$ no longer can dictate to OEMs and retailers what to sell. It's just inertia that keeps the last barrier up. Retailers know Android/Linux sells. They just have to be convinced that GNU/Linux sells."
Consumers, meanwhile, "have shown they will accept FLOSS on GNU/Linux in any form as long as it works," Pogson concluded. "We just have to keep GNU/Linux working on the desktop."