Self-Driving Concept Cars Impress at CES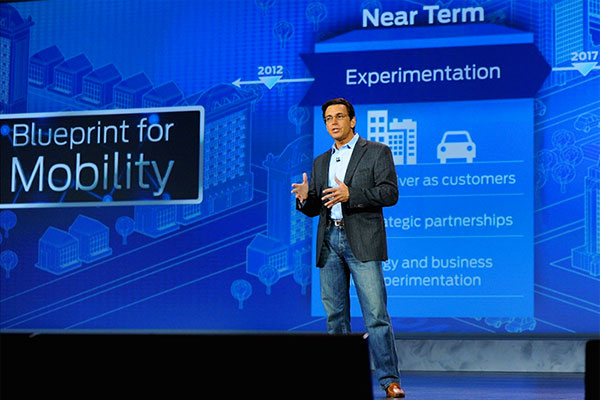 CEO Mark Fields on Wednesday took the stage at the International CES 2015 in Las Vegas and said that Ford Motor is focusing on bringing autonomous automobiles to the masses.
Although Ford may not be the first company to produce a self-driving car, it could be the first to deliver one outside of the luxury category, he said in his keynote address.
Fields further suggested that fully autonomous cars could hit the streets, if not fill the highways, as early as 2020 -- even if they aren't coming from Ford.
"He wasn't really predicting widespread adoption of autonomous cars in 2020 -- just that such vehicles would be commercially available at some price," said Michael Rogers of the Practical Futurist.
The convergence of computerized technology with the automobile has been generating a lot of heat at the show this week, with the event almost upstaging the upcoming North American International Auto Show in Detroit.
"It is by far the topic that has the most buzz at this year's CES," said Tania Yuki, CEO of Shareablee.
"The biggest potential application for this technology could be in what it means for ride-sharing," she told TechNewsWorld.
"There is much thinking of what this technology means for the future of transportation, but questions remain," Yuki continued. For one, "will this be used on roads with humans, or only on technology-specific roads for autonomous cars?"
Driverless Concepts
While Ford's Fields made some predictions about the future of autonomous vehicles and how such cars could reach the masses, it was in fact the luxury automakers -- including Audi, BMW and Mercedes-Benz -- that actually were in the driverless seat at CES.
Mercedes-Benz turned heads with its demo of the F015 Luxury in Motion concept car on the Las Vegas Strip on Monday night. The vehicle is fully autonomous and fully powered by a battery and fuel cell that produces no carbon emissions. It is further notable in that the front seats can swivel 180 degrees so all four passengers can face one another.
However, this vehicle is very much concept-only and won't likely be on public roads -- the Strip excepted -- until at least 2030.
Audi went quite a bit farther with its own concept vehicle. Rather than presenting a demo at the show, per se, it let its A7, nicknamed "Jack," do essentially all the driving from Palo Alto, California, to Las Vegas.
This proof-of-concept PR stunt was meant to highlight the company's new piloted driving technology in a real-world scenario.
"These cars won't be available to consumers anytime soon," said Praveen Chandrasekar, telematics program manager at Frost & Sullivan.
"Mercedes has clearly said this is a concept car, and Audi is saying they same thing," Chandrasekar told TechNewsWorld.
"These demonstrations were done so that they can show they can do fully autonomous driving, and this is their answer to what Google has so far demonstrated," he noted.
"These will not be commercialized even in the next decade," Chandrasekar predicted. "There are just too many regulation issues, as well as what insurance companies will cover, that need to still be addressed before any self-driving car can come to market."
The Long Road Ahead
In the case of Audi's Jack, there was someone in the driver's seat -- just in case something went wrong -- but the trip did demonstrate the technology that makes such a trip possible.
Audi's Jack was able to pilot the car about 550 miles to Las Vegas utilizing a combination of five radar systems, a laser scanner dubbed "LIDAR," and multiple 3D cameras. Jack the car was programmed to do the driving only on highways. When approaching urban centers, where traffic can be heavier, the automobile prompted the human driver to take manual control.
It likely will be on the open road and on specialized roads where any future autonomous car actually will do the driving.
"It is going to be in these types of scenarios, but the key is that the human will be there and able to take control at any time," said Chandrasekar.
"This technology is being promoted as a comfort feature, where it can take the stress out of certain situations, such as bumper-to-bumper traffic at low speeds or highway driving in clear conditions," he added, "but at any time, the car can alert the driver to take over."
Driver Assist and Safety
Even if the car of tomorrow doesn't exactly do the driving for most people, it could help make roads safer. At CES, BMW offered demonstrations of its i3 electric car, which features its ActiveAssist technology. This system utilizes four laser scanners to provide a 360-degree view around the car -- and serves as the basis of the automated valet system BMW unveiled last year.
BMW's demonstrations this week focused not only on how the car can park itself, but also on how it can monitor for blind spots and prevent collisions at speeds up to 15 mph.
Ford has been leading the way with safety-based driver assistance tools that include warning indicators for lane changing and collision detectors.
"Safety is exactly the thinking of the industry right now," noted Chandrasekar. "This is beginning with active assistance for safety, and that could lead to more autonomous vehicles down the road."

---