Twitter on Tuesday announced a redesign of its user profiles, hard on the heels of its launch of new photo-sharing capabilities late last month.
Included among the new features in the redesign are larger profile photos, customized headers, and an enlarged presentation of tweets that have been particularly popular. Users also can pin a tweet to the top of their page "so it's easy for your followers to see what you're all about," explained David Bellona, a designer for the social network.
New filtering capabilities make it possible for users to choose which timeline to view when checking out other profiles, with options including tweets, tweets with photos/videos, or tweets and replies.
Currently available only to a small group of Twitter users, the new profile features will roll out to everyone in the coming weeks. In the meantime, they're visible on the pages of First Lady Michelle Obama, the Australian Football League and Brazilian singer, guitarist and songwriter Gilberto Gil, for example.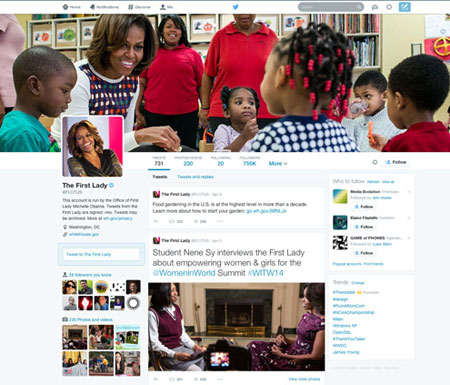 'A Bid for More Mainstream Usage'
One of the most notable results of the new Twitter features is that they make the social network look at lot more like Facebook.
"Twitter is trying to expand the functionality and use cases on its site," Greg Sterling, founder and principal analyst with Sterling Market Intelligence, told the E-Commerce Times.
"Despite its profile in the media, Twitter is still not really a mainstream social network," Sterling explained.
In fact, "according to the most recent Pew Research Center data, 72 percent of online adults use Facebook and only 18 percent of online adults use Twitter," he added.
So, "this redesign is part of a larger bid for more mainstream usage as well as improved existing-user engagement and retention," Sterling concluded.
Keeping Users Close
It's been common over the past several years for social networks to be inspired by the features and benefits of other, competing platforms, and that's likely to continue for the next four to five years, Lon Safko, social media entrepreneur and coauthor of The Social Media Bible, told the E-Commerce Times.
"The whole idea is to add as many features similar to the other platforms as possible so your users won't have to go to that competing platform for that feature," Safko explained. "We saw Facebook add IM, and LinkedIn add following groups (Influencers), and G+ add Skype video (Hangouts), etc."
There's considerable financial motivation for keeping users from straying, Safko pointed out.
'Tens of Billions of Dollars'
"We're talking about a lot of revenue here — if not for the membership itself, like LinkedIn, then even more so for the ad revenue," he said. "We're talking about tens of billions of dollars at stake."
So, the bottom line is that "if Twitter can add more Facebook-like profile page features and that is part of the allure of Facebook, then add it — and keep your users using Twitter by eliminating any reason to go to Facebook," Safko concluded.
"We will continue to see more and more crossover of features on all of the platforms," he predicted. "They say they are making it better for the user, when they are just eliminating reasons to use a different platform, thus retaining more users, thus increasing ad revenue. It's a typical and smart strategy."
The Google Factor
Google+ also could be part of the picture, John Blossom, president of Shore Communications, told the E-Commerce Times.
"While the look and feel of this new design from Twitter may seem like it's mostly about trying to appeal to Facebook users, it seems to be more about how to catch up with Google+, which now surpasses Twitter in users and total traffic," Blossom explained.
"Twitter is largely supported by ad revenues, and from that standpoint its user stats aren't very encouraging," he added. "According to recent data from Shareaholic, it has about the same time spent on the site per user as Facebook but a much smaller audience. At the same time, user engagement at Google+ and YouTube is significantly higher, and the bounce rate — visits that are in-and-out — are much higher at both Twitter and Facebook."
Also highlighted by the move, however, is that "the information architecture of Twitter just isn't very flexible — you can reply, but the character limit of tweets severely limits the depth of the conversation," Blossom suggested. "The new design maximizes the potential for engagement, but it doesn't really address a more pressing matter: Much of the real conversation in social media between real people has moved to Google+, leaving Twitter to cultivate a more specialized role, mostly in support of mainstream media."