As we end 2010, 2011 is looking to be a relatively violent year when it comes to technology and technology companies. As I write this, there are folkscalling the attacks by Wikileaks supporters a cyberwar, but I think it is more of a cyber-revolt, and the difference is important.
That difference is highlighted by the now declared war between Oracle and HP — a war I'm struggling with, because it looks like the reverse of last decade's war between Sun and Microsoft, with Oracle in Sun's position. Now Larry Ellison is to Scott McNealy (Sun's ex-CEO) what Attila the Hun is to Bozo the Clown, but I'm still thinking the outcome, while clearly more bloody on both sides, could end up the same.
I'll close with my product of the week: the wonderful HTC HD7, the first Windows 7 Phone I've been able to get — and I had to buy it, because Microsoft evidently couldn't find me one.
Oracle vs. HP: It's War!
Earlier this month, Oracle effectively declared war on HP and went out of its way to disparage HP's products. I couldn't help but think back to Scott McNealy and his attacks on Microsoft nearly a decade ago. At that time, I scratched my head because Sun was basically a high-end hardware company and Microsoft a software pure-play, and it would have made more sense for the two to partner than to go to war.
After a decade of pounding Microsoft and doing a considerable amount of damage, Sun failed — largely because HP, Dell and IBM chewed Sun up. Sun had to restructure to be more effective against Microsoft and ended up commoditizing its own hardware products in the process, resulting in failure in the market.
Now look at Oracle and HP. Oracle is at the core a software company, and HP is a hardware company; however, HP is more complex in structure than Microsoft and is designed very similarly to IBM, with a few exceptions. HP lacks software, and it has printing, networking and PCs, which IBM lacks. So right now, HP really isn't in Oracle's space, and Oracle has no interest in much of the business that HP is in.
Oracle's more natural competitors are Microsoft and IBM in their class. Like Sun and Microsoft, it would seem more natural that Oracle should HP partner — and historically they did, with an estimated 100,000 shared customers.
As Oracle builds up its hardware capability to better attack HP, Microsoft and IBM will increase their software and competitive migration capabilities against Oracle's products — they appear to already be doing so. Hardware margins are nowhere near software margins, which should put similar pressure on Oracle that it did Sun. (In Sun's case, it foolishly went to free software, which collapsed its margins as well). One additional danger to Oracle is that it uses a very aggressive commission structure, which only awards the top 10 percent of salespeople but rewards them richly.
Pushed hard, this model can result in illegal practices as these sales reps are forced to make unethical decisions to make their numbers. This is what happened in the 90s to Oracle and what brought Ray Lane into Oracle as CEO. Ray Lane is now over at HP, and he'll likely know better than anyone how to make these practices visible.
The end result could be even more dramatic for Oracle than it was for Sun. Larry Ellison is a brilliant strategist — but his ego, rather than his mind, appears to be driving this war. While I'd generally suggest that no one bet against Ellison, I wonder if even he can dig out of the hole he may have created this time.
The Wikileaks Revolution
The difference between a war and a revolution is that a war is between two distinct entities, and a revolution is a battle that occurs inside an entity. The Wikileaks supporters who are attacking the various websites are citizens of the countries and customers of the services they are taking down. This isn't a war — it is a revolution. I think it has implications for existing governments, which is why China and Iran are both aggressively putting in place tools to restrict social media. Recall it was tools like Twitter that helped coordinate the revolt in Iran.
If we take the temperature in the U.S., we have a situation in which the Congress has an approval rating around 17 percent, unemployment is around 10 percent, and the approval rating for the president has dropped below 50 percent. In addition, law enforcement has been cut dramatically to contain costs, and the military is overseas fighting unpopular wars.
If you wanted to identify the conditions that would make a country ripe for revolution, these would likely be at the top of the list. If you added massive increases in debt and the appearance of unconstrained corruption — like, say, a congressman who is in charge of taxation not paying his taxes and not being significantly punished — you'd have all the conditions for a revolt and some impressive electronic tools to drive it.
Some clearly believe that the democratic process allows for a peaceful revolution, and the Tea Party is a representation of that train of thought. However, results don't seem to be meeting expectations, and apathy also seems to be at an historic high. If the people in a system don't believe in that system, then the system fails — and right now, the majority of citizens simply don't appear to believe the system works.
Now the U.S. leaks that WikiLeaks showcased clearly identified that the U.S. government was behaving badly. Yet once these behaviors surfaced, the government didn't take any apparent steps to correct its course. Instead, it attacked Wikileaks and appeared to attack WikiLeaks' founder personally, in what appears to many to be an attempt to cover up mistakes rather than take responsibility for any illegal acts.
The result has been an impressively large and growing number of citizens worldwide attacking institutions that represent authority. Currently, they aren't going after U.S. infrastructure, and they seem to be organically led — but if a leader rises and focuses these folks, that could change dramatically.
In the end, I see this as a warning of what is to come. While this probably won't blow up into a full revolution this time, it shows that it could — and the irony here is that the trigger isn't what WikiLeaks did, but how the U.S. government responded to it.
One final thought: You would think that someone like Sarah Palin — who can only get elected, like Obama did, on a wave of change — would see the opportunity that WikiLeaks represents. She could have said she wouldn't be as corrupt as those in office. Instead, she seems to be saying she would be better at covering up the problems. We may be seeing her burn her best chance to be president of the U.S. because she forgot that she lost the election and is supposed to be a rebel.
Wrapping Up: New Decade, New Wars
The last decade was defined by unpopular wars and failed revolutions. It appears this decade is starting out even more aggressively, and while some of the new wars are in technology, the future revolutions will likely be driven by it.
We are clearly facing a time of increasing change. Here is hoping we like what we end up with better than we like what we have, because that often isn't the case.
Product of the Week: HTC HD7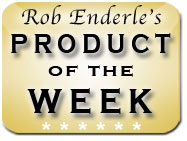 The HTC HD7 is my first Windows 7 Phone, and this clearly isn't your father's Microsoft phone. I'm kind of a geek and a long time Windows Phone sufferer, er, user, and this was like a huge breath of fresh air for me.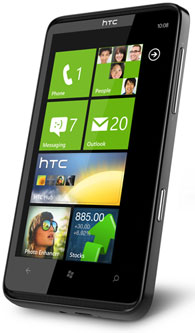 The HTC HD7
Boy this thing is like night and day over the old platform. It is slick, generally very fast, and the huge screen is wonderful for watching movies and playing games.
Still, I'm a keyboard guy and this is a screen phone — so even though it has a large beautiful display, I'm struggling a lot with typing on the touchscreen and expect I'll like a version that has a keyboard better.
My only other problem is there aren't enough people around who know how to use the phone and can answer questions. Fortunately, once you learn the interface it is consistent, so you get comfortable really fast.
I use Netflix and Slacker heavily, and both work very well on the phone, so I've been a happy camper. (Watched old TV shows on the phone for much of last night, and the kickstand really comes in handy).
So the HTC HD7 is my product of the week, but I expect that I'll like one with a keyboard even better.
---
Rob Enderle
is a TechNewsWorld columnist and the principal analyst for the
Enderle Group
, a consultancy that focuses on personal technology products and trends.