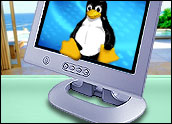 It's a well-known fact that spring is the season of love, so it should come as no surprise to see geeks' thoughts turning in that direction as the vernal equinox approaches.
Yes indeed, Valentine's Day may have come and gone, but the approaching arrival of the birds and the bees seems to have inspired many a Linux fan in the past week or so to contemplate the common object of their enduring affection.
Who is the lucky recipient of so much adoration, you might ask? Ask not who, but what, for of course it's none other than our favorite operating system.
'25 Reasons to Convert'
It all began when the Linux Loop's Thomas Teisberg asked the question, "Why do you use Linux?" in a post earlier this month.
No fewer than 142 responses had followed on the Loop by the middle of this week, even as the topic got picked up on Digg (generating an additional 300 or so comments), LXer and others as well.
Around the same time came a flurry of discussion on Digg of a linfo article titled "25 reasons to convert to Linux." Nearly 800 Diggs and more than 300 comments greeted that twist on the topic.
'10 Reasons You Should Not Switch'
The Linuxy love gained a little extra momentum when PC Magazine columnist, cranky geek and longtime critic John Dvorak announced last week, "Dvorak likes Linux." Bloggers on the Loop, Digg and LXer — among others — all celebrated that one.
Taking a tongue-in-cheek approach, meanwhile, was LinuxHaxor's post titled, "10 Reasons you should not switch to Linux." (No. 1 on the list: "You actually enjoy paying for an operating system that is so mired with bugs and issues that it shouldn't be even released as an alpha build. What recession?")
Getting to the heart of the matter was Carla Schroder's subsequent post, "Why I love Linux and FOSS" on Linux Today.
Following that one, finally, was Teisberg's follow-up to his original post with the more specific question,"Would you use Linux if it were just another proprietary OS?"
Bottom line? It was a virtual Linux love fest in the blogosphere in recent days, so we here at LinuxInsider couldn't resist taking a closer look.
'It Lets Me Do What I Want'
"I use Linux for its unique combination of features; it is probably the single operating system which runs on the most hardware platforms," Slashdot blogger drinkypoo told LinuxInsider. "That means that once I learn how to do something on Linux, I can install it to (almost) all my different computers."
That same benefit "sold the heck out of Windows back when the same operating system didn't run on the server and the common desktop, but looking the same and running most of the same programs is enough," he added.
"I use Linux because it lets me do what I want with the system, instead of thinking it knows better and getting in the way by overriding me," Montreal consultant and Slashdot blogger Gerhard Mack added. "I also use it because it lets me learn exactly as much as I want to. I can study any part I want," he told LinuxInsider.
'Linux Rarely Lets Me Down'
"I first used GNU/Linux because it worked and that other OS did not," blogger Robert Pogson explained.
"GNU/Linux rarely lets me down," Pogson told LinuxInsider. "In eight years I have had a few machines out of hundreds that were tricky to boot and a couple of bugs that annoyed me, but with that other OS I get constant delays, re-re-reboots, pausing, patches, malware, etc.
"I need software that works for us, and GNU/Linux does that," he added. "I am blessed/cursed to be in a target-rich environment, but I intend to rid the world of that other OS one machine — or one hundred — at a time as long as I am able," he said.
'I Would Pay for Linux'
"I use Linux first and foremost because it's Unix, and I've been a big fan of the Unix paradigm for 20+ years," Slashdot blogger yagu told LinuxInsider. "With GNU software, Linux is better than industrial (HP, Sun, et al.) Unix because it leverages the best extensions of familiar commands, making them friendlier (color syntax for the ls command) and more powerful (too many to mention in awk/gawk)."
And what of the fact that Linux is free?
"I don't think that's a main reason for me," yagu said. "Would I use free Windows? Nope. It's nice Linux is free, but I would pay competitive rates for Linux — I would pay more money for Linux than I would for Windows XP; I just don't have to."
'The Coolest Erector Set in the World'
Following from Linux's relation to Unix come a raft of other reasons for using it, yagu said. Included among them:
Reliability. "I just can't figure why the world accepts technology that feels it necessary to implement a 'reboot schedule,'" he explained — "this mentality brought to you courtesy of MS. I logged into a Linux host a couple days ago and noticed with no huge surprise that its up time was almost 400 days. Not that unusual for a Linux system; I'd call the local newspaper had it been XP."
Flexibility. "The suite of commands standard for GNU Linux/Unix is more a philosophy than a collection of applications. Each command does its job and does it well. Not bloat, no committee cruft, just sweet functionality," yagu said. "Which leads to my next point…"
Pipes: "Linux and Unix treat everything as a file, so commands take file streams in and put file streams out," he noted. "The coolest erector set in the world is the collection of Linux commands and pipes. I can write an entire usable integrated application and virtually bang the prototype out on the command line as I design it. Can't do this elsewhere."
Designed from the beginning to be multiuser. "Linux has an elegant but simple multiuser and security model," yagu added. "What's really nice is it's designed that way from day one. It can be configured to be modest and easy to get around in, and it can be tightened down secure enough to meet strict government standards. This is easy."
Community. "While some of the Linux community can be techno-elite, I like the general sense that we're all in this together–users and developers," he said.
Choice. Finally, "I love that Linux comes in infinite combinations," yagu asserted. "I think for the average person that's a hindrance because it's too confusing, but it is cool that I can install Linux designed to run from the smallest USB drive (e.g., Puppy Linux) to the most powerful desktop (Mandriva, RedHat, etc.), and even from a CD on a non-native OS (e.g., Knoppix)."
In short, "these are great reasons for the technical crowd," yagu concluded. "What I hope for is that we figure out what the critical traits are to encourage nontraditional users into the fold.
"That *is* happening slowly today," he added, but "it needs to happen faster."