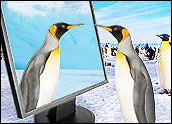 If a spoonful of sugar helps the medicine go down, as Mary Poppins once sagely said, will a splash of Mint help users swallow GNOME 3?
That, indeed, appears to be the question of the day now that the Linux Mint project has announced a hybrid desktop strategy for Linux Mint 12 that's apparently designed to help ease users into the controversial new interface.
"The future of Linux Mint is GNOME 3," asserted Clement Lefebvre, Linux Mint founder and project leader, in a recent blog post. "The present of Linux Mint is a simple question: 'How do we make people like GNOME 3? And what do we provide as an alternative to those who still do not want to change?'"
A GNOME 2 Security Blanket
The answer, it appears, is to include both MATE — a GNOME 2.32 fork — and Mint GNOME Shell Extensions, or MGSE, which adds a desktop layer on top of GNOME 3 that makes it possible to use GNOME 3 in a more traditional way.
It's the best of both worlds, some might say — particularly since Unity is nowhere to be seen.
Now that Mint has usurped Ubuntu's No. 1 seat on DistroWatch, is the distro pulling ahead with a winning strategy? Some bloggers say yes — others aren't so sure.
'Ubuntu Done Right'
"Can it be? An outbreak of sanity? It sure looks like it," opined Barbara Hudson, a blogger on Slashdot who goes by "Tom" on the site.
"Online forums are full of fed-up users looking to dump Ubuntu," Hudson noted. "Former Ubuntu users were saying, 'Try Mint — it's Ubuntu done right,' so when the level of dissatisfaction hit a new high with disUnity, Ubuntu-based distros like Mint were a natural for people looking for 'change — but not too much change.'"
The decision to "future-proof" Mint by having a Linux Mint Debian Edition "rolling release" in addition to the Ubuntu-based one "also assures users that Mint is their 'insurance policy' against future Canonical gaffes," she added.
"There's a saying in business: 'Don't try to be #1 in the market. Aim to be #2 … then wait for #1 to make a mistake,'" Hudson pointed out. "Canonical may try to downplay this as 'it's just a flesh wound,' but I suspect that eventually Ubuntu will be more or less 'pining for for fjords' as a consequence of betraying their user base.
"The icing on the cake — or the final insult, if you're Canonical dictator-for-life Mark Shuttleworth: Unlike Ubuntu, Mint is produced by volunteers in their spare time," Hudson added.
'What Happens When You Alienate Users'
"Ubuntu falling and Mint rising is clear evidence of what happens with any technology when you alienate your users," agreed Thoughts on Technology blogger and Bodhi Linux lead developer Jeff Hoogland.
"The Ubuntu team started down this road long ago when they first force moved the window controls to the left side, and Unity is their next step in ignoring what their end users want," Hoogland explained. "Sure, you could just install XFCE, E17 or LXDE on top of Unity — but why should you have to? Mint is a clear sign that when you listen to your users your project will do well."
Indeed, "this is how the Linux distro ecosystem is supposed to work," asserted consultant and Slashdot blogger Gerhard Mack. "While Ubuntu was setting new standards in user friendliness, it was on top. Now that it has lost its way, a new distro will take the crown if Ubuntu doesn't start listening to its users."
'Just as Unhappy with GNOME 3'
Chris Travers, a Slashdot blogger who works on the LedgerSMB project, had a similar tale to tell.
"I have met a number of people who have gone with Mint because of being unhappy with Unity," Travers told LinuxInsider. "However, most of those individuals are just as unhappy with GNOME 3."
LXDE and XFCE "are better desktops for these folks," Travers opined. "As long as Mint can offer these reliably, then it will do ok."
Of course, "this is likely to be good for Ubuntu, too," he added, "because it invigorates competition."
'Getting the Point'
Expecting users to "ease into" GNOME 3 is "missing the point," Hyperlogos blogger Martin Espinoza told LinuxInsider. "Ubuntu already exists to give users the GNOME 3 experience, which you can have instead of Unity while logging in."
Keeping the GNOME 2 desktop, however, "seems to be getting the point," he added. "Either way, it's good to see someone trying to provide GNOME 2 to users, since some clearly want it."
Not everyone was so sure, however, about Linux Mint's enduring prospects.
'Time to Jump Ship, Mint'
"I wish Mint nothing but luck, but frankly GNOME is a disaster, seconded only by Unity," Slashdot blogger hairyfeet opined. "While this makes a decent stopgap, that is ALL it is — a stopgap.
"As the underlying OS progresses, trying to keep Matey current will end up being more work than a tiny team can accomplish, and the GNOME guys have made it clear they really don't care what the users think," he explained.
In short, "time to jump off the ship before you are sucking seawater, Mint," hairyfeet concluded. "Luckily with FOSS, not everyone has lost their minds when it comes to DE design."
'A Tiny Community'
Linux Mint is "not the answer," blogger Robert Pogson opined. "That distro does not have enough developers, servers, mirrors and vision to replace Ubuntu."
To wit: Mint has "a half-dozen developers; they have less than 100 mirrors," Pogson pointed out. "Ubuntu has 380 with many at gigabit/s speed or 10 gigabit/s speed."
Linux Mint also has "a tiny community dominated by a few individuals acting as single points of failure," he added. "Linux Mint is even reluctant to distribute the source code unless the package is under the GPL."
The Debian Alternative
A better replacement for Ubuntu is Debian GNU/Linux, Pogson suggested.
"If you don't like the standard installation, install a minimal system (uncheck the defaults) and install XFCE4 and applications not dependent on GNOME or KDE," he advised. "You will have a familiar desktop experience without the bloat. It will run well even on an old system and is like a bullet on a new system.
"Debian GNU/Linux has a thousand developers and a proper bug-tracking system and a huge network of mirrors," Pogson added.
'Nothing Changes'
Last but not least, "it is pretty much clear that it is only a matter of time before Linux Mint becomes the Linux distribution with the highest consumer installed base," Roberto Lim, a lawyer and blogger on Mobile Raptor, told LinuxInsider.
"Mint may come up with a compromise that everyone can live with, in a world where 'everyone' is defined as 1 to 2 percent of everyone else," Lim added. But "when Mint sits as king of the Linux desktop environment, nothing changes. With a small market share, you cannot expect much by way of driver support and hardware compatibility."
So, "with the rise of Mint, one thing is clear: The day of Linux as a consumer desktop is not coming in the foreseeable future," Lim concluded.