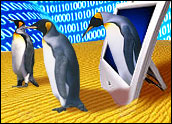 We may be halfway through February already, but that doesn't mean it's too late to look back at the past 10 years and ponder what has been.
No indeed! Bloggers did plenty of backward-gazing last month as well, of course, but recently a fresh example came up that caught Linux Girl's attention.
"Best Linux distributions of the decade" was the title of Jun Auza's post, which kicked up quite a flurry of excitement in the already snow-covered blogosphere.
'No Doubt That Ubuntu Is Best'
Working from DistroWatch's page-hit rankings covering the years 2002 through 2009, "there's no doubt that Ubuntu is the best Linux distribution of the last decade," Auza concluded last week.
Mandriva, openSUSE, Fedora and Debian fill out the top five, according to the post, which also invites readers to cast their own votes.
More than 50 bloggers jumped on the topic on Auza's site before it spread to Linux Today and beyond.
Popularity or Quality?
"You give data for the most popular distro (as per distrowatch) and equate that to 'The Best,'" noted one Anonymous reader on Auza's site, for example. "Is Windows 'The Best' operating system?"
Similarly: "This should perhaps be renamed 'Most Popular Distributions of the Decade,'" another reader noted.
Then again: "I think what your article shows is that Ubuntu has the best marketing of the decade," yet another anonymous blogger added. "For me, Mandriva is best."
Indeed, it was a virtual Mandriva love-fest on the site, making Linux Girl wonder how bloggers' preferences would play out elsewhere. She headed to the Greasy Fork Diner to gather some more opinions.
'Couldn't Be Worse'
"I honestly think this list couldn't be worse," Slashdot blogger hairyfeet told LinuxInsider. "Ubuntu is #1? Look, I know I'll get serious hate for saying so, but Ubuntu in this old greybeard's humble opinion only has industry buzz going for it, nothing more."
First of all, "there really isn't a decently stable version of Ubuntu — it is either so bleeding edge it is a miracle the CD doesn't have stigmata, or it is really old packages that are never updated," hairyfeet asserted. "Nothing in between with those guys."
Similarly, "I have yet to run that distro without getting 'update foo broke my hardware' problems," he added. "They seem to fix one thing only to break something else."
Meanwhile, "where is the Puppy Love?" hairyfeet wondered. "It shows up once or twice on the lists, but in the final 'best of' it is nowhere to be found."
'Ubuntu Has Done More'
On the other hand: "Ubuntu has done more for Linux acceptance than any other distribution," Hyperlogos blogger Martin Espinoza countered. "I would once have said it was Red Hat, but that was before they canned their free, supported release and replaced it with RHEL beta test versions, aka Fedora."
Ubuntu, by contrast, "has pledged long-term support for some versions, and has also provided significant Web support to its community," Espinoza told LinuxInsider.
"Making it easy to install non-free drivers allows those more pragmatic than idealist to use their computers in cases where they'd otherwise have an inferior experience, though of course supporting Free software is practical in the long term if you like to be able to use your computer as you will," he added. "The community long asked for an updated and usable Debian, and Ubuntu has provided it."
'Ubuntu for the Color-Blind'
Barbara Hudson, a blogger on Slashdot who goes by "Tom" on the site, took a different view.
The bloggers who noted that Mandriva, Red Hat/Fedora and Suse/OpenSUSE were the only ones with a consistently good showing "pretty much nailed it," Hudson told LinuxInsider. "Those three distros pretty much covered the vast majority of users' needs."
Next, "throw in slackware for when you want something more 'old skool' and to keep the greybeards from grumbling, and Ubuntu for the color-blind, and you're probably looking at the five essential distros for this decade," she added.
'Disenchanted with Distros'
"At this point, I'm a bit disenchanted with distros in general," Slashdot blogger David Masover said. "There's still an opportunity to do package management right — I don't think anyone's there yet — but even if someone did, we'd still have other distros using different systems."
That's not a problem for end-users, "but it's a lot of wasted developer effort when every distro manager has to solve the same dependency problems, with enough slight differences that it would seem hard for any of them to collaborate," Masover told LinuxInsider.
As for criticisms of popularity rankings, it's possible "some of the more popular distros will turn out to be good _because_ of their popularity," he noted, since popularity tends to attract developers.
In any case, "I still answer questions of 'What distro should I use?' with 'Use Ubuntu,'" Masover added. "By the time that's no longer a fit — if that ever happens — they'll know enough to be able to answer that question on their own."
'My Church, My Library, My Soul…'
On blogger Robert Pogson's list, meanwhile, would be "the distros I started with and the distros I ended with: Caldera eDesktop, Mandrake, RedHat, K12LTSP and later Ubuntu and Debian," he told LinuxInsider. "These are (or were) all solid, reliable distros."
Pogson will never forget "going from Lose '95 on old PCs that crashed hourly under its burden of 50,000 bugs to Caldera with never a hiccup in months of operation," he recounted. "That other OS has improved but will never achieve the sanity of the Debian repository, my church, my library, my soul… .
"Whether I am throwing in 2,000 packages to make the ultimate GNU /Linux terminal server or 130 to make a tight little boa server, GNU/Linux gets the job done with no fussing over COA, WGdisA, BSODs, slowing down, re-re-reboots, updates for bugs from 1993, anti-malware, EULA.txt, etc.," he explained.
'Two or Three Years More'
Of course, the question of which distros are considered the best of the past decade may ultimately be less important than what's yet to come.
In the next decade, things will only get better for GNU/Linux, Pogson predicted.
"While that other OS maintains monopoly power, it is weakening fast," he asserted. "M$ is starting to have to pay folks to use its OS, so the avalanche should happen soon. I give the monopoly two or three years' more free ride — then they will have to earn a living for a change."