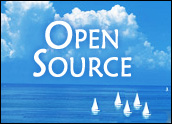 Have you cleaned up your Linux installation lately? On its face, that question might wrongly mark me as a Linux newbie, much like a Linux newcomer asking about antivirus and antimalware software. But I am far from being a newbie to Linux. That said, three program packages designed to clean out your Linux dustbins can keep your OS working like new.
I admit that sounds like a sales pitch hawking some must-have maintenance tool for Microsoft Windows. But BleachBit, GtkOrphan and Startup Manager can give you more control over how your Linux distro behaves. These Linux apps can help you fix some missteps when an occasional package installation goes astray.
Let's face facts. As good as the Linux OS is, troublesome stuff sometimes happens. When it does, BleachBit and GtkOrphan can do a good job of taking out the trash and wiping away the cobwebs. This can go a long was to helping you solve small problems before they become major complications.
Even if you manage to keep your OS in pristine condition, Linux is not very user-friendly when it comes to altering settings that control boot up sequences. Startup Manager can do this without making you drag out the Linux manual. It lets you easily change default boot options.
Feed the Need
Back in my Windoz dayz software creep was constantly bringing down the Microsoft OS's efficiency. It took constant individual program upgrades and twice-daily scans for viruses and malware infections to keep my numerous computers running. When all else failed, system restore tools salvaged big troubles. Usually, twice per year I would wipe the hard drive and reinstall everything.
I found a better way with Linux. The potential for virus and malware mishaps exist much less and take much less attention to prevent. Linux does not have a system restore tool, but it does not need one. Backing up system folders with programs such as Back In Time and Keep make file and system recovery a no-brainer. See my review here. And software management through each distro's package management system automates and simplifies system maintenance concerns.
Still, prevention and cure go together in ensuring fail-safe computer house cleaning when mishaps strike. Especially in my case, I constantly install and remove programs. I am always tweaking system performance and looking for the combination of software to enhance my work and recreational computing.
So the three programs in this week's Linux Picks spotlight have proven invaluable maintenance tools. BleachBit and GtkOrphan keep the clutter out of my desktop and laptop computer systems. Each of my computers is configured to boot into various Windows OSes and Linux distributions. Startup Manager, or SUM, keeps the kinks out of the booting process and also lets me refine what starts without delving into command line woes.
Linux Scouring Pad
BleachBit is a system tool that lets you preview and delete unnecessary files. This is a good way to free up disk space, maintain privacy and get rid of hidden junk. I use it to deletes cache, cookies, Internet history, logs, temporary files and broken shortcuts.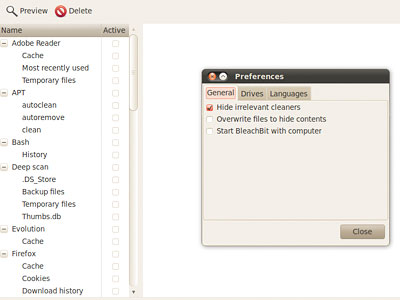 BleachBit
Built into BleachBit is code to specifically wipe clean more than 70 applications. These apps include Firefox, Flash, Google Chrome, Opera, Safari, Adobe Reader and APT (the Advanced Packaging Tool). Other popular Linux apps that BleachBit flushes clean are GIMP, Gwenview, Konqueror, Nautilus, OpenOffice and much more.
It does more than just perform standard file deletions. Its toolkit of advanced cleaners works on clearing memory and Linux swap areas as well as removing broken shortcuts. Plus, BleachBit cleans out Linux localizations so you do not bog down your system with language files that you do not use.
Click and Flush
Perhaps the best part of BleachBit is how simple it is to use. That simplicity comes with a confidence that the program will not trash your system. Not much exists in menus.
Instead, a list of apps displays in a column. Scroll through the list and click on apps to clean. Depending on the app involved, categories below each program name offer actions such as autoclean, autoremove and clean.
Highlighting an action displays a check box. Just check the boxes you select for action, click the preview tab and click delete. The preview mode shows the location of the files, cache, etc., and the disk space to be recovered.
Send Orphans Packing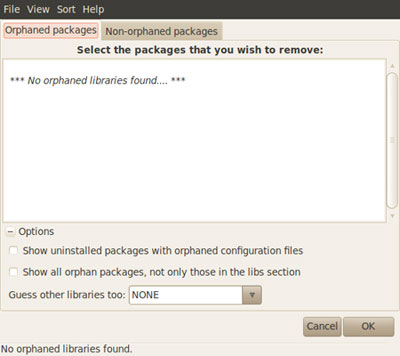 GtkOrphan
GtkOrphan is a Perl/Gtk2 graphical tool that works with Deborphan to scan Debian systems in search of orphaned libraries. It analyzes the status of the installation and adds package-removal capability.
Basically, this tool tracks library dependencies. But be very careful when you use this application. It is not very forgiving. You could inadvertently remove some libraries that you need.
In theory, a Debian system like Ubuntu will repair itself upon reboot, grabbing missing dependencies. But theories do not always translate well into practice. So if you yank out a needed dependency by mistake, you might be able to put it back with this command issued in a terminal window: $sudo apt-get install -f
Using It
GtkOrphan has a very minimal tool set. Two tabs show orphaned and non-orphaned packaged when the app's display window opens. Do not touch anything listed in the Non-orphaned packages tab.
If the Orphaned packages tab is empty, be thankful and close the app. If an orphaned item is visible, select it for deletion.
Two display options are available. One lets you see uninstalled packages with orphaned configuration files. The other shows all orphaned packages, not just those in the library section.
Grabbing SUM Grub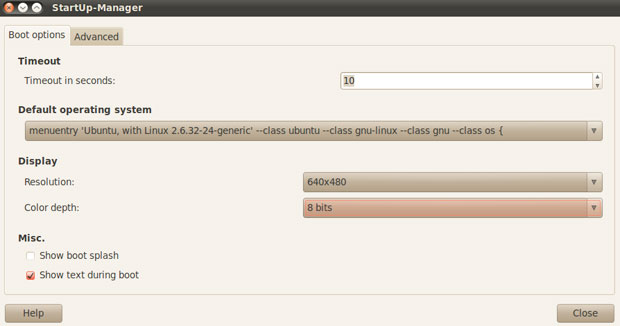 Startup Manager
Startup Manager is a Python-glade GUI tool that lets you easily configure some settings for the GRUB bootloader, usplash and splash screens. It works with all Debian systems.
Usplash is a bootsplash utility that uses the Linux framebuffer. SUM lets you configure the usplash and install new ones. The Grub bootup utility controls which OS loads by default and other bootup settings. Startup Manager lets you change Grub settings.
This is much easier than manually editing the /boot/grub/menu.lst file. SUM makes it easy to change system boot options such as the selection timeout and default operating system if you run more than one operating systems on the same computer.
Other Choices
You can use SUM to change the display resolution and the color depth. This can be handy to correct problems with the main menu display.
A check list lets you control options such as showing the boot splash and showing text during boot. These options give you useful feedback on what happens before you get to the desktop screen.
Problem Solver
Here is an example of how SUM can eliminate bootup annoyances. On my newest desktop computer, I installed the latest version of Ubuntu and several different versions of Puppy Linux. I kept Windows 7, which came pre-installed on the hard drive.
I had a lengthy list of options upon booting the system. More times than not, I would forget to arrow down fast enough to choose the OS I wanted to use. So I would have to reboot.
A related nagging problem was the computer would sometimes boot into a command line screen rather than the OS's desktop. I preferred to always reboot rather than get my hands dirty manually editing the Grub configuration file.
Startup Manager solved the problems fast. I was able to increase the response timeout before Grub seemed to mindlessly pick the default OS of the day. I also was able to pre-select the OS version to start by default OS if I did nothing.