The advantages of open source software really become evident when it comes to using design applications. This category of software is one that not everyone needs — that is, unless you need software to help you create illustrations for Web design or print publication projects.
The Linux OS has a bevy of design apps that go head-to-head against hallmark design applications for the Microsoft Windows and Apple Mac OS X platforms such as Adobe Illustrator CS5, Adobe Freehand, CorelDraw Graphics Suite X5 and Microsoft Visio. I am not referring to standard intro-level drawing apps with variations of "Paint" in their names.
Three Linux apps — Inkscape, OpenOffice Draw and Xara Xtreme — come fully loaded with professional-strength tools to handle on-screen illustration tasks.
You will need to spend some time with each of these apps, however. Deciding which one works best for you will take familiarity and hands-on practice. If you did not use design software on another platform, no doubt you will settle on a preference based on how intuitively you take to the packages. But if you have a working knowledge of a design app from another platform, you will find one or more of these Linux apps to be very similar in look and feel.
Typical drawing needs for design applications are creating icons, designing Web pages and making marketing materials. These three Linux apps are well-tooled to handle these activities and much more.
Inking the Draw
Inkscape is based on the use of Scalable Vector Graphics (SVG). This is an open XML-based W3C standard. This app supports many advanced SVG features such as markers, clones and alpha blending. It is available for Linux, Windows and OS X platforms.
The use of SVG formatting makes a big difference. Most graphic apps are based around bitmap or raster graphics. This locks in a specific resolution and stores an image as a grid of pixels.
Instead of the raster scheme, Inkscape's use of vector graphics gives its files a resolution-independent description of the actual shapes and objects visible in the image. Unlike a rasterization engine, SVG does not need these details for plotting each line and curve at any resolution or zoom level.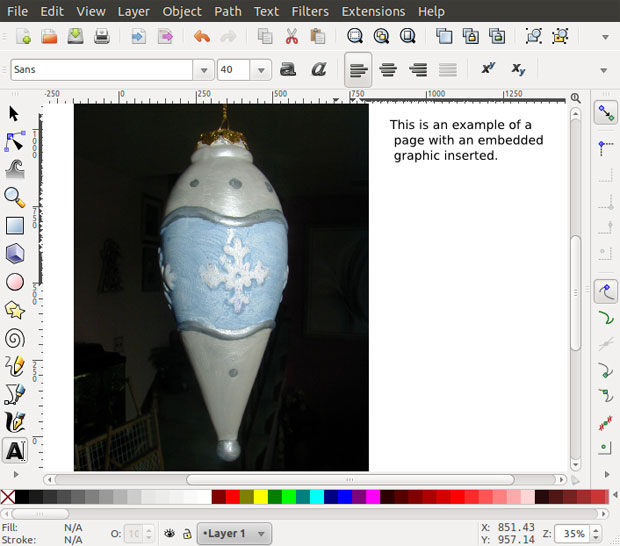 Inkscape
Task Suited
Think of SVG graphics as a companion rather than an alternative to the bitmap standard. Inkscape handles raster formats as well. It can import and show bitmap images.
Within Inkscape, the imported bitmap image is viewed as an object in the overall vector graphics display. Inkscape allows you to manipulate the file regardless of its components.
Vector and bitmap graphics both have a place in designing images and pages. For example, raster graphics are usually preferred for working with photographs and drawings. Vector format is often more suitable for design compositions that include logos, images with text and detailed illustrations.
Likable GUI
I took to the Inkscape Graphical User Interface or GUI without much bother. The tools are mostly icon-driven. The icons line up along the edges of the application window.
Traditional drop-down menus across the top edge of the window provide an organized view of all the drawing and editing functions.
Both newcomers and seasoned designers will appreciate the intuitive layout for the tools. I found especially useful the long list of templates for an impressive list of typical designs under the File/New menu.
Tasking Tools
Inkscape has more than enough tools to handle advanced-level drawing tasks. For instance, it can pan the screen or page under construction and zoom in and out.
Inkscape also lets you easily work with created shapes such as rectangles, stars, spirals and circles. Plus, moving and scaling objects takes just a few mouse clicks.
In one aspect, playing around with Inkscape is much like using a basic paint app on steroids. You can do calligraphy and freehand drawing and much more.
Office Suite Draw
I was surprised to discover the bundled drawing app in the OpenOffice suite. I use the OO bundle's writer and spreadsheet modules daily. I often create slide presentations with OO Presenter.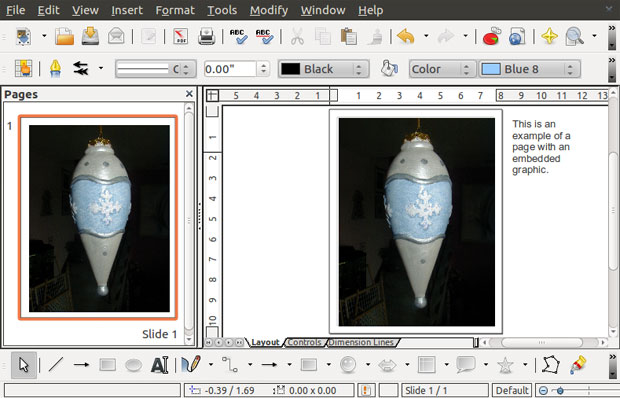 OpenOffice.org Draw
I sing the praises of the OpenOffice package. But I never spent any time in the Draw app. It is a good drawing app that is ideal for the less experienced designer.
I do not mean that OO Draw is not up to the task when compared to Inkscape and Xara Xtreme. It is a vector graphics app. But it can import and export SVG files.
Looks Like Office
If your drawing needs are less intense, you might not need to look any further than OpenOffice Draw. Especially if you use the other OO apps, Draw has the same familiar GUI so there is less to learn.
Draw's window is very similar to OO Writer. A combination of drop-down menus and two rows of icons under the menu row puts most of what you need a few clicks away.
Some drawing tasks can be handled through the OpenOffice suite wizard. Selecting File/Wizards/Presentation loads the same template-driven creator that you get in OO Presentation.
I imported the same graphic image and created the same text message in all three draw apps. Since I am familiar with the OpenOffice process, that task in OO Draw was seamless and quick. It took me a few minutes to get acclimated to the other two apps to do the same thing. But the process in each was very similar. So were the results.
Drawing Tools
Draw has many of the advanced graphics creation and editing tools as the other two design apps. But they are less evident until you find them in the various menus.
For example, the general drawing window contains a drop-down list of arrows and 3-D effects. Using this menu, it is relatively easy to change any shape into a 3-D object. Also, you can arrange the layering (front/back) of multiple objects.
Another task is aligning the edges of multiple objects and centering them vertically and horizontally. Similarly, you can fill selected objects with photographic binary images. You can also fill your shapes with built-in gradients.
Connecting the Dots
OO Draw uses a system of connectors between shapes in a range of line styles. This system facilitates designing flowchart and similar type charts. After you place objects on the canvass, you can fill them with pen hatching marks.
OO Draw has built-in drag-and-drop graphic images and exploding stars and other shapes. This approach is handy in designing business ads and other single-page posters.
These tools are a boon to the design newcomer. This construction system reminds me of the consumer-level software popular in the Windows platform for creating cards, posters and similar documents.
Extreme Design
Xara Xtreme is a general-purpose graphics design application for Linux, FreeBSD and OS X. Its GUI is very similar to Inkscape. The tools array is placed around the workspace.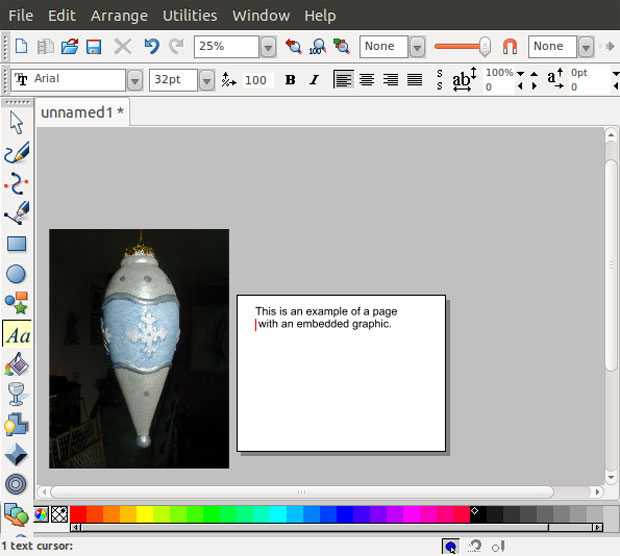 Xara Xtreme
This app, much like Inkscape, is built around a context-sensitive user interface that takes the challenge out of designing tasks. For example, it handles feathering, gradient fills, transparency and other tasks interactively in real time. You apply these tools effects by dragging handles or sliders.
However, it is less flexible in the file types it handles. Besides its own .xar format, Xara exports in a .web file format.
Basic Setup
Xara relies on a page setup option to take much of the pain out of basic design setup. But the options to preset are much more limited compared to the choices available in Inkscape's Preferences panel.
Like Inkscape, in addition to the array of tools around the window's borders, Xara places the color bar across the bottom of the application window. This is a much handier arrangement for both programs than having to click through a drop-down menu.
I found working with Xara a bit frustrating at first. Its uncluttered interface left me hunting for tools more so than when I tried the same design tools in Inkscape and OO Draw. This surprised me because Xara and Inkscape have an otherwise similar look and feel.
Even when searching through the drop-down menus of Xara and Inkscape, I could not shake the feeling that the options in Xara were a bit lacking. But Xara has enough going for it to get the job done. It is a matter of choice as to which tool set best suits your work flow.