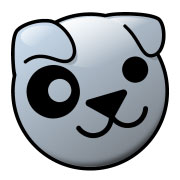 It had to happen sooner or later. It turned out to be sooner. It is here. The Blue Pup Linux distro brings the Metro view to the Linux desktop.This arrangement is not a true Metro interface the likes of the much criticized Windows 8. Instead, it is a Puppy Linux derivative distro, or Pupplet, built around the Chromium Web browser with a Chrome extension.
Blue Pup version 3 was released in late April. It uses a run-or-raise feature activated by toggling the left or right Windows key.
Its user interface lets you switch between a traditional Linux desktop and the partial Metro functionality mode. The Metro tab that overtakes the desktop gives fast access to a complete inventory of Google's Chrome Web Store. The tiles either launch Google apps through browser extensions or act as bookmarks that load the embedded website.
Blue Pup has a unique full-screen Metro desktop mode to supplement the traditional Linux desktop.
To access locally installed Linux applications, you switch to the traditional Puppy Linux distro trappings. You can install a huge collection of both Puppy Linux-specific .pet programs or Debian packages.
The first few times I played around with Blue Pup, I felt more like I was using a toy environment, but that was only while using the Metro mode. The solid Puppy Linux underpinnings let me work at the same level of productivity as I have with other Puppy Linux versions over the years.
Under the Hood
Blue Pup deviates from the typical Puppy Linux characteristics. Blue Pup is based on Quirky Tahr 6.0, which goes in a different developmental direction.
Rather than burning the installation to DVD or USB drive from an .ISO file, Quirky Tahr — and hence Blue Pup — is delivered in an .XZ compressed file that sheds its envelope to an .IMG file. Place that file on a bootable 8-GB USB and the installation is complete.
The structure of the main Puppy Linux line supports a Squash File Structure that lets you add or remove software as needed. It also loads into RAM for lightning-fast performance. It lets you use the same USB installation as a portable Linux distro in any computer. Not so with Blue Pup.
More Quirks
Like the Quirky line, Blue Pup does not use a personal saving file to maintain persistent memory. All system changes and desktop configurations are saved to the .IMG file.
That means you can not use the same USB disk to run Blue Pup in any other computer. Well, you can — but be prepared for things to go wrong.
Unlike the standard Puppy Linux distro, Blue Pup does not load into RAM, but it is still an extreme speed demon. Both the browser-based applications and the local-installed programs closely match the flash speed I get when using my Chromebook.
This is really an interesting design. The Chromium browser with access to Google apps gives you the look and feel and most of the performance of a Chromebook environment. The performance is peppy so you think you are running Chromebook — almost.
Navigational Ease
Ironically, "Blue" was the Microsoft codename for the Win 8.1 release. By default, Blue Pup boots into a screen displaying active tiles much like the Windows 8 Metro design.
You can remove or add tiles and programs, and change their position and size. You can easily change the default mode so that Blue Pup boots instead into a standard desktop.
The left-hand Windows key is used to launch or relaunch the Metro interface. The right-hand Windows key switches to the standard desktop, as does the menu key.
I took very quickly to using this two-desktop-modes-in-one design. This might be partly because I am very familiar with Puppy Linux and several of its pupplet cousins, but even for a new user, the only learning curve comes with adjusting to JMW window management tools.
You can easily minimize the Metro overlay to have a more traditional Linux structure. That leaves the Chromium Metro page minimized on the panel bar when the desktop mode changes.
Blue Pup provides a typical Puppy Linux desktop experience.
Another interesting desktop feature appears when you press the right Windows key on the keyboard. As part of the underlying non-Metro desktop, a launch window with icons appears.
This is a launch tool with a top row of squares to jump back to the Metro desktop or load the Google news page, Skype, Yahoo weather and news, or the VCR media player. The bottom row of squares loads Thunderbird Mail, Calendar, Abiword word processor, calculator and a quit button.
Pressing the right Window key always returns you to the non-Metro desktop mode with the launch window visible. Of course, you can close this window. Press the right Window key to reload the launch window.
Standard Software
One of the most impressive things about Puppy Linux — and that includes Blue Pup — is the huge inventory of installed software compiled for speed and reduced size. Whatever you need that is not preinstalled you most likely can find waiting for download through the Quirky Package Manager.
You also can click on the Ticker News Feed to have headlines scroll across the top of the screen. The Ticker is not visible when you use the Metro desktop mode. Press the Function 12 key to pop open the drop-down JMW menu from the top of the screen.
This only displays the menu. It does not let you launch from the lists until you switch to the non-Metro desktop.
Keyboard Quick Launch
Another nice thing about Blue Pup's user experience is the extensive keyboard shortcuts. They are too numerous to list completely here, but for a sampling, all of the most common computing tasks are a two-keyboard press away:
ALT+E — Launch or raise Thunderbird. (Letters are not case sensitive.)ALT+S — Launch or raise Skype.ALT+P — Launch or raise VLC (set as default player).ALT+T — Launch or raise tickr (RSS feed reader).
Even within the Metro mode, keyboard shortcuts can speed your journey among the tiles. A few examples:
1. Alt+left arrow and Alt+right arrow to move back and forth.2. Ctrl+1 or Ctrl+2 or Ctrl+3 etc., etc., to move between open tabs.3. Ctrl+T — Open or relaunch metro tab (if not possible with No. 1 or 2).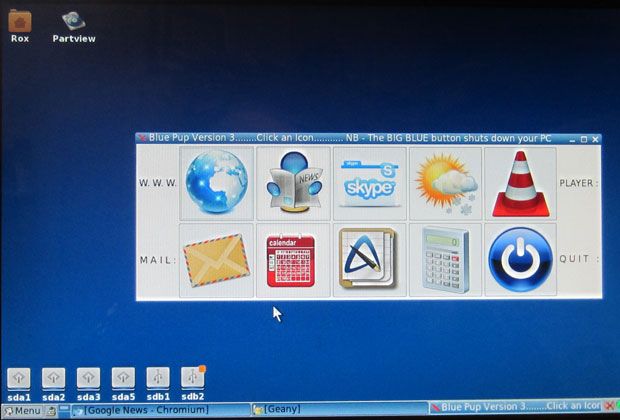 Blue Pup enhances the desktop usability with a special quick launch window array.
Bottom Line
Blue Pup is a very unique combination of user experiences. The interplay between the standard Linux desktop and the Metro mode is much more seamless than the Windows 8 experience.
The Chromium Metro extension really is just an unusual form of eye candy in this Linux distro. You can minimize it or just stay in the traditional desktop mode rather than switching back and forth. However, the added functionality from the live tiles and the additional ease of adding Google Web apps makes Blue Pup a very enticing desktop alternative.
Want to Suggest a Linux Application for Review?
Is there a Linux software application you'd like to suggest for review? Something you love or would like to get to know?
Please email your ideas to me, and I'll consider them for a future Linux Picks and Pans column.