Google on Tuesday announced two new budget-busting Chromebook computers, a tablet/notebook convertible with a full swivel screen, and a Chrome computer-on-a-stick.
The Haier Chromebook 11 (pictured above) and the Hisense Chromebook both are available for preorder for US$149.
The Asus Chromebook Flip will hit the market this spring with a $249 price tag.
The Chromebit — also from Asus — will be available this summer for less than $100.
"The price/performance of Chromebooks is becoming so compelling that they could and should put increasing pressure on lower-end PCs and laptops," Charles King, principal analyst at Pund-IT, told LinuxInsider.
Chromebook Specs
Both the Haier Chromebook 11 and the Hisense Chromebook sport 11.6-inch 1366×768 displays. They come with 16 GB of eMMC storage and 2 GB of DDR3L memory.
The Haier Chromebook 11 is powered by a Rockchip RK3288 System on a Chip with four Cortex A17 cores. It produces a top-end frequency of 1.8 GHz and uses a 600-MHz ARM Mali-T764 GPU. Its battery can last up to 10 hours. It's available from Amazon.
The Hisense Chromebook also is powered by a Rockchip RK3288 SoC with a maximum frequency of 2.5 GHz. The expected battery life is up to 8.5 hours. It will be sold by Walmart.
"I think the move to even lower-end Rockchip-based Chromebooks is in preparation for incoming offerings from Microsoft," speculated Andrew Bernstein, project manager at the Demski Group.
Microsoft's offerings "will be proved similar to current Chromebooks," he told LinuxInsider, and "will not be able to compete."
Convertible Computing
The Asus Chromebook C201 Flip has a 10-inch touchscreen and an all-metal form factor with typical Chromebook internals. It's 15mm thin and weighs less than 2 pounds.
The screen is hinged, so it swivels a full 360 degrees. That lets users compute with the keyboard in a traditional clamshell format or use it as a tablet, with the keyboard serving as a stand.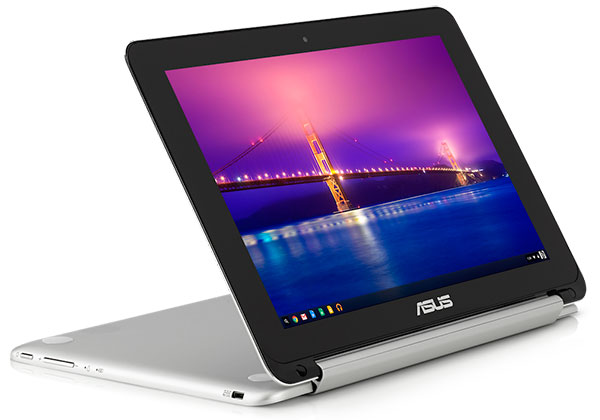 The Chromebook Flip could play well in the market.
"Softening sales suggest that the iFad around tablets is waning, and that people want more functional devices," said King. "The Flip is attempting to exploit the popularity of convertible laptops/ultrabooks, and it could do pretty well there."
Sticking With Chrome
Google's existing Chromecast dongle will gain a cousin sometime this summer with the arrival of the Chromebit.
It reportedly has nearly all the components of Google's Chrome OS in a device about the size of a small candy bar.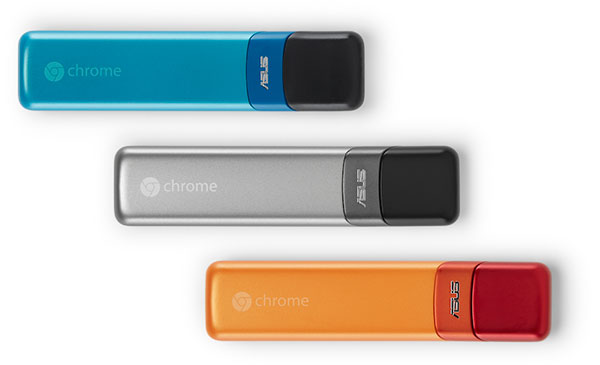 Inside the stick are 2 GB of RAM, Rockchip's 3288 processor and 16 GB of storage. It has an HDMI port so it can plug into a TV screen or other display device. Its USB port provides a connection to a keyboard or a mouse. Another connection option is the onboard Bluetooth.
"The Chromebit is more of an experiment than something with a practical application. It is supposed to encourage other OEMS to experiment more with Chrome OS," said the Demski Group's Bernstein.
The Chromebit is similar to the Wyse Cloud Connect solution that Dell launched last year. It targets some of the same markets and use cases — digital signage, mobile workers — that are in Dell's sights, noted King.
However, "the Chromebit does not offer to wireless the security capabilities that make the Wyse Cloud Connect a valuable business solution," he pointed out. "Without similar features, I can not see the Chromebit making much of an impact outside consumer applications."
Concept Play
A primary advantage of bringing more Chromebook models to market is that the more vendor participants there are, the more competitive prices and features should become. That has a downside, however, King suggested.
Since the vast majority of Chromebooks are low cost/low margin products, there is not a lot of incentive for vendors to stay in the market. That could result in customers holding the bag if their vendor of choice decides to walk away.
Building Business
The expansion of the Chromebook line of computers reflects the continuing commoditization of computing hardware, according to King.
Traditional Chromebook computer models are certainly suitable for the changing needs and choices of some consumers and business users. For years, a significant divide has existed between a majority of consumers and workers who pursue only basic computing tasks, and smaller numbers who truly require higher levels of performance and quality of experience, he noted.
"The fact is that it is getting cheaper and cheaper to build devices capable of supporting acceptable levels of compute performance for common tasks. That is a great development, especially for cash-strapped schools and consumers, and developing economies," King said, "and a reason that Chromebooks are doing so well in those markets."