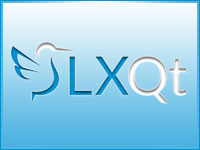 If you like the economy of working in a lightweight desktop environment such as LXDE, you no doubt will love the tweaked performance of the LXQt desktop. It is a fusion of the LXDE and Razor-Qt desktop environments. The LXQt hybrid is the next generation of the popular LXDE (Lightweight X11 Desktop Environment). The result is a lightweight, modular, very fast desktop environment that is user-friendly.
LXQt 0.7.0 is a stable desktop environment that is usable in production desktop machines. Before you get started, make sure your installation package is matched to your Linux distribution. It gives a more modern look and feel to an otherwise classic LXDE desktop.
Perhaps the biggest improvement LXQt brings to the lightweight desktop is much more control over LXDE. The Qt Configuration Tools are integrated within the LXQt Settings Panel.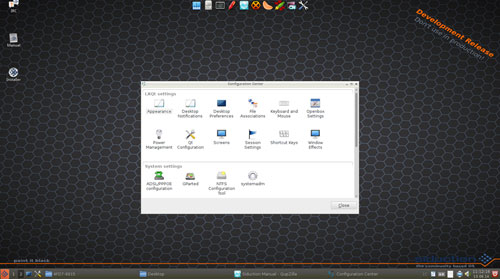 The latest release of the lightweight desktop puts both LXDE and QT controls within one common Settings Panel. (click to enlarge)
Developmental Misstep
A few months ago, I planned to preview LXQt but found it was not yet ready to roll into a Linux distro as a simple add-on shell. So I temporarily shelved the project.
What happened was that I installed LXQt from a beta release from the community. I applied the installation to a few of my test computers running several solid Linux distros.
In each case, the process of updating missing dependencies resulted in corrupted files in some of the distros. In a couple of the other test runs, the OS refused to load at all upon reboot.
The latest LXQt packages solve that problem. Installation packages pruned for several well populated Linux distros are now available. For instance, you can download versions for Ubuntu, Arch Linux, Fedora, openSuse, Siduction, Gentoo and Alt Linux.Toe-Tipping Time I downloaded the latest release of Siduction Linux, because it was one of the first distros to fully integrate the LXQt desktop. I was curious about Siduction because I was not familiar with this option initially. However, my goal was to formulate my impressions of the desktop environment and not review Siduction per se.
The latest release of Siduction is dubbed "Paint It Black." It was released in May and is a developmental release, but I found the performance of the LXQt desktop to be smooth and satisfying.
Siduction itself is clearly an early developmental release. However, its use of the latest outgrowth of the traditional LXDE desktop should give it a reason to draw attention as the combination gains stability and maturity.
Siduction's community of developers deserve credit for building on what is one of the newest roadways on the Linux desktop highway. The LXQt shell is the Qt port for the upcoming next release of the LXDE desktop.
Under Sid's Hood
This current release of 64-bit Siduction 14.1.0 Dev ISO is based on Debian Unstable. The IS file is 793 MB.
This distro's namesake comes from a play on words between "Sid" and "seduction." "Sid" is the code name of Debian's unstable branch. In its current developmental stage, it is not intended for inexperienced Linux users.
For example, this release does not have a package manager or installation tool that uses a GUI, so users must rely on the terminal window and its CLI, or command line interface.
Yet the distro itself displays what any Linux user typically would expect to find. A fully populated panel bar sits at the bottom of the screen. A launch dock resides at the top edge of the screen. The user interface is well served by cascading menus and notification icons.
Desktop Details
I regularly use distros with lightweight desktops on my older gear. Two of my favorites are LXDE and Xfce. Both of these environments are fast and easy to use. The desktops they produce are uncluttered and efficient.
That said, I find that Xfce is a bit more pleasant for me to use for long computing periods. Part of this favoritism stems from its additional special effects and fewer design quirks.
That is where the LXQt difference comes into play. The additional tweaking that the QT settings panel brings to LXDE seems to close the gap considerably between traditional LXDE and Xfce.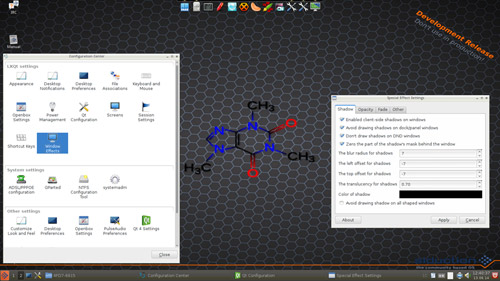 LXQt provides users with much more tweaking than previous LXDE releases permitted. (click to enlarge)
Taking the Tour
The only real visible differences between the old LXDE and the hybrid release with Qt is in the settings and controls. At least in the Siduction rendition of LXQt, you can launch many of these settings individually from other menu lists.
However, the economy is gained with the inclusion of all of these settings — for both LXDE and QT — within one common Settings Panel. For example, you open the Configuration Center by clicking on LXQt System Settings in the Preferences menu.
That provides access to some dozen icons to configure functions such as Appearance, Desktop Notifications, Keyboard and Mouse, Openbox Settings and more advanced System Settings choices. You also can access the QT Configuration panel by clicking on that icon.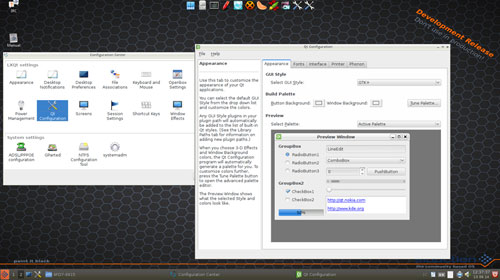 The QT Configuration panel is accessed from within one common Settings Panel. (click to enlarge)
The one feature I always missed in the LXDE environment is still absent from the LXQt merger. That is the ability to right click anywhere on the desktop to access the main menu. That feature is one of the reasons I favor Xfce.
Bottom Line
Meshing traditional LXDE functionality with the added tweaks from Razor-QT is a big step in a better direction for this lightweight desktop environment. If you want eye-popping visual displays, you will not find them in either LXDE or Xfce.
Still, the combination of LXDE and Razor-Qt make this lightweight environment an important development. It brings new features to a reliable and efficient Linux OS staple.
Want to Suggest a Review?
Is there a Linux software application or distro you'd like to suggest for review? Something you love or would like to get to know?
Please email your ideas to me, and I'll consider them for a future Linux Picks and Pans column.
And use the Talkback feature below to add your comments!