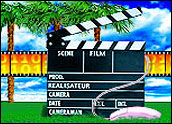 LiVES is an advanced video editor that can double as a video jockey (VJ) tool. It is surprisingly powerful. But its interface makes it rather simple to learn. In fact, it has so many feature levels that this app would be right at home as the video editor of choice in any professional film editing studio.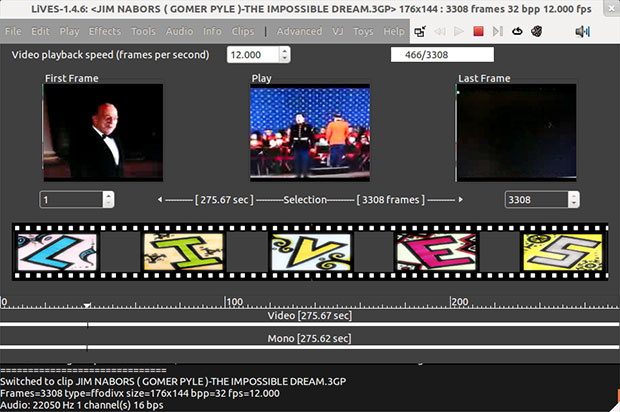 LiVES
I had almost no trouble putting LiVES to work on a current project before I even finished my initial shakedown of this application. This trial-by-fire test run proved highly successful. I was able to give LiVES a thorough hands-on evaluation while finishing an instructional video for an upcoming presentation.
LiVES took my mind off of technicalities such as formats, frame sizes and frame rates. Instead, it let me focus on importing clips, editing frames and adding audio. I discovered early on in this process that I could record my voice contributions in real time and then edit the soundtrack later.
For those more technically suited, LiVES is frame and sample accurate. You can control it remotely as well as with scripted commands for use as a video server. For those more oriented to editing tasks, LiVES is a top-of-the-line editing tool for mixing and switching clips from the keyboard. It is packed with real-time effects.
Jump-Start Options
Unless you are a purist, you can start LiVES by clicking its menu entry. But more experienced video users with a penchant for avoiding starting and loading files can force-start the process using a terminal command with parameters. For example, type the program's name followed by the file name to run LiVES and have it load a particular video or film clip — or sets of clips — at the same time.
You can build on this approach and start the video project file at a specific point. Do this by adding the running time point you want. That command looks like this:
lives [file name] [start time]
Do not use the brackets in the command line, however — just letters, numbers and spaces.
I like this shortcut method. If I remember to write down the minutes and seconds of my location, I can resume my next editing session exactly at that spot without have to start LiVES, load the file and then cue the location.
Adding the number of frames to load speeds up the process even faster. That command looks like this:
lives [file name] [start time] [frames]
This is a quick way to import specific frames as well.
Open Sesame
Another way to open multiple files is hold down the shift or control key and click the desired files names. A progress window shows the number of frames left to open as well as an estimate of the remaining time. It can take LiVES several minutes or longer to open large video files and multiple clips.
Three buttons on this progress window provide additional display control while the file opens. For instance, the preview button shows a preview of the file while it opens. This is handy because during an opening preview you can also apply real-time effects from the drop-down menu.
Seen enough? Then click the Enough button to stop LiVES from opening the rest of the video file. This option keeps the loaded portion in the queue but moves on to the rest of the selected files. If you have really seen enough, stop the process and close the partially opened clips by clicking the Cancel button.
Before opening a clip, you can ignore its audio by unselecting the Encode/Load/Backup with sound option in the File menu. The open file process works the same way if you use LiVES to edit audio files.
Open Flexibility
LiVES has a bundle of other really useful options. These are particularly helpful when working with multiple files.
For instance, import images the same way you open video clips. This means you can preview the imported images while they load.
When opening a directory, LiVES imports all images in that directory in alphanumerical order. This is a really handy way to open animations or renderings.
Similarly, single images open as separate files or collated together into one clip. Find this option in the preferences menu.
Dual Mode Design
LiVES is built around two modes: Clip Editor and Multitrack Window. Use the Clip Editor Mode to create video and audio snippets from a larger clip. This is actually the preferred way of working with LiVES.
In essence, you pull snippets from the full video source and save each set. Then open the Multi-track Window to combine the saved snippets.
Use the Clip Editor Mode to open as many clips as needed. This approach offers considerable flexibility in setting up your work flow.
For instance, use it to import video clips or parts of larger videos and audio clips. This method works well with single or multiple images. Each clip can have a maximum of 2 billion frames.
Mode Matters
Video file storage works a bit differently in LiVES than in other video editors. This affects how the program handles image decoding. LiVES stores video clips on the disk in one of two ways. The method it uses depends on the file format.
Disk Mode stores each frame as a separate image file (such as JPEG or PNG). Image decoding occurs when the clip is opened. File Mode only applies to a limited number of formats, mostly DV and OGG/Theora. In this mode, LiVES keeps selected frames in their original clips until you change them. Then the edited frame is decoded to an image.
This produces much faster opening times for these files. But it also creates a down side. If you open a file in File Mode, you cannot delete the original file. LiVES references frames inside it. So if you alter all of the frames in a clip while they are in File Mode, the clip then becomes a Disk Mode clip.
See the potential for trouble? Even resizing a frame changes it in the original file. So if you get careless and delete the original file before creating (saving) the new composition, your editing project is dead in the water.
File Support
LiVES supports an impressing list of file formats. It imports audio in the following formats: Ogg Vorbis, MP3, WAV, MOD, IT, XM. It also routinely handles these popular audio formats: Vorbis, PCM, MP3, MPEG2, AAC and AMR. Additionally, LiVES saves files in these format options: AVI, MPEG, OGG, MKV (matroska) and NUT.
LiVES has a much more extensive support library for video formats. It has a choice of over 50 different formats/quality levels for encoding, including several MPEG formats (MPEG1, MPEG2, DVD compatible), FLV (Flash), H264, XVID, Theora, animated GIF and 3GP Mobile.
LiVES also handles KVCD. It can fit two hours of video on a CD or close to 20 hours of video on a DVD. Other less-used video formats that LiVES supports are Dirac, MNG and SWF (Flash).
I do a ton of work involving Adobe reader files. So I was pleasantly pleased to find that LiVES also works well with the PDF format. It saves each frame as a page in a book. For the instructional and seminar materials I crank out, this is a hugely convenient feature for me.
Mode Maven
LiVES is an impressive film editing tool. One factor making this program such an outstanding editing tool is its mode modularity. Besides its Clip Editor and Multi-track Window modes, the Separate Playback Window mode adds a level of flexibility usually found only in the highest-end professional film editors.
LiVES has two playback choices: either embedded in the LiVES interface or in a separate window. The separate window can also be used to select start and end frames when editing a clip. And here is where Lives gets really interesting. The separate window has two modes, Sticky and Non-sticky mode.
Use the Sticky mode to keep the playback selection visible when nothing is playing. Use the non-sticky mode to automatically close the separate window each time playback stops. Start a new playback session to activate the separate window again.
Bottom Line
LiVES can be used by both film editing newbies and video pros alike. Either way, new users will have to read the easy-to-digest online manual. It is easy to access through the app's Help menu. Otherwise, you will take far too long to discover the many gems embedded in this film editor.
LiVES has many really cool features built into it. I barely scratched the surface here. This package combines real-time video performance with non-linear editing tools.