MIPS Puts Android on TV
By Jack M. Germain
Jan 6, 2010 5:00 AM PT
MIPS Technologies announced at the Consumer Electronics Show (CES) in Las Vegas on Tuesday its plan to develop a new line of set-top boxes with Android inside.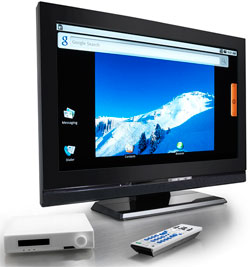 At CES, MIPS will demonstrate a prototype of an Android-based IPTV set-top box developed by KDDI R&D Labs.
(click image to enlarge)
The new product base provides the company's OEM customers and partners with a viable Android platform ready for individual customization for digital home devices such as set-top boxes, Blu-ray disc players, digital TVs and VoIP products.
"MIPS is driving the movement of Android beyond the mobile device. In the mobile market, MIPS has focused on ARM. But it has not yet conquered the home entertainment market," Kevin Kitagawa, director of strategic marketing for MIPS Technologies, told LinuxInsider.
Unlike the iPhone, the Android is not tied to a single vendor or hardware set. Thus, Android in set top boxes and other entertainment outlets can create potential.y a much larger market for the Android OS, he explained.
"So having Android in DVRs (digital video recorders), STBs (set-top boxes) and other devices shows MIPS branching out to a new audience. It has a new dynamic for developers," he said.
Growth Path
Android uses the Linux kernel, and Linux itself has come a long way taking over as much as 30 to 35 percent of the embedded design market share, according to Bill Weinberg, principal consultant and independent analyst for Linux Pundit.
"Android represents -- first for the mobile market and now for devices beyond the mobile space -- an applications platform. These devices are now requiring the ability to run third-party devices from sources other than other OEMs," Weinberg told LinuxInsider.
Android is bringing new competition and more development choices to product makers. The Android versus Linux versus the world of proprietary OSes represents the state of the art in application-ready platforms, he said.
Value Changer
Though Android is based on a Linux foundation, it provides more flexibility, added Kitagawa.
"It brings about a set of software down to the Linux kernel. With Google behind it, it brought together the whole market," he said.
One big difference between the two systems is that Android, as a platform, is a better content delivery vehicle. A traditional set-top box device is typically a standalone device built with more concerned regarding control, noted Weinberg.
Android potentially lets set-top boxes run applications without modification that originally were designed for mobile devices. For example, you could write the application for an ARM phone and run it unchanged on a MIPs-based unit, he explained.
"When you get into content delivery, it changes the value of the device," said Weinberg.
New Strategy
MIPS officials decided at the start of last year that they needed to speed up their time to market, according to Kitagawa. The result was a push to take the lead. The set-top box announcement is the first implementation of that new strategy.
"The devices are new but also rely on the market applications we've been servicing for several years. Historically, we relied on our customers to handle the software," he said.