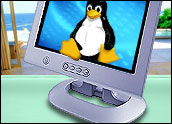 Zorin Linux 6.0 is a very capable replacement operating system for Microsoft Windows. It is also a bother-free alternative to other Linux distros that suffer from the usability issues of the Gnome 3 or Ubuntu Unity desktop interfaces.The Zorin Linux distro is an offshoot of Canonical's Ubuntu Linux but it has much more of the look and feel of Linux Mint with a few very substantial differences. These make Zorin an ideal choice for Windows users and others who dislike having to learn a new approach to computing.
One of these embellishments is a modified bottom panel that has the look and feel of the Windows start menu and task bar. Another key design difference is Zorin's familiar default Windows 7-like interface. This combination goes a long way towards reducing the learning curve of migrating to Linux while still experiencing the main advantages of Linux.
For many newcomers to Linux, Zorin has a deal maker that is unmatched in any other Linux distribution. It comes with several integrated tools that let you modify Zorin's appearance. Look Changer lets you decide how the desktop looks and acts. You can tweak the look and feel even more with Splash Screen Manager, Internet Browser Manager and Background Plus.
For example, with a click of a button you can have the desktop accurately the look and function of Windows 7, Windows XP or GNOME 2 in the free versions of Zorin OS. The Premium versions also include the Windows 2000, Unity and Mac OS X looks.
Free Or Not?
As I continue to tour various Linux distributions, I am seeing a trend that raises concerns. Traditionally, the Linux OS has been available for free as a hallmark of the open source software concept.
Paying for specialized Linux versions or subscribing for support features is nothing new. But offering users a few basic fully functional distro versions while charging for a premium release with more extensive features of a particular distro seems to violate the intent of FOSS (Free Open Source Software) principles.
Paying for a premium version of Zorin poses problems if you live in the U.S. The website only displays Euro prices.
Getting It
Three free versions are available for download. Zorin OS 6 Core is the standard desktop version of Zorin OS. It comes in 32-bit and 64-bit (1.4) versions.
Zorin OS 6.1 Lite is the streamlined version of Zorin OS. It is designed for use on old and low-spec computers. Zorin OS 6 Educational is for educational purposes.
Several paid versions are available with specialty open source packages for business, gaming and multimedia.
Don't ignore the warning on the download page. It recommends using the Firefox web browser to avoid file corruption issues during the download process. I ignored that warning and had to do it over again. The ISO file failed to properly burn a live DVD otherwise.
Snappy Set Up
Zorin ran relatively fast from the live DVD version. But some features related to the desktop look and feel did not work from the live version. That is to be expected. Once I installed Zorin to my test machine's hard drive, all the functionality was present.
For instance, Zorin enables a few desktop visual effects. You can tweak the look and feel of these animations by going to System Tools > Preferences > CompizConfig Settings Manager.
This is the element missing as most Linux disros upgraded to GNOME 3 or pushed users into other desktop environments. In most cases, the desktop effects and animations that Compiz created are now only available in the KDE desktop and distros such as Zorin that retained that functionality.
No Fuss
For those who detest fiddling, Zorin ships with all codecs enabled. This lets you watch videos and listen to streaming music without having to set up any of the player applications. This is a strong selling point, once that resembles the experience with Linux Mint.
One of the things you can change if you want is the default background. Zorin ships with more than 25 artistically pleasing images. Access them by right-clicking on the desktop or choosing the Appearance option from the System Settings menu in the System Tools area.
I was generally impressed with Zorin. Only one drawback would deter me from adopting it as my main Linux OS. I found no easy way to set up virtual workspaces.
Pleasing Panel
Zorin uses a modified version of the Avant Window Navigator (AWN) as a replacement panel. It does not have all the visual affects found in the separate AWN app.
Instead, the modified AWN is integrated into the desktop. It functions as a traditional panel rather than a docking bar.
I found it to be less flexible than the original AWN. It also lacked the visual effects options that the real AWN has.
The real AWN functions as a dock similar to what the Mac OS uses. But the Zorin version morphed AWN into a panel-like feature hard-wired to the bottom of the screen. The traditional Gnome panel does not exist in Zorin.
Not All Rosy
After hours of fiddling with Zorin, I discovered that the panel (see next section) has a setting to add applets. Once I installed the window list and desktop switcher applets in the dock preferences, I could right click on the top of an open window to send it to a new virtual desktop.
I was also able to right-click on the top border of an open window without these applets installed to access the options to move the window to another workspace. But other than treating the moved window as a minimized icon on the task panel or using the window switcher, no other way exists to navigate among virtual workspaces.
This might not be a problem for Windows OS converts. Virtual workspaces is a feature not built into Windows and is only available with add-on programs installed.
Bottom Line
Zorin is a solid choice for hassle-free computing. Its design sidesteps the controversial desktop issues in recent OS upgrades of other Linux distros. It is an easy-to-use Linux platform that is ideal for newcomers and veteran Linux users alike.