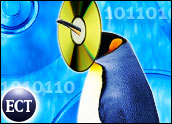 Storage-management software developer Acronis has announced release of its True Image Server for Linux 8.0, the industry's first native Linux disk imaging, backup and bare-metal restore application, the company said.
The South San Francisco, California-based company also announced release of a new version of its Windows-based server software.
"Expanding our disk imaging products to the Linux market is a natural progression for Acronis," company President Max Tsypliaev said. "We already use Linux extensively in our existing Windows products, and offering native disk imaging capabilities to the burgeoning Linux market simply makes good business sense," he said.
New Features
These latest additions to the Acronis family of server disk imaging software allow Linux and Windows systems administrators and network managers to create the exact disk image of live servers running for a complete file and system backup.
New features for the Windows version include the ability
to check the disk image integrity before restore and the file system integrity after restore;
to exclude paging-hibernate files from the disk image; and
to assign the priority for the disk imaging process.

As a result, system administrators can manage the server performance balancing between the backup process and server applications.

The Linux release also features the ability to create the backup disk image natively in Linux, operating from either an X Window System graphical interface or a command line; support for EXT 2/3, ReiserFS, XFS, JFS file systems, and Linux SWAP partition; and support for Red Hat, SuSE, Mandrakesoft Linux and other major Linux distributions

In addition to its disk imaging capabilities, Acronis True Image Server 8.0 for Linux and Windows incorporate features to clone, deploy and upgrade server disk drives.
Linux Backup Options
"Linux systems run a huge percentage of data center and Web servers worldwide, but backup options have been inadequate for those wanting a bare-metal restore, image-based solution," Acronis President Tsypliaev said.
"Linux has become a mainstream, high-performance operating system, and it requires mainstream, high-performance backup capabilities," Stephen Lawton, marketing director at Acronis, said.
He added: "As a leading operating system for Web- and intranet-based server applications, Linux has become mission-critical to a very large number of corporations. Acronis True Image Server for Linux is the industry's first solution to offer a full product feature set and speed that exceeds the demanding needs of IT managers and systems administrators."
Storage-Management Software
Acronis True Image Server 8.0 for Linux and Windows are available now. The suggested list price for each version is $699. More information about the product is available at acronis.com/products.
Acronis offers storage-management software that is technically advanced for mission-critical applications but easy to use. The company provides disaster recovery, backup and restore, partitioning, boot management, privacy, data migration, and other storage management products for enterprises, corporations and consumers of any qualification.