ALT Linux offers a buffet of Linux distributions that meet a variety of specialized needs. Its inviting selections could be a good source of alternative Linux OS solutions if you take the time to sort out the menus.
If you sample the wares, however, you might find navigating the poorly designed website a tedious chore. Still, persevering could get you a few tasty options to satisfy your computing appetite.
ALT Linux is a Russia-based independent distribution that forked from Mandrake Linux, an independent distribution that forked from Fedora-based Red Hat Linux. Truth be told, ALT Linux is not a single distro. It is a collection OSes running a vast selection of desktop choices that are based on a unique ALT Linux developmental path.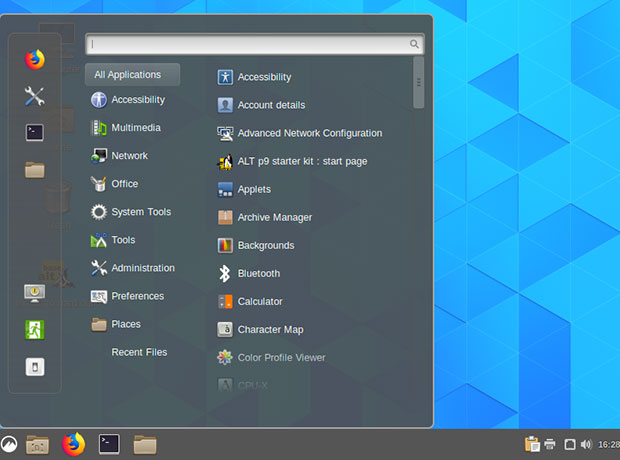 ALT Linux's Cinnamon desktop edition offers a modern workhorse computing environment.
---
ALT Linux was founded in 2001 as a merge of two large Russian free software projects. Seven years later, it became a large organization developing and deploying free software and developing custom products.
This approach is similar to a collection of Linux distros from software developer Arne Exton's Exton Linux releases and his ExTix Linux project that I reviewed a few weeks ago.
ALT Linux developers produce different types of distributions for various purposes. These include desktop distributions for home and office computers and releases for corporate servers.
Distributions include a wide variety of development tools and documentation, certified products, distributions specialized for educational institutions, and distributions for low-powered computers. ALT Linux has its own development infrastructure and repository, called "Sisyphus," which provides the base for all the different editions of ALT Linux.
Marketing Misstep
ALT Linux creates distributions for a wide range of hardware platforms. The developers focus on the needs of corporate customers, educational institutions, and individuals.
Linux products for educational and general consumer users generally get strong reader responses. I often get reader inquiries about distros for specialized purposes. Linux OSes that run well on older computers are always a hot topic.
ALT Linux distributions generally update quarterly following a somewhat flexible schedule, depending on the product.
A release update notice from the developers on Oct. 28 caught my attention. The developers announced three new releases for ALT Linux products. They were for new versions of ALT Linux 9.0 based on the ninth ALT platform (P9 Vaccinium).
Included were Alt Workstation 9, Alt Server 9, and Alt Education 9. ALT Linux had been on my radar for a while, so I decided to follow up on the recent releases. That is when my troubles kicked in.
Searches for English Failed
I was specifically trying to download the "advertised" workstation and education versions. Despite website links to English language versions, the "advertised" P9 download links for English versions do not exist (or at least did not this week).
What I got was live session ISOs with Russian language menus. Some of the applications I blindly loaded had some English language content.
I tried multiple download mirror sources without success. Even one of ALT Linux's major outlets, Softpedia.com, had links for English language downloads that delivered the same Russian Language results.
The ALT Linux website has a prominent link for downloads in English to this location. However, no English language versions downloaded — only Russian language.
I then decided to change strategies and abandoned efforts to get the just-announced product releases. I clicked on another download link on the developer's website and found a special repository for ALT Linux starter kits.
This ALT download center focuses on ALT Linux distributions that are based on the latest stable branch offerings — but it does not have English language versions of the P9 releases that triggered my search.
Starter Kits to the Rescue, Sort Of
ALT Linux starter kits are built with ALT stable repository as the base. They are intended for experienced users who know how to use package management systems to install software applications.
These starter kits provide access to dozens of ALT Linux distros that run from a live session ISO and come with a graphical installer. This provides you with an easy way to test out many desktop options.
They are all available in full English language editions. The starter kits provide a very convenient way to check out many different desktop environments.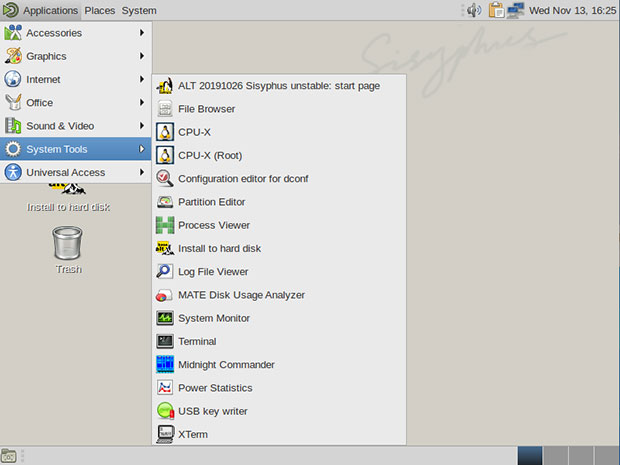 The MATE desktop provides a smooth, classic Linux desktop in ALT Linux.
---
These starter kits are not complete distributions. They do not include special docs written for each release. However, there is a unified, simple ALT Linux design that all of the builds share.
Depending on the particular version you select, the base system has limited installed applications beyond standard system tools for the desktop involved. You just add the specific applications you want.
Each starter kit as a whole is available under GPL license. All of the downloads are completely free. You'll find the entire collection here.
Many Tasty Delights
If you are curious about some of the non-mainstream desktops found in other Linux distros, ALT Linux's repository is a place to feast on all sorts of desktop varieties. Exploring these ALT Linux offerings could lead you to some inviting Linux alternatives.
For example, you will find the ALT Linux project is available in many editions, such as ALT Linux (School Junior), ALT Linux (School Master), ALT Linux (School Server), ALT Linux (School Teacher), ALT Linux Simply, ALT Linux Junior, ALT Linux KDesktop, ALT Linux Master, ALT Linux Rescue, and ALT Linux Server.
In addition, the ALT Linux's special Starterkit project offers versions with the LXDE, LXQt, Razor-Qt, Xfce, MATE, Cinnamon, IceWM, GNUstep, GNOME, Enlightenment, WindowMaker and Trinity desktop environments/window managers.
The ALT Linux releases support both 32-bit and 64-bit platforms, so your aging and out-of-date hardware can find productive new life.
My Three Options
One of my favorite Linux desktops is Cinnamon. I sometimes revisit my earlier Linux migration experiences with the MATE desktop. In my downtime, when not productively engaged in work chores, I spend hours lost in the Enlightenment desktop.
So, I had to try out how reliably these ALT Linux alternative distros worked. I was pleased that none of the three disappointed.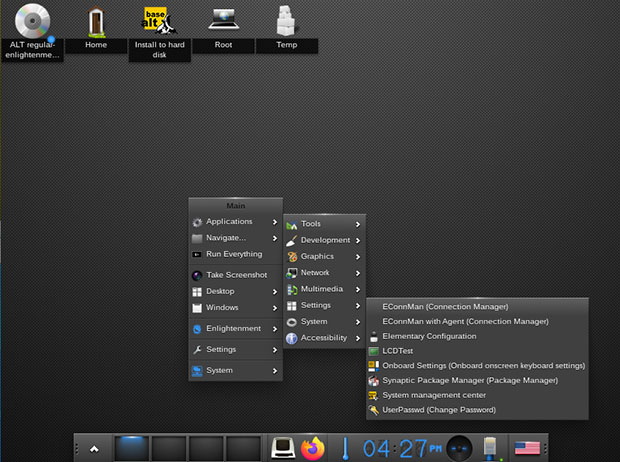 ALT Linux's E20 integration makes using the Enlightenment desktop fun and easy.
---
At the top of my revised to-do list is definitely to return to the ALT Linux website and taste more of the desktop delicacies waiting for me there. I am sure that will lead me to other Linux distros that offer some of these desktop varieties as primary offerings.
Check back later for reviews sampling my impressions of new and undiscovered Linux environments.
Bottom Line
ALT Linux may have a problem with getting English language updates on some of its most recent product releases. The primary geographic audience it serves may not make English a top priority. Yet many of its products are available with the English language intact.
The great variety of Linux distros available makes ALT Linux a very viable source of options for anyone looking to sample the flexibility the Linux operating system offers. I like the starter kit inventory maintained by the ALT Linux developers.
Distro hoppers particularly can focus on trying dozens of desktop varieties without having to adjust to separate distro designs. All of the ALT Linux distros share a common, simple design for ease of use and reliability.
---
Suggest a Review
Is there a Linux software application or distro you'd like to suggest for review? Something you love or would like to get to know?
Email your ideas to me, and I'll consider them for a future column.
And use the Reader Comments feature below to provide your input!