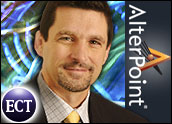 AlterPoint is a network configuration management provider that recently joined the open source ranks with the launch of its ZipTie community — and are now members of the Open Management Consortium.
The goal of ZipTie is to create a community that will advance network management beyond the limitations imposed by proprietary, vendor provided device management.
ZipTie open source software is a framework for network inventory management that expands device coverage for network engineering and operations teams. AlterPoint offers open source network management technology that goes beyond monitoring. The project will also help network equipment providers and network and systems management vendors by offering an open, extensible framework for easy integration.
Scott Harmon, president and CEO of AlterPoint, believes that it is time for an open, flexible approach to replace proprietary, siloed device management systems. He envisions that this replacement encourages a single, common device interface as well as a community based on the free exchange of tools.
Harmon details his views on network inventory management and open source programming with LinuxInsider.
LinuxInsider: One of your goals is to help your customers better manage their network resources. A recent report by research firm Gartner predicted that companies will waste (US)$50 billion by overspending on network products and services in the next five years. What are the factors contributing to Gartner's prediction?
Scott Harmon:
It is pretty common for a company to outsource or buy technology needlessly. Throwing a lot of technology at a problem happens for two reasons. One is misguided efforts to keep up with VOIP (Voice over IP) roll-outs. The other is in response to greater Ethernet capacities. In their efforts to upgrade to megabyte Ethernet service, they overbuy all new high-speed equipment. Most people don't really know what they have in their networks. As a result, many enterprises go overboard with their gigabyte deployment.
LI: What is involved with AlterPoint's network optimization to prevent this massive overspending?
Harmon:
We help network teams get a better handle on setup and configuration. Our software builds a big database of all network equipment and then asks and answers questions about this inventory. Our product can help enterprises to fine tune what they do with what they have.
LI: AlterPoint recently joined the ranks of the open source community. Yet your DeviceAuthority application is proprietary. How does this fit in with the open source concept?
Harmon:
: Device Authority has three key pieces. One is the inventory system, which does the equipment finding on the network. The second is the database itself. The third piece is the analytics applications. Only the first part is now open source. That is the ZipTie product we just released. The two higher pieces we keep proprietary. Why? That first layer is commoditized. This is a standardized concept in the industry today. It is a reaction to what the market wants us to do. Then we can sell the upper levels to customers who want more.
We were really careful to work with other open source communities for monitoring networks before announcing our ZipTie product. We also published a governance model based on the open source Eclipse model to quell negative reaction from other companies in this space who might think we were acting unfairly.
LI: Why are network configuration management providers so slow to adopt open source?
Harmon:
: The traditional model for open source starts with a commercial venture and ads to it. Once a few open source projects start, it opens the door. That's why we are so excited with ZipTie. In the networking space it is mostly closed or proprietary. That is keeping others out. I hope to see Cisco Systems' death grip loosen as a result. It would break up that monopoly.
LI: Isn't selling proprietary software along with open source programs giving potential customers conflicting messages about what you do?
Harmon:
: It is a reason to cast a skeptical eye. It almost seems like bait and switch. People who also sell a commercial version almost leave themselves open to suspicion. We took our bottom layer and open sourced that. This is a hugely different strategy from what others are doing. If we can get some traction with it, our open source strategy will succeed. The initial response we have received is strong. Regarding the use of open source products in this space, I believe this is the start of a huge trend. Companies that do not build their software on top of open source will go the way of the dodo bird. I do not think you can afford to have a 100 percent proprietary product.
LI: What are the advantages to customers who download and run your ZipTie product?
Harmon:
: ZipTie features include discovery, backup and restoration of network device configurations. It provides a comparison of network device configurations across devices and over time. It also allows detection of configuration changes. It facilitates the distribution of single- and multi-device configuration changes. Also, it gives users an organized, extensible set of tools for performing administration tasks [on] any network device. ZipTie enables network managers to use a single, common 'language' for controlling the configuration of any network device, regardless of manufacturer.