Working with the Android OS on a desktop computer environment takes personal computing in a new direction. How many will follow it remains to be seen.
The release of Android-x86 version 4.4-RC1 (KitKat-x86) by the Android-x86 Project brings the viability of an Android distro as an alternative desktop several steps closer, but it is still a work in progress.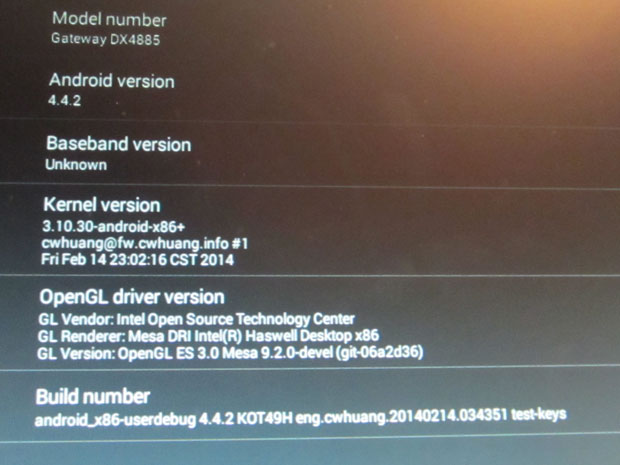 The product information screen on a desktop PC running the Android-x86 distro.
This software release lets you run a live session of Android from CD or USB drive — or you can install Android KitKat for the PC on a laptop or desktop's hard drive.
This Android-x86 Project is an unofficial initiative to port Google's Android mobile operating system to run on computers powered by Intel and AMD x86 processors, including netbooks and laptops. The project is maintained by Chih-Wei Huang, who described the 4.4-RC1 version for PCs as a stable version based on Google's Android 4.4.2 (KitKat-MR1) release.
"The Android-x86 release has great potential for both consumers to use the Android OS on their legacy computers and vendors to use it for their own branded releases," Ron Munitz, CTO of Nubo Software, told LinuxInsider.
Nubo Software is developing an Android version that runs on servers. Munitz volunteered as a programmer on parts of the Android-x86 Project.
Android Distro for Linux Lovers?
LinuxInsider put this potential Linux distro contender through the paces of performing routine work and casual computing tasks. For surfing the Web and handling email, social networking posts and household record-keeping, a desktop or laptop Android OS works well. Could it eventually replace a Microsoft Windows, a desktop Linux distribution or the Mac OS X? Maybe!
A desktop or laptop running a more polished version of Android-x86 KitKat software easily could cash in on mobile Android's popularity and become an Android distro for PCs, agreed Munitz. After all, Android is Linux. It's based on the Linux kernel.
"There are already some Android desktops out there and Android notebooks are on their way," said Tuong Huy Nguyen, principal research analyst for consumer tech and markets at Gartner.
"Anecdotally, I heard there is an interest from the consumer segment for Android notebooks — so potential demand. Thus vendors are responding with a product, " he told LinuxInsider.
Vendor Interest
Several small vendors already sent hardware to project maintainer Huang for evaluating and development. For example, Tegatech (Tegav2 tablet), WeTab GmbH (Wetab tablet) and some small Taiwan vendors, he said.
"But I'm not sure if they have really shipped Android-x86 based products. For big vendors, I think they will co-work with Intel directly," Huang told LinuxInsider.
The Android-x86 community has no set plan for developmental goals or vendor adoption. Android-x86 may never be mature enough to be a product if it doe not get supported now, he added.
Vendor Interest vs. Consumer Viability
"I think interest is different than viability. I am wary about this because consumers may be expecting a Windows or MacOS type experience while responding based on their familiarity with Android on the phone or tablet," Nguyen cautioned.
The point is, while consumers may be interested, their expectations may be misplaced, he explained. Putting Android on desktops and notebooks may be better for light computing as occurs now on tablets and smartphones, he said.
That is not to say Android devices are not capable of more rigorous computing tasks — but the experience will be significantly different than what consumers are used to, according to Nguyen.
The Business Factor
An Android-x86 desktop or laptop may not be able to handle much productivity, noted Nguyen.
"This applies to both consumers and business users. On the business side, there is also the issue of supporting another ecosystem. They might already be doing this for phones or additional apps," he said.
Still, Android has the potential to overcome these obstacles, in Munitz's view. Google itself — if not other vendors — could adjust the Android-x86 code to make it a fully functional OS capable of replacing Windows entirely. The only real challenge would be getting an enterprise-class replacement application for Microsoft Word.
"The office suite is the real Achilles Heal in Android," Munitz said.
Reviewing the Issues
Downloading the Android-x86 KitKat ISO file was a quick process, but burning the files to a CD-ROM (the files are small enough to not need a DVD) has a performance drawback. Reading the files from the optical drive took much longer than with most other Linux live session DVDs in my experience.
A much better approach is to create a bootable USB stick and burn the files to that device using Unetbootin or another USB Image Writer. That speeds up the entire live session experience. Installing to a hard drive takes very little storage space, so if you take that route, you need only create a 5-GB partition.
This software release supports virtual machine installations, but I found that option to be less successful. Android balked at loading on some of my computers with either CD or USB sources. Running it from a VM environment failed on three of my five computers. The good news is I was able to load Android on even low-powered PCs that balked at loading from the CD by using Android installed to a USB stick.
So far, you can save files and have them there on subsequent logons only on the Android stick — the current version has no persistent memory capability. That means any settings or app downloads made in one session do not carry over to subsequent sessions. This is the only advantage to committing the installation to hard drive.
First Impressions
The first run with KitKat for the PC requires creating or signing into a Google account. The process also involves configuring the WiFi connection. On several computers, the wireless connections failed. On several others, the "no connection" warning occurred even with a connection, whether wireless or LAN.
If you do not have a Google account, a plain vanilla Android loads. This gives you access to the Internet through the Google browser. There is no other browser option available.
Clicking on the Google Play store icon requires Google credentials to proceed. You have basic functionality to use the pre-installed apps without registering your Google account.
Navigating the GUI
Android-x86 has three home screens. Each one has a Google search box for typing and voice input at the top center of the screen. Across the bottom of the Android screen is a wide black panel holding in the center the expected Return button, Home button and Recent Apps button.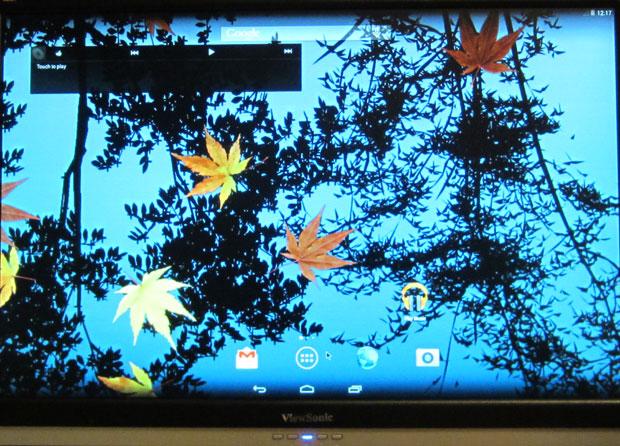 The first of three home screens in the Android-x86 OS shown with an animated background.
The top of the Android screen has a narrow black panel bar. In its right corner, the digital time is displayed. To the left of the time is a handle to drag down a larger box showing icons for User Information, Brightness, Settings, WiFi On/Off, Connectivity, Auto Rotate, Battery, Airplane Mode, Bluetooth Off, Location and Power Off. Directly below this panel bar, near the center, is the Google Play Music Widget.
The app icon for this program is displayed at the bottom of the screen, along with the camera icon and the browser icon. In the center of what is essentially the first row at the bottom of the display is the circular app drawer button with six squares. Click on it to see all installed apps. Above the app drawer button are three dots for each of the virtual pages or home screens.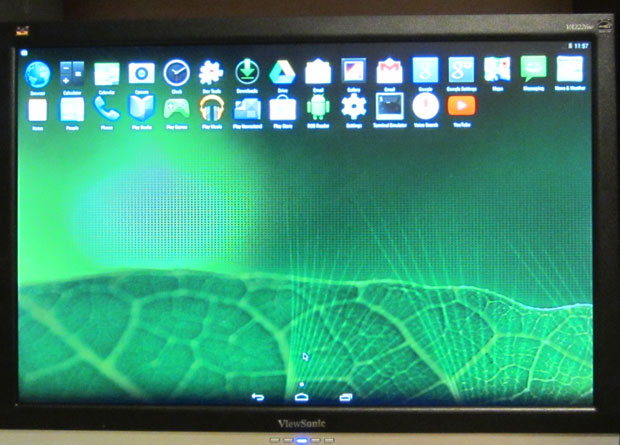 This is the screen displayed when the apps drawer is pressed on a fresh installation of the Android-x86 distro.
Unless you are using a touchscreen monitor, you must press and hold any of the mouse buttons and drag left or right to change home screens. The second home page shows a folder on the second row that contains Maps, Gmail, Play Music, YouTube and Navigation. Also displayed is the icon to launch the Play Store. The first row is the same on all three pages. The third home page has the Gallery icon launcher and the Settings launcher. The Google search window sits at the top center of all three home pages.
If you have running applications, clicking the Recent button displays them in a row of thumbnails of each app. Click on the desired app to switch to a full-screen access to that app.
Terminal Window Dressing
The stock software installed includes some three dozen apps. Obviously, some of these apps are stock Android phone tools and will not work from a PC. Other apps in this list will not work if you do not sign onto your Google account. One app missing from the default installation is a file manager.
The KitKat version of the Android-x86 OS has a Terminal window app. This function is not included in the official mobile Android 4.4 version that Google released. So it may be a feature for this foray into using Android on a PC.
The Android Terminal has a drop-down switcher function to navigate among multiple Terminal windows. These seem to be much like virtual workspaces within the terminal environment.
A plus button in the top right creates new Terminal windows. An X button removes an added Terminal window. A typical menu launcher next to these buttons provides access to numerous Terminal-related settings such as Toggle soft keyboard, Special keys, Preferences, Reset, Email to, Take WakeLock and Take WiFiLock
Performance Pointers
Overall, performance generally was smooth and responsive on every computer I ran the Android distro. However, this software has a known issue involving locking up when the computer goes into sleep mode. After a prolonged period of inactivity, the screen blanks, but waking Android up is impossible.
That fault is temporary and present by design, of sorts, according to Munitz. There is an easy workaround. Just turn off the power management or change the display setting to never sleep.
It was designed like that to allow vendors to take the code and add their own power settings to their specific hardware. That time-out problem is not an issue on Android mobile devices, he explained.
The only other concern I had in playing around with this Android for PC distro release — as with mobile Android — is the lack of printing support. Of course, there is a default app for Google cloud printing.