The antiX distro is both something old and something new. It is a handy and innovative approach to keeping aging computers fast and active. It is also an energy infuser for new computers. I started playing around with antiX when looking for something different to keep some older computers out of the trash heap. antiX is a fast, lightweight distro that is easy to install. It is based on Debian Testing for Intel-AMD x86 compatible systems. It uses Fluxbox and IceWN for the desktop environment.
It worked well but was not as current as I preferred. Its last release was nearly one year ago. This year's version is still being developed.
I discovered a variant of antiX that was only several months old and is updated monthly. MX-14 Symbiosis is a special Xfce edition of antiX made in collaboration with the Mepis community. Version 14.4 was released on March 24 of this year.
Symbiosis breaks from tradition in the way the developers handle ISO releases of the current version. They pump out monthly updates/upgrades in both PAE and Non-PAE (physical address extension) ISOs created from the original release using MX Snapshot. You can download the most current monthly ISO of MX-14 here.
They include all upgrades since the original release. This makes it unnecessary to download a large number of files after creating a new installation. They also enable users to run Live with the most recent version of the programs.
A Game-Changer
The collaboration produced a variant — if not a new Linux distribution — that is a midweight OS. It blends elegance and efficiency with a desktop configured simply. This release is highly stable and gives solid performance from a medium-sized footprint.
MX-14 incorporates refinements in upstream elements of Debian Linux, Debian, and the Xfce desktop environment. It also incorporates elements of the Whisker Menu, QupZilla Browser, smxi script-based stub installer, and inxi, a tool to check hardware information on Linux.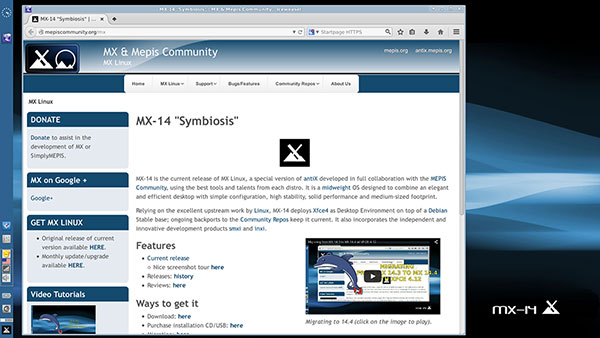 antiX Symbiosis runs the QT-based Qupzilla browser by default and places the panel bar vertically on the left of the screen.
---
MX-14 breaks from earlier antiX Linux versions based on Debian 8 Jessie. Instead, it is based on Debian 7 Wheezy. On top of Debian sit a number of important apps implemented from the Debian-backports and Mepis Community repositories.
Under the Hood
If you are looking for a workhorse Linux distro for older computers, check out the antiX line in general and the MX-14 variety in particular. It also runs great on newer boxes.
To serve its legacy target user base, the earlier antiX releases and the current MX-14 release only come in 32-bit versions. MX-14 is based on Linux kernel 3.12 PAE 32-bit. This is an older but very stable Linux kernel.
It runs the Xfce 4.10 desktop, the QT-based Qupzilla browser, an integrated LibreOffice suite, the VLC multimedia player and streamer, and Clementine as the default music player. Synaptic is the default package manager.
MX-14 also integrates a number of the developers' own applications, such as MX-Flash (Adobe Flash plugin manager), MX-User (a simple user manager), MX-Codecs (restricted codecs installer), MX-Apt-notifier (a tray applet to notify the user about the system and application updates), and MX-Checkaptgpg (users can check and add missing GPG keys needed by apt).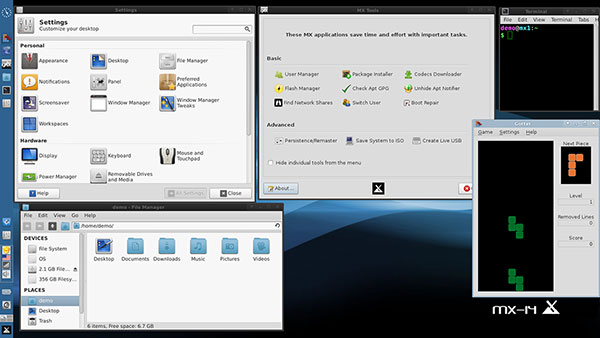 antiX MX-14 Symbiosis has a tweaked Xfce desktop environment. Its collection of MX tools developed in-house and the numerous tweaked settings panels add to the flexibility of this distro.
---
It uses the Thunar file manager. Other solid software tools include GRUB2, the Catfish file search tool, Samba, File Roller, and LightDM.
Family Ties
The antiX family certainly is not the only Linux distro dedicated to serving puny aging computers or to replacing retired OS platforms. One of the more functional and popular is Puppy Linux.
I still use Puppy Linux on a USB stick so I can have my customized Linux desktop and all of my essential files in my pocket, ready to pop into any computer I touch. That same ability is available with antiX — but antiX is much easier to set up and use out of the box.
antiX is superior to Puppy Linux in some ways. The Puppy line of distros is a smorgasbord of variations. Some of them are based on Ubuntu and can run some, if not all, of the Ubuntu software with a little tweaking.
However, antiX is more deeply vested in Debian, which makes it much more configurable. It starts out as a small footprint using minimal resources. It runs anything in the Debian archive. That makes it an ideal platform to grow your own customized Linux system with the Debian Package Manager system.
Installation Bliss
antiX takes up little space compared to many of today's typical operating systems. Its installer is very fast and efficient. So is the grub installer if you plan to use antiX as one of your dual-boot options.
If you choose to install antiX to maximize the customization, you have several options.
A Frugal Install lets you run antiX as a persistent live ISO on a hard drive. A Command Line Install boots directly to the command line and does not start X-windows. This can be useful to install on systems with very limited RAM. Root Persistence lets the USB drive act like an installed system. It prompts for the creation of persistence files if not already available.
A Static Root Persistence is similar to root persistence but saves changes immediately to disk instead of holding them in RAM until exit. A Home Persistence installation saves files and settings in your home directory but does not save system-wide settings and packages that have been installed. The Boot from Hard Drive option boots from the first internal hard drive.
You can even choose not to install it at all and boot antiX from an ISO file on a hard drive, which is very fast.
Remastering Master Tasks
A neat feature is an ability to remaster your customized configuration of antiX to duplicate the installation on multiple computers. antiX does this with a special application that builds a simple remaster script.
The graphical user interface is easy to use. If something goes wrong, simply reboot again with the rollback option. The computer will boot into the previous environment.
The remastering feature is not unique to antiX. Puppy Linux and numerous other distributions have a similar process, but the approach antiX takes is one of the better methods I have seen.
For example, the GUI simplifies the process into four distinct steps. Each one is started by pressing the button in the tool's window. The key to the process is persistence. This process creates a special file or partition on the hard drive or USB drive to save software additions and configuration changes.
Usable Options
Persistence is a hybrid between using a Live Medium and performing a full installation. It is essential in doing a frugal installation or installing antiX to a USB disk rather than the hard drive.
The four buttons in the remastering tool step you through creating and configuring the live persistence, saving the root persistence, and then performing the remastering. antiX comes with two tools to create a live USB installation: antix2usb and UNetbootin.
A related nifty feature is an ability to create a system snapshot and burn it to a DVD. Essentially, this lets you create a bootable live session ISO to use as a backup for reinstallation or creating your own distribution.
Look and Feel
antiX, by default, puts the panel bar vertically along the left edge of the screen. You can change it to sit across the top of the screen in the Panel configuration window. Having the panel bar in Xfce reside anywhere but along the bottom of the screen is refreshing.
This distro has one of the most well-stocked settings menus of any Xfce desktop I have used. Actually, it has two. One is for system tools, and the other is for system settings. You scroll down the alphabetical listing to find just what you need. One icon in the settings or system panel does not open a second location, so you have a navigation chore to find what you want.
Still, if you prefer the Control Panel approach to corralling all of the settings in one spot with large icons serving as launch buttons, it is there. Just click on the settings icon residing on the panel bar.
Lots of useful software is bundled in the installation ISO file. You can install or remove software with the Synaptic Package Manager, MX Package Installer, gDebi Package Installer, and Apt using a Terminal window.
Bottom Line
Since antiX is not updated as quickly, it is a less appealing choice over the special edition Symbiosis or antiX MX-14. However, both versions get the job done quite impressively.
Another reason to choose MX-14 is its creative use of the Xfce desktop. The earlier antiX version is less appealing with the more lightweight Flushbox and IceWN desktop offerings.
Either way, the antiX Linux distro is an outstanding operating system that performs flawlessly. It lacks the special effects of desktops such as Cinnamon, KDE, and Unity, but older computers tend to be unable to run them properly.
Linux offers numerous distro choices for legacy computers. antiX Linux, especially the latest release of the special edition MX-14, should be at the top of your must-try list.
---
Suggest a Review
Is there a Linux software application or distro you'd like to suggest for review? Something you love or would like to get to know?
Email your ideas to me and I'll consider them for a future column.
And use the Reader Comments feature below to provide your input!