Apricity OS is a great, two-pronged Linux distro that recently reached a milestone that will ensure its continued success.
Apricity's first public beta, which was GNOME-only, was released more than a year ago. A choice of either the GNOME or Cinnamon desktops later became available in the monthly development snapshot releases.
This rolling release delivery method already provided a pleasant computing experience. Both desktop versions performed well. Each monthly build brought more functionality. I have not experienced any stability issues with the continuing stream of beta releases.
However, you can download something even better than an ongoing series of beta releases: Apricity OS 7.2016 Aspen is the first ever stable release of this distro. Alex Gajewski's development team accomplished this feat with the Aug. 6 release.
Apricity OS is a U.S.-based Arch Linux derivative distro that comes with two well-integrated, trimmed down and simplified desktop versions in 64-bit architecture.
Apricity OS is one of only a few Linux distros that feature the ICE site-specific browser to integrate Web apps into the desktop environment. It offers a unique approach to launching access to favorite online locations without the menu baggage and clutter often displayed in a full Web browser.
Icing Flavors
ICE is a crafty tool for easily creating and managing your personalized collection of websites as an app. This site-specific browser, or SSB, lets you create a launcher to connect to a website for its specific content or services.
For example, you can use the ICE technology to connect to cloud applications by clicking on items ICE adds to your menu or desktop icon displays.
ICE lets you forgo manual navigation to an Internet location in a URL window from within your default Web browser. Instead, the SSB displays the Web application in its own independent window.
For instance, you launch Google Docs, Gmail, Twitter, Yahoo Mail, YouTube, Pandora or Facebook as self-contained apps on a mobile device.
The ICE approach gives you the advantage of additional screen space. SSBs do not include all the functions and menus of a conventional browser. Using the ICE technology is much like launching a Web service or other Internet location on a smartphone or tablet.
However, these pseudo apps never need updating. ICE easily creates a menu entry to launch any website or application as if the package were installed on the hard drive.
Under the Hood
One of the major changes is the addition of Apricity Freezedry, a system configuration tool integrated into the development build system. Freezedry lets you modify various modules to shape Apricity into a customized Linux OS.
Freezedry lets you build your own custom version of Apricity OS using the form-driven online app. When you finish, just download it. You also can share your custom creation with the Apricity community.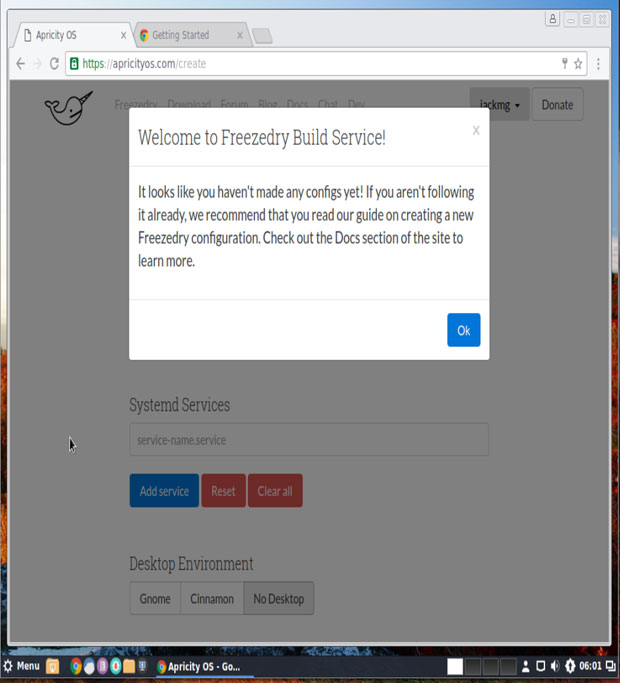 Use the web browser to access the developer's Freeze-dry custom distro building tool to create your own ISO of selected software packages. You also can download other users' unique customizations.
Security is a no-brainer with the Apricity OS. By default, it uses the Uncomplicated Firewall to make security a simple, no frills process. UFW has a user-friendly framework that avoids the confusing use of iptables. It comes with a set of command-line tools for managing the firewall.
The real beauty of UFW in Apricity is its out-of-the-box settings. UFW comes with an optimized configuration that is ideal for most computers, but you can tweak it to suit your needs.
Ready to Go
One of the best things about Apricity OS is its usability — it has one of the best assortments of included software. One of my personal assessments for the suitability of any distro for use beyond my trial run is how much work I have to do to get the OS loaded for my work and play conditions.
Apricity meets my standard quite well. It comes with the LibreOffice 5.2.0.4 suite, which includes Writer (word processor), Calc (spreadsheet) and Impress (presentation) programs. The default browser is Google Chrome. Rythmbox is the default music manager. The video player is Totem. The text editor is gEdit.
What I really like is the standardized integration of the base applications. Whether I run the GNOME or the Cinnamon desktops, Apricity uses the same set of core apps, so I do not have to choose between GNOME-specific or Cinnamon software options.
This level of uniformity is a pleasant surprise. It pushes the envelope for a satisfying user experience, regardless of which desktop environment you prefer.
Apricity ships with a full set of multimedia codecs. That's not unique to this distro. but I found little or no trouble in loading my varied collection of multimedia file formats.
More Good Stuff
Another big plus for the Apricity OS is its inviting nature for newcomers. Users migrating from Microsoft Windows will have few worries about cutting the Windows cord and leaving Microsoft-specific software behind.
Apricity includes several built-in tools that make moving into Linux much more comforting than is typical with other Linux distros. Apricity has Wine and PlayOnLinux for a seamless integration of many Windows programs.
SBackup is one more bright spot to make using Apricity a solid choice over other Linux distros. SBackup lets you create compressed and uncompressed backups. It lets you split uncompressed backups into multiple parts.
SBackup lets you set up scheduled backups or run them manually. You can back up files to both local and remote destinations. It has a toolbox full of advanced options for logging your backups and getting email notifications, plus much more.
Look and Feel
I like the way Apricity's developers minimize some of the major differences that separate the various Linux architectures. This will not impact newcomers to Linux in general, but it could go a long way toward fostering adoption by users of other Linux families, such as Slackware, Debian and Gentoo.
The overall pleasing appearance and functionality of the user interface is very apparent when you see the GNOME and the Cinnamon desktops running side by side. The tweaked integration is very successful in creating a common view despite your choice of desktop environment. I can not think of another Linux distro that can make this claim.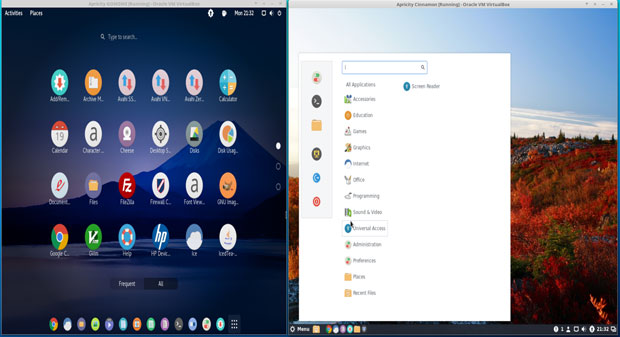 Apricity OS 7.2016 Aspen Stable version has a unified desktop layout that keeps a similar user interface whether you run the GNOME (on left) or Cinnamon desktops.
Apricity's developers did that in part by modifying some of the classic GNOME elements. for instance, the GNOME desktop has a transparent panel across the top of the screen. The panel bar in Cinnamon by default is at the bottom — but you can move it to the top.
The GNOME desktop display is much more like Cinnamon than it is classic GNOME 3. For example, the activity button in the upper left corner of the screen exposes the virtual workplaces along the right edge of the screen. Next to the Activities button is the Places launcher.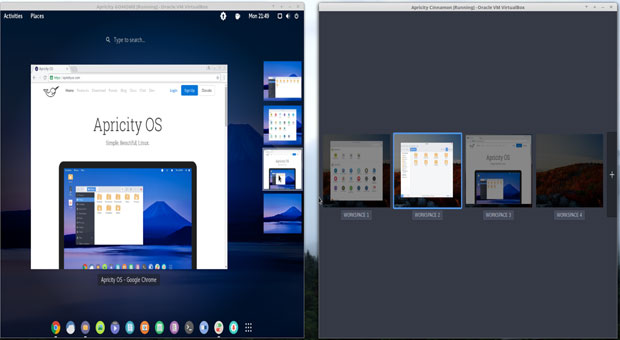 Apricity OS GNOME desktop on the left displays virtual workspaces and open app windows. Apricity OS Cinnamon desktop on the right displays virtual workspaces and the classic Expo virtual workspaces.
This matches up nicely with the buttons on the Cinnamon desktop panel that activate the Scale and the Expo screen displays of open windows.
Most GNOME 3 iterations place the favorites bar along the left screen edge. Apricity OS takes a more traditional and functional approach by placing it across the bottom. This arrangement creates a launch and dock bar more like the functionality of the Cinnamon panel bar.
Bottom Line
Apricity OS is an excellent change-of-pace option both for Linux newcomers and hard-core Linux users. Its design is well tooled. Its performance is even more solid now that it has an official stable release.
Your only difficulty will be deciding on regularly using the GNOME or the Cinnamon desktop versions. Make that choice easier: Run them both side by side in two scaled virtual machine windows to check them out feature for feature.
Want to Suggest a Review?
Is there a Linux software application or distro you'd like to suggest for review? Something you love or would like to get to know?
Please email your ideas to me, and I'll consider them for a future Linux Picks and Pans column.
And use the Talkback feature below to add your comments!