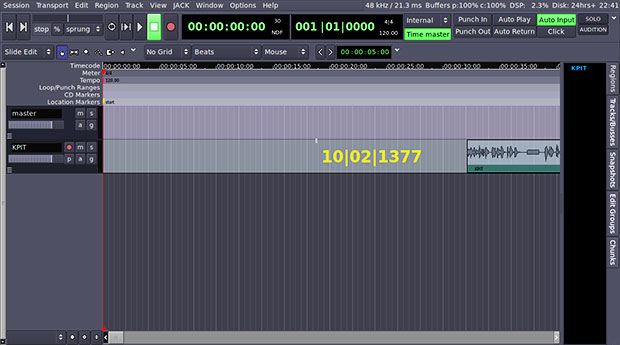 Ardour
Using a fully functional digital audio workstation, or DAW, is a computing necessity only for hard-core audiophiles, musicians and those who package audio and video content. If you fit one of those categories and do not know about Ardour, you could be pleasantly surprised at its power and relative ease-of-use.
Ardour is the go-to app of choice on Linux for many audio editors. I have less use for a top-of-the-line DAW, however. I was getting along fine with Audacity until I needed specialized results for a project on which I was consulting. That is when I made the switch to Ardour. It is lean but packs some powerhouse tools for effective sound mixing, effects and cutting.
One of the partners on this project actually moved into Linux just to use Ardour over other products available on the Microsoft Windows platform. Ardour has no Windows version, although it is available for Mac OS X.
With Ardour, I was able to easily grab output from multiple channel sources. It let me mix all the channels, samples and effects. I could save the configurations with the specialty plug-ins intact. This allowed others involved in the project to work more collaboratively from their remote locations.
Not Flawless
I was not completely sold on Ardour when I first installed the app. The production team members used several flavors of Linux. That meant introducing Ardour to a variable collection of kernel and supporting libraries.
Some of these wrinkles smoothed out after adjusting system settings. Others were more persistent.
For example, I am still plagued with an error message of sorts when I load Ardour. That message warns me that my system has a limit for the maximum amount of locked memory. The message further advises that this might cause Ardour to run out of memory before my system runs out of memory.
The fix for this nagging message is to view the memory limit by entering this command in a terminal window:
ulimit -l
Then edit memory settings in the file:
/etc/security/limits.conf
Ardour continues to issue the warning message. But it so far has not crashed or failed to deliver.
What It Does
Ardour is a multichannel DAW that controls, records, edits and runs complex audio setups. It supports pro-audio interfaces through the ALSA project. This is the source of Ardour's flexibility. It works with any interface supported by ALSA.
It provides a high degree of professional-strength reliability. To a large extent, this comes from its built-in multi-track audio editor/arranger. It can handle all standard non-linear editing operations. It has unlimited undo/redo capabilities.
Ardour can save independent versions of a track or an entire composition. I particularly liked the ease with which it converted large MP3 files. I was also impressed with Ardour's ability to give every mixer strip any number of inputs and outputs. It is not limited to mono, stereo or 5.1 formats.
Powerful Tools
Ardour supports 24-bit samples using floating point internally and has a configurable mixer, MTC master/slave capabilities and MIDI hardware control surface compatibility. This ability makes Ardour capable of being controlled by any MMC controller and many modern digital mixers.
It uses the Jack Audio Connection Kit for all audio I/O. This lets you exchange data in perfect samplesync with other applications and /or hardware audio interfaces.
Ardour excels at handling sync and interface through common standards. You can apply time stretch/shrink, panning and automation of volume. Its ability to use sends is awesome.
Tough Set Up
Do not expect to open Ardour on first use and produce fine-tuned recording and editing results. This is not a beginner's audio app.
That said, a little familiarity with the fine points of audio mixing and sound equipment will go a long way to settling in with Ardour. As a starting point, access the JACK Control from the Applications/Sound and Video menu.
The heart and soul of professional-strength sound apps rests with adding functionality from plug-ins. Ardour limps along in that aspect. But it makes up for it by being able to add a large collection of industry-standard plug-ins. It supports LADSPA and LV2 plug-ins.
Challenging Interface
Ardour's interface can leave you scratching your head. I am not saying that this app is complicated to use. On the contrary, once you get used to its jam-packed feature menus, you will navigate through the tool sets with relative ease. But expect a steep learning curve first.
The layout of the Ardour screen is daunting. It devotes the majority of its viewing window to the digital cutting board. Unlike other audio editing apps, this area is not resizable.
That leaves a left vertical panel to display sources and two very packed tool rows and audio controls to fight for space on top.
Plan on spending considerable time with the online manual. You can access it from Help/Manual. It is well organized and extremely helpful.
Navigation Nirvana
Tour the Session drop-down choices to get a sense of what Ardour offers. It closely resembles what you would expect to find in a traditional File menu.
You will also find unique options related to your recording or editing session such as Add Track/Bus, Import/Export, and cleanup unused sources/flush wastebasket. The other menu items are much more task-specific.
It took me about two hours to work my way through the uses of items in the Transport and Region menus. The Edit and Track menus were far more familiar to me from my use of other audio apps.
Everything on the control board is clickable. Inserting tracks, cutting segments and adding effects are all a drag and click away.
Bottom Line
Ardour's channel capacity is controlled by the capacity of your computer's audio interface and its disk subsystem to stream data back and forth. This app is sample rate and size neutral. So it works with any hardware formats from 8 to 32 bits and rates from 8 kHz to 192kHz.
Ardour is a DAW application for professionals and experienced audio users. It can be a real dog to configure to your equipment array. Once you overcome that hurdle, the rest is easy. It is a powerful app complete with tools for recording, editing and mixing multi-track audios.