Audacity, an open source multitrack audio editor, has versions for Linux/Unix, MacOS and Windows. If all you do with audio files is play them, then Audacity could be much more than you need. This is not an application for organizing your music collection.
It has no fancy search and play functions. Sure, you can use it to listen to your music collection. But Audacity's main focus is on importing and exporting audio files. Its toolset delves into the realm of editing sound tracks in much the same way graphic editors let you manipulate images.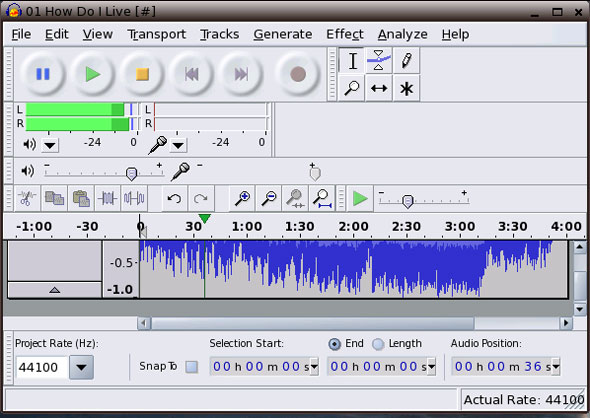 Audacity
But if your current audio player can not record live audio, it could be time for an app change. With Audacity, you can do more than play an audio file. You can edit it and convert it automatically in real time.
What It Does
Audacity lacks some of the bells and whistles of other audio editors, but it is loaded with enough features to meet the typical needs of audiophiles and then some.
The real power behind Audacity is the ability to import sound files, edit them and combine them with other files or new recordings. You can export your recordings in several common file formats.
Audacity has an easy-to-use interface for recording, playing and editing your digital audio selections. Its features include digital effects and spectrum analysis tools. Plus it has an unlimited undo/redo buffer.
The latest release of Audacity, version 1.3.12, lets you listen to and edit file formats that include Ogg Vorbis, MP2, MP3, WAV, AIFF, and AU. Audacity cannot open WMA, AAC, or most other proprietary or restricted file formats. This is not a reflection of Audacity's ineptness; rather, it is the result of the ongoing battle for standards and licensing fees between the open source and proprietary worlds.
What You Get
You can use Audacity to record from microphone and line input, as well as from other sources. Audacity also converts tapes and records into digital recordings or CDs. Depending on the sound card installed, it can also capture streaming audio.
I found it relatively easy to cut, copy, splice and mix sounds together. This ease of use is due in part to not needing the check directions for how to do these things. The drop-down menus are detailed enough to connect the dots on my own.
Audacity also has an editing option that lets me change the speed or pitch of a recording. Changing the pitch without altering the tempo, or vice-versa, is a cool tool. This is something I have not seen in typical general-purpose audio editing apps.
Other Sound Features
Much of my appreciation for Audacity's talents comes from what this app does besides just playing back audio. For instance, I can use it to dub over existing tracks to create multitrack recordings.
Audacity is not really a professional-strength sound mixer. Still, it has some impressive abilities that lean in that direction. For example, it can record up to 16 channels at once provided the computer is configured with multichannel hardware.
Another handy trick is Audacity's level meters. They can monitor volume levels before, during and after recording.
More Better Still
I liked earlier versions of Audacity. Some of the improvements packaged in this latest rendition make it even more useful.
Sometimes it is the little things developers do to tweak better performance in an already good product. One example of this is the hover tooltip. It appears if the Mixer Toolbar input selector cannot control the system slider for the selected input.
Another example of this tweaking is a more intuitive behavior when moving and resizing labels by dragging. Plus, I really like the new export option for multiple files. I can use a numerical prefix before existing labels or track names.
Hefty Feature List
I was pleasantly surprised at the level of improvement this latest version of Audacity contains. For instance, it has a new equalization preset feature to inverse RIAA.
Developers have added a new preferences choice for System language. This option runs on first run so I do not have to answer a prompt later on.
Another nicety in Audacity is its sound effects abilities. For example, it removes static, hiss, hum and other constant background noises. It alters frequencies with Equalization, FFT Filter and Bass Boost effects. Not only that, it also adjusts volumes with Compressor, Amplify and Normalize effects. Other built-in effects include Echo, Phaser, Wahwah and Reverse.
I particularly like Audacity's Drawing tool to alter individual sample points. And I can fade the volume up or down smoothly with the Envelope tool.
Look and Feel
Audacity's interface puts everything you need to work with audio files a mouse click or two away. Unlike other audio editors, this app does not use menu subsets or hidden features.
The menu row contains the various functions under clearly discernible headings. For instance, the menu shows File, Edit, View, Transport, Tracks, Generate, Effect and Analyze.
The second row displays the standard media commands of Stop, Play, Pause, Back/Forward and Record. Each of these commands is executed by clicking the appropriate button. Other commands on that row include a Selection tool, Envelop and Draw tools, Zoom, Time Shift and Multi-Tool mode.
In Plain Sight
The third row holds the input/ouput level meters and the recording level control bar. Other editing controls fill the next row. These are the copy/paste/cut buttons and the undo/redo buttons. Other tools available on button here include zooming and fitting commands along with the play-at-speed controls.
The bottom of the Audacity window shows the editing display. The shows the audio sound components as a series of peaks and valleys. Editing is done by clicking and dragging portions of the wave form and clicking the desired editing function.
This is a similar process to editing text and graphics. Instead of dealing with words or images, however, you manipulate the wave forms of the audio file.