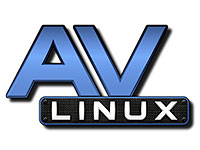 AV Linux could be a music and video lover's dream come true.
AV Linux is a specialty distribution that can turn a new or old PC, or an Intel-powered Mac box, into a workstation for audio/graphics/video enthusiasts. Version 2016.8.30 was released this summer.
AV Linux is one of the few available fully functional Linux distros to give audio and video enthusiasts a professional level collection of tools to enhance their handling of audio-visual files. This is especially significant now that the Musix distro has gone dormant.
AV Linux is a Debian-based project with many applications for working with audio and video formats. The latest update comes with a long list of changes. Most surprising is the complete removal of Kdenlive, KDE 5 runtime components, Openshot and LibreOffice.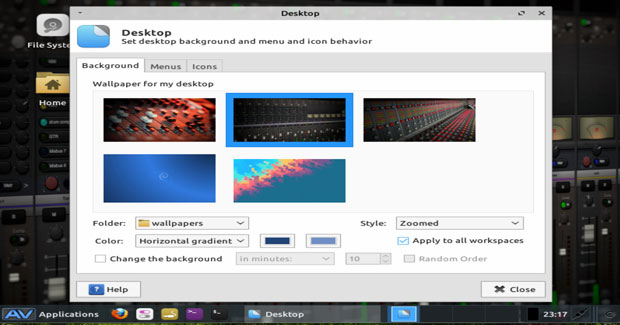 AV Linux is a specialty distribution for audio/video/graphics content creation platform based on Debian/GNU Linux Testing Distribution.
AV Linux issues a new release only one or twice each year. It is based on the Debian/GNU Linux Testing Distribution. Debian Testing uses a rolling update method of updating. Upgraded files are pushed out periodically as they are available.
Many of the specialized media packages it bundles are not updated often, so Canadian developer Glen MacArthur, also a musician, has little need to issue new versions more frequently. When he does cobble together an update, though, he does more than provide minor updates. He thrusts the distro to its next bleeding-edge level. AV Linux version 2016.8.30 is no exception.
AV Linux runs a customizable version of the Xfce 4 desktop environment. This is an excellent option to maintain fast and efficient system resource handling, given the wide range of hardware options it supports. You have a choice of either 32- or 64-bit installable ISO Images.
What's Inside AV Linux
My last review of AV Linux version 6 was in May of 2014. That release was a complete makeover of its predecessor. This latest release also is completely different from its predecessor — to the point that it could be viewed as an alpha or beta release, according to the developer.
It is neither, however. It is simply an initial release for a new direction of AVL. It is a reworked distro from the ground up. So much is different that the developer urges all who download it to read the manual in detail first.
Usually, Linux releases offer users only a link to a live help manual on the developer's website — that's if you are lucky. Otherwise, your only clues to what to expect are summarized in a Q&A file or a chatty user forum news update on that particular release.
In an effort to provide the best user experience possible, AV Linux offers you a bonus. The manual includes 84 illustrated pages of FAQs and important operational details. New users can gain much insight about this species of Linux and how to install it. More seasoned Linux users can simply use this manual as a reference tool. Once you install the distro, you will find this user manual in the accessories menu.
What's Included
The developer describes AV Linux as not being a Linux distribution in the proper sense. AV Linux targets users needing an audio/video/graphics content creation platform.
Its storehouse of audio-visual applications is impressive, but many of the typical applications available in traditional Debian/GNU testing releases are not included by default. Of course, you can add what you need.
This version ships with a custom RT kernel and JACK Audio Connection Kit. Its toolkit has Linux software developers in mind. It provides a strong development suite, and the leading audio/video/graphics applications either are included or available from the Debian or KXStudio software repositories.
You also will find special software packaging not found in default repositories, including Trulan Martin's Custom Realtime Preempt Kernel, the choice of Liquorix or Debian Kernels, and falkTX's KXStudio repositories for up to date audio applications.
There is no Pulse audio integration, but you can install it yourself. You do get the complete JACK Audio environment, however, with automatic JACK MIDI and ALSA Loopback. Add to that extensive audio/video and administrator-friendly Thunar custom actions.
The powerhouse packaging includes a robust collection of environment tools for developers, such as a choice of GCC4 or GCC5 compilers, package scripts, GIT, SVN, BZR and developer libraries. Also in the mix are Pipelight support for DRM Web Content, and a large assortment of various GTK and window manager themes.
AV Linux uses Systemback as an installation method. That imposes some limitations, such as allowing only UEFI boot on 64-bit systems, and providing no support for GPT partition tables.
Tech Bugaboos
I put AV Linux through its paces as a virtual machine installation. I also ran the ISO as a live session on two of my test bench computers. It installed and ran with no issues in all cases.
Be aware of a heads up the developer posted in his release notes, though. AV Linux will alter the permissions of hard drive partitions for read/write access without your approval. It does this simply as a convenience, to facilitate accessing media files to demo with the audio/video applications.
That was not a problem for me with the VM installation because I could remove the virtual hard drive easily, and the installation was sandboxed from my physical hard drive.
If you decide not to install AV Linux after trying the live session ISO, the developer suggests checking and resetting the permissions of your hard drive partitions afterward.
Another issue involves using the Chrome Web browser on a 32-bit installation. Google dropped 32-bit support for Chrome, so you might want to consider security issues should you run AV Linux in a 32-bit environment. The developer suggests using Synaptic to uninstall the Chrome browser, and using the AV Linux Assistant Repositories button to remove or disable the Google Chrome repository.
Software Solace
One big advantage for audio-visual experts is having more than one package at hand to handle production tasks. It is rare to find every great feature provided in one program. The collection of multimedia and other specialty packages in this distro is huge.
Unlike earlier versions, however, software to perform the more mundane daily computing tasks is sorely lacking. AV Linux comes with WINE preinstalled, so you can run necessary Microsoft Windows programs. You also get a nice assortment of accessory software for taking notes and creating or editing text files.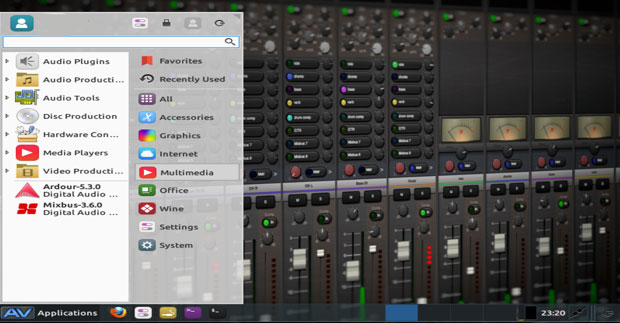 AV Linux runs a customizable version of the Xfce 4 desktopenvironment with an impressive collection of graphic creation tools but has few everyday applications included.
You do not get a word processor or complete office suite, which means you'll have to install your choices. You must use Synaptic package manager to add or remove software. A separate system updater tool manages the distro's core packages.
Look and Feel
I like the current desktop appearance a lot less than previous versions of AV Linux. Xfce is a very satisfying and functional desktop environment, but its overall flat look in this integration leaves much to be desired.
The Xfce and QT4 combination here is flat and bland. Even applying some of the customizations leaves the look and feel very uninviting.
I also miss some of the refinements from earlier versions that didn't show up in this latest release. For example, the launch bar on the right edge of the screen was a nice touch. So was the quick launch Wbar that gave the desktop a bit of a Mac OS view.
Bottom Line
If you plan on checking out AV Linux, keep in mind that the live session ISO (which you must run in order to install or even load) requires a user name and a password to log in. You will find these necessities hidden in the ISO file name.
For the 64-bit version, the user name is isotester. The password is avl64. The 32-bit version is similar. Use isotester with avl32. For security reasons, you can not access root accounts on the LiveISO.
Want to Suggest a Review?
Is there a Linux software application or distro you'd like to suggest for review? Something you love or would like to get to know?
Please email your ideas to me, and I'll consider them for a future Linux Picks and Pans column.
And use the Talkback feature below to add your comments!