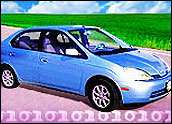 Anyone who has ever bought a car knows that one of first hard choices they must make is how to service it. Do you stick with the dealer who sold it to you, or do you take it to one of the 495,000 businesses providing after-market service to auto owners?
However, as vehicles become more and more dependent on computer systems, consumers have found fewer options because code needed for repairs has not been readily available to after-market repair shops.
A bill filed in the U.S. House of Representatives this week by a powerful congressman might open up more choices for consumers — although opponents of the measure say it's unnecessary.
Disclosure Mandate
The chairman of the House Energy and Commerce Committee, Joe Barton (R-Texas), along with Rep. Edolphus Towns (D-New York), have filed legislation to require the manufacturer of a motor vehicle to disclose to its owner, a repair facility and the Federal Trade Commission (FTC) information necessary to diagnose, service or repair the vehicle.
A similar bill is expected to be filed in the Senate next week by LindseyGraham (R-South Carolina).
According to the bill, the "Motor Vehicle Owners' Right to Repair Act of 2005," a copy of which was obtained by TechNewsWorld, "Automobile manufacturers have restricted access to the information motor vehicle owners need in order to diagnose, service and repair their vehicles, in a manner that has hindered open competition among repair facilities."
In a statement from his office, Barton said that Onboard Diagnostic (OBD) computer systems, mandated by some amendments to the federal Clean Air Act in 1990, have made it difficult for some repair facilities to get the information they need to do their jobs.
Those systems, the congressman continued, now diagnose not only emissions but anti-lock brakes, climate control, airbags and other safety systems. The only way for a repair technician to efficiently diagnose a problem is to have special tools and information that come from the manufacturer. "Typically this information is provided to the dealerships, but is sometimes difficult to obtain by independents, or in some cases not available at all," Barton said.
Tow to Dealer Needed
Ermnio Caporale, owner of the P&E Auto Care Center in Morton Grove, Ill., cited problems at his shop every time it installs an onboard computer, or PCM, in a newer vehicle. "We sell it. We install it. And the vehicle will not start," he told TechNewsWorld. "We actually have to tow the vehicle to the dealer so they can flash the BIOS into the computer."
Barton's legislation provides that "The manufacturer of a motor vehicle sold or introduced into commerce in the United States shall promptly provide to the vehicle owner, or a repair facility of the motor vehicle owner's choosing, the information necessary to diagnose, service, or repair the vehicle."
Failure to comply with the measure would be treated as an unfair or deceptive practice under federal law.
The bill gives the Federal Trade Commission the power to enforce the new law and to create regulations governing its requirements.
According to Sandy Bass-Cors, executive director of the Coalition for Auto Repair Equality in Alexandria, Va., auto manufacturers have been reluctant to share information with the US$200 billion after-market industry because they want to preserve business for the service departments in their dealerships.
Level Playing Field
She said that independent repair shops garner from 75 to 80 percent of all service business after the warranty runs out on a car. "When the cars are out of warranty, the dealers still want to keep those cars for repairs," she told TechNewsWorld. "That's why they don't want us to have the information."
"All this does is allow consumers to have a choice," she added.
And bring fairness to the market, according to Aaron Lowe, vice president for government affairs for the Automotive Aftermarket Industry Association in Bethesda, Md. "We just want to make sure that there's a level playing field and that independents have the same access to the diagnostic tools and service information that is now available to the new car dealer," he told TechNewsWorld.
Foes of the bill argue, though, that legislation is unnecessary because there's already a voluntary scheme in place that's working fine.
According to information at the Web site of the Automotive Service Association (ASA), a group representing more than 65,000 independent auto service technicians, in September 2002, independent service repairers and the auto manufacturers struck a deal that would give independents access to the information and diagnostic tools necessary to service vehicles. It would be the same information made available to new car dealers. And the tools and training would be available at a reasonable price.
Nothing's Broken
As a result of that agreement, independents can now buy the diagnostic tools they need from manufacturers and obtain necessary repair information from a network of Web sites set up by automotive OEMs.
"Federal legislation isn't necessary because the automobile manufacturers are already making available the same service information and diagnostic tools that they make available to their franchised dealers," Rob Braziel, legislative counsel for the National Automobile Dealers Association Washington, D.C., told TechNewsWorld.
"The proposed legislation attempts to fix a problem that is non-existent," ASA President Ron Pyle said in a statement. "If it's not broke, why fix it?"