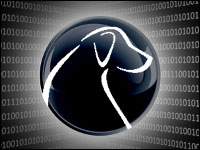 The latest release of Black Lab Linux, an Ubuntu 16.04-based distribution, adds a Unity desktop option. You will not find Unity offered by any other major — or nearly any minor — Linux distributor outside of Ubuntu.
Black Lab Linux 8.0, the consumer version of PC/OpenSystems' flagship distro, also updates several other prominent desktop options.
Black Lab Linux is a general purpose community distribution for home users and small-to-mid-sized businesses. PC/OpenSystems also offers Black Lab Enterprise Linux, a commercial counterpart for businesses that want support services.
Black Lab Linux is an outgrowth of OS4 OpenLinux, a distro the same developers released in 2008. Both the community and the commercial releases could be a great alternative for personal and business users who want to avoid the UEFI (Unified Extensible Firmware Interface) horrors of installing Linux in a computer bought off the shelf with Microsoft Windows preinstalled.
Black Lab offers its flagship releases with a choice of self or full support, and both come at a price upon launch. However, you can wait 45 days and get the same release with the self-support option for free. Black Lab Linux 8.0 became available for free late last year.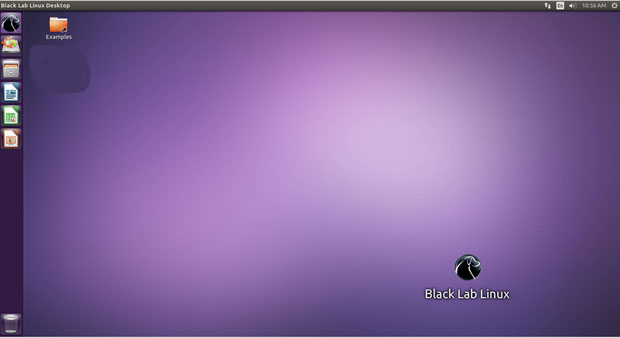 Black Lab Linux 8.0 with Unity has a clean and uncluttered look.
What's Inside
Black Lab 8.0 with Unity gave me a few problems depending on the hardware I tested. It sometimes was slow to load various applications. It more than occasionally locked up. However, its performance usually was trouble-free on more resource-rich computers.
Its core set of specs are nice but nothing that outclasses other fully free Linux OS options. Here is a quick rundown on the updated packages. Remember that version 8.0 is based on Ubuntu 16.04, which is a solid starting point.
Kernel 4.4.0-45Chromium 54Thunderbird 45.4LibreOffice 5.2Gimp 2.8.16DropboxGoogle Drive Integration (Unity and GNOME 3.18 Only)Ice SSB 5.2.1GNOME VideoRhythmboxFull UEFI supportexFAT supportSystemd supportUpstart Support (Unity and GNOME 3.18 Only)GNOME Software Center (Unity, GNOME 3.18, LXDE)Plasma Software Discover center (KDE Plasma 5)The Chromium browser connects to a Google account if you want access to Google services. That can be convenient if you like the Google Chrome environment but prefer less tracking. A second browser is included with the Unity option. The Unity browser is a basic Web-viewing window with few features.
Appealing Look and Feel
If you prefer the Unity desktop, you should be pleased with how it is integrated in Black Lab Linux. It has a small, attractive collection of background images.
One of the first things you will want to do is go to the Unity Tweak Tool and adjust some of the user refinements not presented in the standard System Settings. If you are turned off by too many control panels and setting options, Black Lab Linux may appeal to you.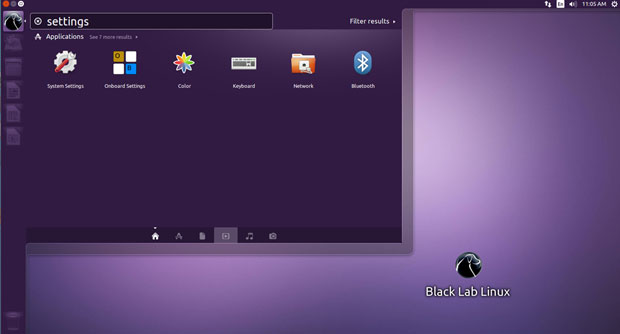 The settings In Black Lab 8'snew Unity edition are easy to findwithin the settings window. You will not be overwhelmed.
Overall, the user interface is simple to navigate. The desktop display is uncluttered, because you can not pin icons there for quick launch convenience.
The Unity bar along the left edge of the screen collapses or expands as you open and close applications. This makes it easy to move around those that are open. The workspace switcher is always in view at the bottom of the Unity bar. This is one of the most convenient navigational tools available.
A panel bar extends across the top of the screen. Unlike panels in other desktops, no applets are available. You can not pin things to that panel, either. It stays empty in the center. A few notification icons reside on the right side of the top panel. The left side displays the tool bars of the active application window.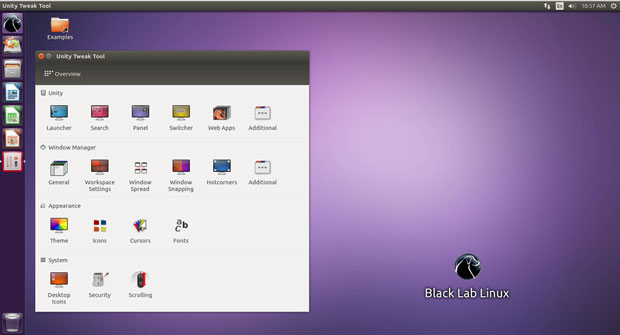 When setting up the Unitydesktop, one of the first things to do is to visit the Unity TweakTool.
Bottom Line
Black Lab Linux 8.0 with Unity provides a generally pleasant computing environment. If you are not familiar with Unity or are not attracted to the Ubuntu distro in any of its flavors, this release could give you a new reason for using Linux.
If Unity is not to your liking, try one of the other desktop options available in Black Lab LInux. The change can be refreshing.
Want to Suggest a Review?
Is there a Linux software application or distro you'd like to suggest for review? Something you love or would like to get to know?
Please email your ideas to me, and I'll consider them for a future Linux Picks and Pans column.
And use the Reader Comments feature below to provide your input!