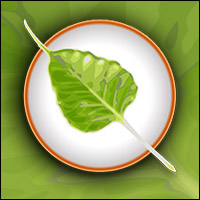 Bodhi Linux 4.3.1's implementation of the Enlightenment desktop, released late last month, continues this distro's tradition of providing an awesome desktop computing platform for office or home.
When I reviewed Bodhi Linux early last year, I was attracted to the relatively new and still developing desktop environment. When the backup computer that hosted that earlier version of Bodhi finally needed replacement, I installed the latest version on the new hardware. I did this mostly out of curiosity to check on the current progress of Enlightenment computing.
Bodhi Linux did not disappoint. It is a radically different approach to computing. Bodhi provides a pleasant user experience, and the desktop environment is well worth trying.
It's wise to plan your introductory sessions for downtime in your schedule, though, as Bodhi is not an out-of-the-box computing platform that allows you to pick up where you left off with your previous Linux distro.
The learning curve is minor, but you will need time to get familiar with the software — or lack of it. Bodhi's developers designed this distro to be minimalistic.
They did not dump dozens of standard Linux applications into the default installation. Instead, they provided a core computing platform without software bloat.
Installation is not complicated. System tools make adding your combination of software applications easy as well. Still, getting, installing and configuring what you want in your "have-it-your-way" installation takes some time.
---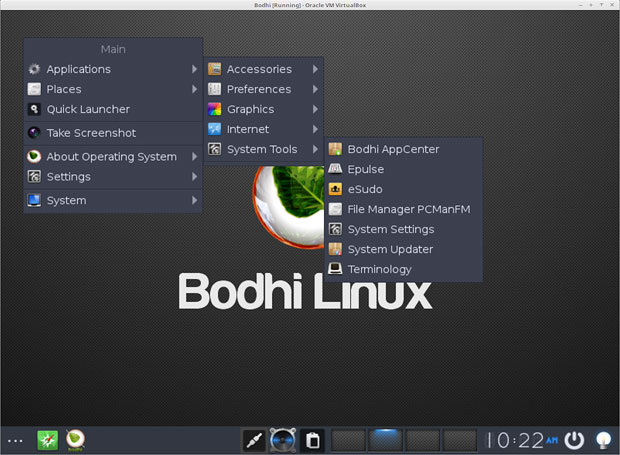 Bodhi Linuxoffers a minimalist computing platform supported withall the software ready to build the distro your way.
---
Bodhi Primer
Bodhi is one of a very few Linux distros that uses the Enlightenment desktop as its only environment. Its developers call Bodhi "the Enlightened Linux Distribution." Enlightenment is a desktop shell that is radically different from other lightweight interface shells, such as Xfce and LXDE. [*Correction – Aug. 8, 2017]
Bodhi is built on top of the Ubuntu 16.04 LTS release featuring the Moksha Desktop. The Bodhi releases continue to maintain a branding misnomer as references to the desktop environment mostly are "Enlightenment." Actually, it is the Moksha version of Enlightenment.
The Bodhi community forked Enlightenment 17 last year in response to the lack of developmental progress ffrom the Enlightenment project. The "new" Enlightenment in Bodhi Linux is the Moksha desktop.
Bodhi now comes in three flavors: Standard, Legacy and AppPack. These options help users decide on the best fit in dealing with Bodhi's minimalistic design. The Standard version is for desktop and workstation computers created in the last decade running 64-bit architecture. It ships with a few core system tools. You add the rest to suit your needs.
The Legacy version is a 32-bit release utilizing the older 3.2 Linux kernel optimized for hardware 15 years or older. It comes with very few installed software applications. The AppPack version is the best bet for typical users looking for an almost-ready-to-go installation. You can use it as a fully featured live CD or base install. It comes with a variety of themes and applications installed by default.
Enlightened Highlights
One of Bodhi Linux's most attractive elements is a configuration that is fine-tuned to your computing needs without the bloat of never-used applications. This distro uses a modular structure that provides a high level of customization and many theme choices.
Another attraction is Enlightenment's lightweight nature. It runs on lots of legacy desktops and laptops. It is very customizable.
One of Bodhi's more useful user interface traits is the left-click feature that pops up the menu anywhere on the desktop. I wish distro developers would design this feature into their desktop arrays. It is very convenient.
A more traditional menu button is also present on the Bodhi panel bar. This bar can be on any edge of the screen. Right-clicking on the panel opens configuration settings. The orientation setting provides a list of placement options for the panel bar.
The iBar gadget is an application launcher dock. It houses launchers for frequently used applications, such as Web browser, file manager and email client. It extends the usefulness of the same feature in Enlightenment 19. It does more than just launch applications — it tracks them too. For example, you can use it to restore a minimized launched window or view windows hidden behind another app.
Bodhi Basics
You can add/remove software from the AppCenter. This is a Web-based software installation tool. It uses the lightweight yet functional Midori browser to install applications directly from the Bodhi Linux AppCenter.
---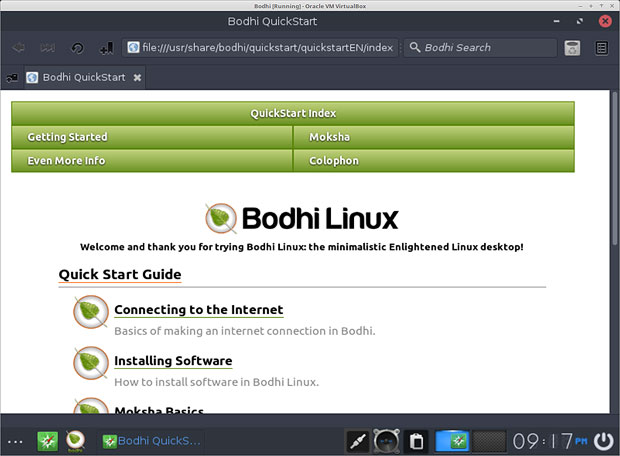 The MidoriWeb browser loads a wiki-like help file for quickget-started details.
---
Enlightenment uses LXDE's PCManFM file manager. You can add other file managers and designate other default applications for more traditional functionality. Go to Main Menu/Settings/All/Apps/Default Applications. [*Correction – Aug. 8, 2017]
The Bodhi repository provides several application-sets (meta-packages) that provide common applications or meet a particular use case. The Synaptic Package Manager is installed by default. To access it, go to Main Menu>Applications>Preferences>Synaptic Package Manager. This provides access to all of the applications in the Bodhi Linux and Ubuntu 16.04 repositories.
Module Design
Integral to the UI is a combination of gadgets, modules and shelves. Gadgets are small applications that either provide system information or perform a specific action. Gadgets are highly configurable by right-clicking the gadget on the screen.
Modules are the engines that drive the gadgets. You must configure the gadget to load. That is what the modules do. An inventory of gadgets is provided, but most are not loaded by default in order to keep Bodhi Linux as lightweight as possible.
Shelves house gadgets. The desktop structure allows more than one shelf on a desktop, so you can have different shelves on different virtual desktops, for example. Each shelf can house its own unique set of gadgets and application launchers. You can locate shelves at the middle or a corner of any screen edge. This lets you get better use out of different size display screens.
To configure shelves, right-click on them and choose Shelf > Settings from the context menu. You can set Stacking, Position, Size and more. You can locate shelves on a specific virtual desktop or on all desktops.
Bottom Line
Bodhi Linux is a very functional alternative to the run-of-the-mill distro offerings. It will extend users' comfort zones as they get familiar with its different computing procedures. Newcomers to Linux, not knowing how Linux "is supposed to work," actually may have an easier time gaining proficiency in using this Enlightened approach to computing.
The Midori browser by default loads a help file with wiki-like links to some startup information. That file is part of the installation content, so new users can access the quick start guide and FAQ topics even if they are not able to access a wireless Internet connection.
Minimum hardware specs include a 500-Mhz processor with 256 MB of RAM and 4 GB of drive space.
Recommended specs are a 1.0-Ghz processor with 512 MB of RAM and 10 GB of drive space.
Want to Suggest a Review?
Is there a Linux software application or distro you'd like to suggest for review? Something you love or would like to get to know?
Please email your ideas to me, and I'll consider them for a future Linux Picks and Pans column.
And use the Reader Comments feature below to provide your input!
*ECT News Network editor's note 1 – Aug. 8, 2017: Our original version of this review incorrectly stated that Enlightenment (Moksha) was a compositing window manager. In keeping with its effort to be trim, it does not have built-in compositing, Bodhi Linux's Jeff Hoogland informed us. However, "it supports using something like compton to add compositing if a user wants it."
*ECT News Network editor's note 2 – Aug. 8, 2017: Our original version of this review included the following incorrect statement: "The Enlightenment File Manager (EFM) is tweaked to work within Bodhi Linux to move desired files and launchers into the desktop folder located in the home directory. You can opt out of displaying desktop icons at Main Menu>Settings>All>Files>File Manager under the Display tab." In fact, "EFM was ripped out of Moksha since it was buggy and incomplete," Bodhi Linux's Jeff Hoogland informed us.