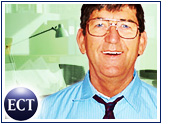 About a month ago, I compared the cost for Apple's desktop, server and laptop products to their nearest Dell equivalents (see Macs Are More Expensive, Right?) and discovered that Macs generally cost less than comparable PC products.
That was a bit of surprise, but the truly astonishing thing that came out of the comparison was that Dell's product line extends marginally below Apple's at the low end, but has nothing to stack up against Apple's 17-inch Powerbook, X-Serve/X-RAID combination, or Cinema displays at the high end.
Bottom line: when you upgrade the PCs enough to allow an approximately apples to apples comparison, Apple turns out to offer both lower prices and a broader range than Dell.
The PC community response is, first, that the multimedia features distinguishing the Mac aren't necessary and, secondly, that the PC is so far ahead of the Mac on speed that the comparisons are pointless anyway.
Personally I think they're begging the question on stuff like firewire: that they don't see the value of Apple's multimedia capabilities only because they've never had them, but that's an argument for another day. In this column I want to focus on the performance part of their response.
So are PCs faster than Macs? The real answer is that relative performance depends entirely on the software and is both hard to define and hard to measure.
Macintosh Hardware Fastest
The short answer, however, can be based entirely on raw hardware capabilities, and that answer is pretty simple: the Mac wins hands down.
There is a complication here: Mac users upgrade much less often than PC users. Look just at the hardware in a newly introduced Apple product like the latest iMacs and it will be capable of doing more processing per second than the roughly comparable Dell product. Survey people you know, however, and the PC users, on average, will have faster hardware than the Mac users, simply because most of the Mac people won't have upgraded their hardware in years.
To determine which hardware is really more capable, we have to first strip out the impact of operating system and applications design and coding decisions.
It's attractive to think that this could be done easily by running Linux on both an Apple and a Dell workstation, but in fact the impact of x86 architecture assumptions permeates the Linux kernel design. Thus, a better way to do this is to look at the per system contribution in the cluster-computer business, where everyone uses their own Unix and the application developers don't have hardware agendas.
Cluster Comparison
For example, the NCSA "Tungsten" cluster computer built last year was recently upgraded to include 2,500 dual Xeon Dell Poweredge 1750 servers at 3.2 GHz. According to