The Makulu Cinnamon Debian Edition 1.1 marks a new path for Makulu. This latest release has numerous new features that could make it a top competitor against the Linux Mint Cinnamon edition.The Cinnamon desktop, released Oct. 28, is a first-time offering for Makulu Linux. It is based on Debian Testing (Jessie) with Cinnamon 2.2 for the desktop.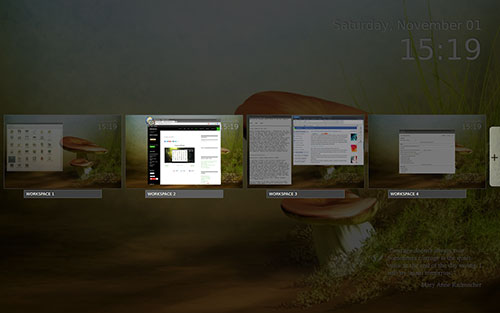 Makulu's tweaked Cinnamon interface includes the hot corners toactivate the Expo display of workspaces and the keyboard combination for the rotating cube.
Makulu Cinnamon Debian Edition, or MCDE, has fewer standard apps than the previous Makulu Xfce and KDE versions offered. Dropping the kitchen sink philosophy has made it a lot less unwieldy.
MCDE has much going for it. However, one critical concern keeps me from making it my permanent Linux Mint Cinnamon replacement: Makulu is a one-person distro.
Cause for Concern
I use the Cinnamon desktop version of Linux Mint as one of my workhorse Linux distros on several machines. I was greatly impressed with an earlier release of Makulu using the Xfce desktop.
However, Xfce is too lightweight an environment for my long stints at the keyboard, and like Xfce, the KDE desktop option is not now available in the latest Makulu Linux release.
So I welcomed this initial Makulu Cinnamon desktop release with relish. I was curious about its ability to dislodge Linux Mint on my computers. Worries about the long-term viability of this distro dampened some of my enthusiasm, though.
With this Cinnamon Makulu release, solo developer Jacque Raymer pulled the plug on maintaining five desktop environments for his distro. Lack of a staff and financial shortfalls forced him to return to his regular day job, he said in a recent blog post. Obviously, that has cut into his development time considerably.
Costly Price
Calls for volunteers to assist him in developing and maintaining the distro have gone unanswered, according to Raymer. As a result, he can maintain a maximum of just two desktop environments. He opted for Cinnamon and is asking users to vote for which of four other desktop alternatives will be the second option going forward.
The choices are Xfce, MATE, KDE or GNOME. As of this writing, Xfce and MATE are leading the poll by more than two to one, with Xfce substantially in the lead.
Raymer also pulled back on the frequency of release cycles. Since Debian Testing provides rolling releases, Makulu Linux users will continue to get patches on current releases.
However, Raymer will push out major milestone releases when they are ready — he no longer will follow a proscribed schedule.
More Pluses
MCDE is a very impressive tweaking of the Cinnamon desktop environment. It has an attractive theme design with beautiful backgrounds. This Makulu version with Cinnamon flavoring is fast and easy to use.
The default theme includes a few variations. The colorful wallpaper collection brightens up the overall desktop display.
I do not much care for the constant wallpaper changing that is activated by default. It is too distracting. However, it is easy to disable the variety feature in the settings panel.
Software Situation
Gone is the package bloat of previous Makulu releases. Including everything plus the kitchen sink was overkill. This release trims down the software inventory to fewer than two dozen applications that typical users would add to a bare-bones Linux distro.
That explains the smaller installation ISO, at 1.36 GB. Still, that careful mix of applications includes the Kingsoft Office Suite and Foxit PDF reader. There are a few choices for media players and image viewers. The Google Chrome browser is preinstalled.
The Games menu has no preinstalled game offerings, but the Steam and PlayonLinux gaming platforms are preloaded.
If you are a gamer, you should find a much improved performance in the way your Microsoft Windows games play within the Wine Windows emulator. Makulu Cinnamon offers a patched Wine configuration with D3D and CSMT support. One really nice improvement this patching brings is the ability to double click an .exe or .msi file to instantly partake of Wine.
Missing From Action
Also gone is the MDM display manager, due to stability issues with Cinnamon. In its place is thw GDM3 display manager.
One of the really nice features of the Cinnamon environment is the useful array of Applets, Desklets and Extensions available to dress up the desktop. I give Raymer considerable credit for weeding out troublesome plugins that populate the Cinnamon landscape.
He vetted a nice selection of plugins and included a reliable collection that will not destabilize the distro. However, if you install an unvetted one, you can go to the /.local/cinnamon directory and remove the offending plugin folder to restore system stability.
Menu Manifestations
This Makulu release offers dual menus at each end of the bottom panel. On the left is a highly customizable traditional applications menu. On the right is a mouse-driven Sling menu that facilitates scrolling or viewing on a touchscreen.
In my Linux Mint Cinnamon installations, I previously added the Sling menu applet from the Cinnamon repository. However, having the Slingshot menu already installed adds to the flexibility. This is an area where new users otherwise might not know the menu option existed.
Menu flexibility does not end with the preinstalled dual menu. Unlike the current Linux Mint 17 Cinnamon edition, the Makulu Cinnamon release has a nifty list of alternative main menu styles. I really like this personalization feature in Makulu.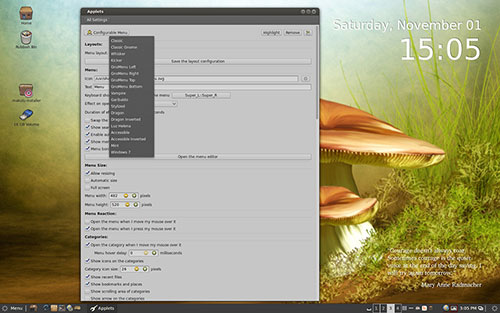 MCDE has an option to select from a collection of 18 main menu styles.
Right-click on the main menu button at the far left of the panel bar and then click Configure. Next, click on the down arrow next to Menu layout. This opens a list of 18 menu styles. Truly awesome!
Installation Expertise
Another thing that makes Makulu Cinnamon Edition shine is in the improved installer. It is way better than the Linux Mint installer.
The installer now supports auto partitioning on a drive that has not been partitioned. On an already-partitioned drive, you will have to edit your partitions yourself. The installer now fully supports UEFI, but this is just a partial improvement. UEFI is not yet implemented into Makulu itself.
The installer offers three options. It will install with a GUI, with both GUI and terminal, and in Advanced mode.
Control Counts
It seems that Raymer is not waiting around for the Cinnamon community to fix its rather disorganized settings panel. He made his own Control Panel interface, dubbed "Makulu Control Center," which puts all of Cinnamon's modules in a simple interface.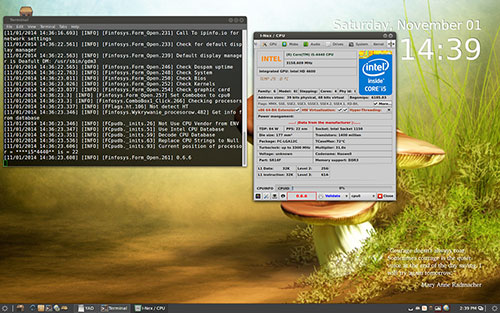 Makulu Cinnamon Debian Edition has a very detailed system Information tool that launches a multipanel interface display only after its terminal window output completes.
A built-in news feeder pops up with a message when the Makulu team — Raymer, that is — has news on new developments. This is a much smarter approach than the previous method, which streamed news straight to the desktop. The news feeder checks for news every hour.
An RSS reader icon sits in the notification tray on the right side of the system bar. There you can scroll through the latest news posts on the website.
Bottom Line
MakuluLinux Cinnamon is optimized to run on Virtualbox. Just enable both PAE and 3D acceleration and disable 2D acceleration. The recommended minimum ideal Virtualbox settings call for 2 GB of Ram and a dual-core CPU.
Makulu means "Big Chief" in the Zulu Language. This Linux distro provides preinstalled codecs for a very pleasing out-of-the-box experience.
If you appreciate the refinements in the growth of functionality in the Cinnamon desktop, Makulu's latest release is worth a spin — but try not to get too attached. Your relationship could end abruptly.
Want to Suggest a Review?
Is there a Linux software application or distro you'd like to suggest for review? Something you love or would like to get to know?
Please email your ideas to me, and I'll consider them for a future Linux Picks and Pans column.
And use the Talkback feature below to add your comments!