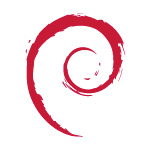 After a hiatus of more than two years, the developers of Debian last month released a major upgrade. That surely came as good news to fans of this granddaddy Linux OS, but the new Debian 7 "Wheezy" may not be worth the wait if you are happily using more popular Linux options.
I feel somewhat like a turncoat for saying that about Debian Linux — I should be revering its 20-year-long lineage. I do respect what Debian Linux represents. Debian is the foundation for many other more modern Linux distros, including Ubuntu, Linux Mint and so many more.
Nevertheless, it is considerably less appealing as an everyday workhorse operating system.Wheezy is just about as unexciting as its name is unattractive. Debian 7 by design is a bulwark of stability. However, it is not a showcase for the latest distro developments. To be kind, this latest Debian Linux release has little or no flash-bang impact under its hood.
Basically Just the Basics
Sure, Debian 7 gives you choices. You can run its GNOME 3 desktop, or you can revel in the flashier KDE or the more traditional menu-driven and lighter-weight desktops such as LXDE or Xfce.
You must download the specific version and burn the installation disc rather than bolting on the desktop shells from the Debian distro storehouse.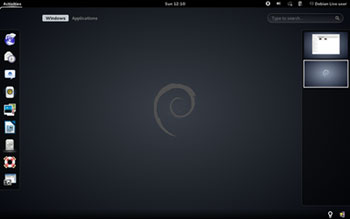 (click to enlarge)
You will not be treated to desktop varieties such as Unity or Cinnamon, however. You also will not find support in Debian 7 for the typical downstream add-ons that make using the Linux OS the joy that it has become.
What You Get
Debian comes in three basic flavors. You have your Stable Debian, you have your Testing Debian and you have your Unstable Debian.
Debian 7 is the latest stable version. Its May 4 release was followed on June 15 with the first update, but version 7.1 is mostly a security and bug fix — not a newer version release with more than the basics inside.
Chances are that your initial ISO download will not yet have these fixes. For that you will have to rely on the somewhat limited Software Updater.
The stock GNOME desktop comes with the slightly older GNOME 3.4.2 and the somewhat dated Nautilus file manager. Debian 7 KDE comes with a "plain Jane" flavor of KDE 4.8.4 and Linux kernel 3.2.0-4. Dolphin 2.0 is the file manager.
Potential Failure: High
One reason that Debian 7 is regarded as so rock-solid stable is that its innards are a generation or two behind. So Wheezy has less chance of breaking stuff — as in not working with it.
If my experience is any indication, however, Wheezy also will not recognize some essential hardware components. For example, while I had no problem establishing a hard-wire Internet connection, Wheezy does not see my wireless connections.
On some of my portable gear, Wheezy claimed that no firmware was found. Mostly, though, Wheezy just plain old does not work with the wireless circuitry on new and older computers. There is no provision for doing anything about it.
Under the Hood
Good ol' Stable Debian 7 has some aging bones in its skeleton. For example, it runs the Linux 3.2 kernel released in January 2012. In case you are wondering, the latest kernel is 3.9.
That partly explains why this latest release had trouble with my newer laptops, but it should have been able to find my wireless hardware on my older rigs. Forget about getting it to work well with really brand-new stuff, I guess.
One major success, though, is that Debian 7 supports UEFI installations on x86-64 hardware. It does not, however, support Secure Boot. So I must also guess that I won't have much of a chance of getting it to dual-boot should I buy a new computer packing Microsoft Windows 8.
On the Plus Side
Debian 7 packs a few improvements, but they're more on the technical side than on ease of use. For example, Wheezy has multiarch support, making it possible to install packages from different architectures on the same machine, like 32- and 64-bit versions of software on the same computer.
It also resolves dependencies automatically.
Another good thing is that Debian 7 offers software speech installation. This is very necessary for visually impaired users.
Skimpy Software
Besides not being able to use wireless connectivity, one of my biggest disappointments with Debian 7 is its stark installed base of software.
It comes with a bevy of game stuff, but getting and installing the suite of software I typically use adds hours of setup time.
Wheezy's repository is much less complete than those of other distros. That forces a reliance on manually adding software sources and relying on the Synaptic Package Manager; the trial-and-error process of discovering what works or does not work adds to the discomfort.
Among the basics with Debian 7 are LibreOffice, the Firefox-based Web browser Iceweasel, Evolution mail, CD/DVD writing programs, music and video players, image viewers and editors and PDF viewers.
Installing It
I have not fussed with the Debian distro for many years, and was pleased to find it is now a bit easier to install. Yet it is still the small things that will drive new users away. For example, you must track down and install Adobe's Flash plug-in.
If you like to test out new distro releases using the live DVD session method, one of the first things you should do is turn off the password-required screen lock. You will find it in System Settings, Personal, Brightness and Lock.
Otherwise, you will turn away from the keyboard for a few minutes and not be able to resume. If you delay keeping the keyboard busy, the screen will lock. You will have to reboot.
Bottom Line
Debian 7 is an OK distro that — despite its goal of maintaining stability first and foremost — has considerable baggage attached. I do not adore the GNOME 3 desktop, so I would opt for the KDE or Xfce desktop alternatives if I used it regularly.
Despite the Debian distro's significance to all things Linux, it is not worth the blandness it offers. For me, it falls far short of usefulness as a primary Linux OS workhorse.