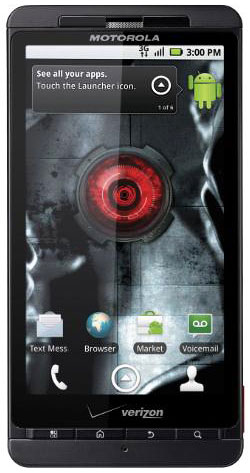 Droid X
Consumers who have put off buying their first smartphone or upgrading an aging one are facing a more complicated decision as of Thursday. Into a market already very heated with the recent launches of Apple's iPhone 4, carried exclusively by AT&T, and HTC's EVO 4G Android, via Sprint, comes Motorola's Droid X, the latest Android-based smartphone offered by Verizon.
Mobile phone manufacturers and carriers alike have a lot on the line, as headlines blare out news of trip-ups and consumers demand more features — and fast.
With the Droid X's launch, Motorola is seeking to bolster its smartphone fortunes, which have been falling in recent months. Among consumers planning to buy a smartphone within 90 days, the percentage of buyers aiming for a Motorola product dropped from 16 percent to 9 percent between March and June of this year, according to a ChangeWave survey. That's compared to a rise from 12 percent to 19 percent for HTC, and a whopping jump from 31 percent to 52 percent for Apple.
Appetite Building
Droid-branded products provide an "excellent alternative" for consumers who have reservations about Apple's iPhone 4 or AT&T, Alex Spektor, analyst with Strategy Analytics, told LinuxInsider. However, the fact remains that the iPhone basically has shaped consumer expectations for the current generation of smartphones.
In the midst of growing hunger for ever-more-powerful devices, the Apple offering has created an appetite for its more popular features, such as a touchscreen and a wide offering of apps. In the application arena, Apple is "way ahead" of Android-based offerings, noted Spektor, which continues to give the proprietary platform an edge over the open one. In this respect, popularity among app developers precedes and predicates popularity among consumers.
Battle for Heartshare
Also at stake, though, is the brand reputation of the makers of smartphone handsets and the carriers that support them on their mobile services.
Of course, no move in the smartphone market can be made this summer without the inevitable discussion of its relationship to the issues around the iPhone launch.
"Following the controversy surrounding the iPhone's antenna design," said Spektor, "even would-be iPhone buyers may begin looking at other alternatives."
Thus, the timing of the Droid X's launch is "ideal," he added. It may swing customers who are on the fence about a smartphone purchase in this confusing market toward Verizon's side.
Verizon has, in fact, been "seeking to exploit the iPhone's antenna problems," and it probably will continue to do so, said Sterling. However, demand for the popular Apple product doesn't seem to have been affected, even by the hurricane of media coverage and Internet ink swirling around it.
More concretely, the Droid X exceeds the iPhone's specs in certain areas, such as camera resolution and screen size, stressed Spektor.
"Given that consumers often compare products on quantifiable metrics, Verizon and Motorola will be served well to incorporate these advantages into advertising," he said.
Carrier Conundrums
In the case of carriers, Verizon and the Droid X have an edge, because AT&T's network reputation and performance suffer from negative perceptions, Greg Sterling, founder and principal of Sterling Market Intelligence, told LinuxInsider.
In addition, the EVO 4G suffered from blunders at Sprint's launch, including a botched firmware upgrade that rendered many phones inoperable. Thus, consumers have seen their high hopes for shiny new devices drop in recent weeks.
Verizon remains the largest mobile carrier, Sterling pointed out, and thus its competitive offering comes to market with a built-in advantage.
Demand for Android-based products also is building, he noted.
"The loser at Verizon may be RIM," said Sterling, "which has been discounting to maintain share, but which may be losing its appeal."