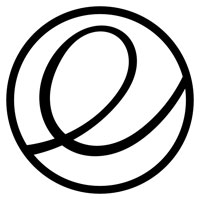 Elementary OS is a new style Linux distro that wraps its own sophisticated desktop design around a solid Ubuntu core.This distro first appeared in 2011. Its developers released the second major version, Elementary OS Luna, last year. The latest weeks-old beta release of what will be the third major version, called "Freya," shows that Elementary OS continues to offer Linux users a dependable alternative to popular desktop options.
Some confusion may exist over the name of this next generation Elementary release. It originally was dubbed "Isis." Developers quickly reissued the beta release under the name "Freya" in response to the mounting international crisis involving the terrorist group known as "ISIS" or "ISIL," among other names.
I was impressed with the performance of Elementary OS Luna when I first tried it. However, I did not review it then. I wanted to be sure it would not be a disappearing distro. I was concerned about its release cycle.
The Freya beta, however, shows the dedication and proven track record of the developers. Do not let "Elementary" suggest a lightweight or simplified offering in terms of its performance.
Elementary OS is anything but rudimentary. However, to get better usability you will have to install your everyday computing tools from the community's software center. This software limitation is not just for the Freya beta release. It exists in the Luna version as well.
You can download the Freya beta here.
Beyond Elementary
Elementary OS has its own desktop interface. The design is very deliberate and extremely functional. It is something of a hybrid, though, as it is inspired by Apple's OS X but based on Debian Ubuntu 14.04 LTS and features Linux kernel 3.13.
The default desktop is Pantheon. It is written using Vala and the GTK3 toolkit.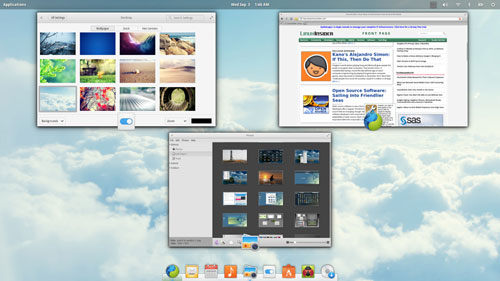 The Elementary OS Pantheon desktop has a unique, simple, clean design.
This desktop bears some similarity to the GNOME 3 Shell and OS X. It has some of the visual finesse of OS X. Its Ubuntu underpinnings are anchored under the hood. It has not even a trace of Unity desktop functionality.
Distinctive Distro
Elementary OS has much more than a unique design to its credit. It is neither a clone of the OS X desktop nor a mimic of a purely GNOME environment. It just looks a little like both of them. Its look and feel remains, well, Elementary.
The traditional Linux panel — sort of — resides at the top of the screen, but it is not really traditional. Like the earlier versions, Freya displays the basic system icons along the right end of the almost-there panel. These include the Language emblem, Internet connection status, Bluetooth and Battery status markers, as well as the Power Off icon to access the dropdown menu.
The date and time are visible in the center of the panel space. An unconventional Applications menu button rests at the left end. A Mac-like configurable docking bar sits in the center bottom of the screen.
Not Your Standard Apps
The developers of Elementary OS deserve a good amount of credit. They have developed a very usable desktop design early on and continue to improve its functionality.
Part of the reason that the Pantheon desktop works so well is that it does not merely recycle existing Linux system tools to make them fit Freya. Rather, the developers created applications built specifically for Elementary OS.
For example, Dexter is an address book. Postler is an email client. Nautilus Elementary is a simple file manager.
At first blush, these in-house tools struck me as too simple to be very useful, but the more I used them, the more I liked how they worked. Yes, their design is simple, but their features let me get my work done with little or no discomfort. I barely had the desire to supplement them with more familiar standardized apps from the Debian software ecosystem.
Standard Works Too
Elementary OS is not like other innovative Linux distros that ventured down a parallel distro road. It runs its own home-grown applications.
If an application runs on Ubuntu, it will run on Elementary OS. In fact, I found that if it runs on Linux Mint, it will run on Elementary OS as well.
That makes Elementary OS a great alternative distro. I tested Elementary OS 2013 Luna on a laptop and Elementary OS Freya beta on a desktop. The user experience — and this is not often the case with early-stage beta versions — was very pleasing and similar with both.
The Software Center is well stuffed with mainstream and specialty Linux applications, but I was a bit disappointed that Elementary OS does not come with other software management systems preinstalled, such as the Synaptic Package Manager and the gDebi Installer.
Freya Freshness
New features in Freya include improvements to the Slingshot Search tool and an updated theme, as well as a new GTK+ and icon theme for GNOME.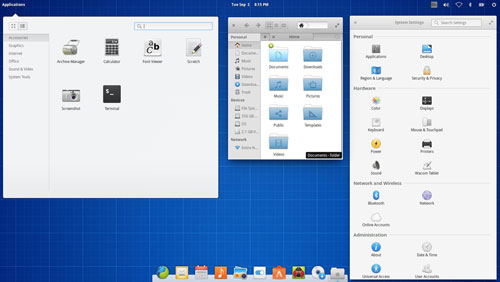 Elementary OS uses home-grown Slingshot-style menu (left), file manager (center) and System Settings panel (right).
One new feature is the ability to search in the Files application with a Ctrl+F shortcut. Another tweak is improved animations.
A big plus to Pantheon is the addition of Online Accounts. This makes it easy to connect with apps to mail, contacts and calendars. It is more convenient than using the Web browser to reach your FastMail, Yahoo, Microsoft, Facebook and Google accounts.
Workspace Washout
For me, one of the most critical functionality points in any Linux distro is how it handles virtual desktops. Distros that let me place a Workplace Switcher app on the panel for near-instant point and click "channel changing" always win high praise from me.
Freya does not do this. The Elementary OS distro uses a GNOME 3-like approach. In this distro, access to virtual workplaces is handled through enabled hot spots. In System Settings, you can enable/disable hot spots in the four screen corners. Several display options are available for each hot spot. This method resembles the hot corner feature in Linux Mint, minus the panel switcher that Linux Mint also provides.
You activate the hot spot activity by moving the mouse pointer into the corner. In the case of using virtual desktops, the hot spot shrinks the desktop view to expose a bottom panel to display the virtual switcher. This method of switching among virtual desktops in Elementary OS resembles an Android process with mouse clicking replacing finger swiping.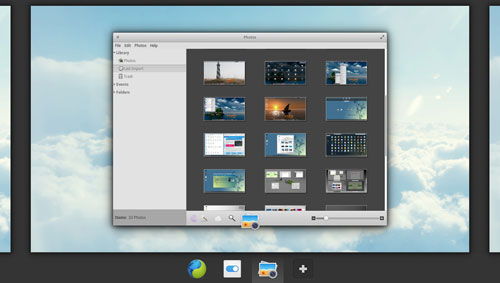 Switching among virtual desktops in Elementary OS resembles an Android process with mouse clicking replacing finger swiping.
In the GNOME 3 desktop, you have to slide open a panel from the right screen edge and drag around thumbnail views. Similarly, in Ubuntu's Unity desktop, you click the Switcher icon to open a thumbnail view in a pop-up window to click the desired workspace. Both approaches are huge annoyances to me.
Appearance Matters
One of the coolest things in the Freya beta is improvements to the theme design of the top panel. Is transparency changes based on the color of the background wallpaper.
This is a similar eye candy effect to what Unity does, but Freya's developers improved on this concept. The panel detects when a solid bar is more visible or when a transparent bar displays a better look. The system also adjusts the text color to make it more legible.
Another cool view is how the title bar merges with the toolbars. This not only creates a more pleasant appearance, but also adds a touch of class and efficiency.
Perhaps one of the only things lightweight or cheap about what the developers did in this distro was to make the Midori Web browser the only preinstalled option and to ignore any word processors and text editors.
Of course, it does not take much to add your preferred apps manually — but why not have a mechanism for setting up your choice of default applications for basic computing?
Bottom Line
The 2013, or Luna, version of Elementary OS is a very solid Linux distro. Its pending replacement, Elementary OS Freya version, will push the unique desktop design to a new level of dependability.
However, one question left unanswered is whether this new Linux distro will give seasoned Linux users enough configurability to be more than just a pretty desktop face.
The Pantheon desktop is simple yet functional. The development team should at least provide new Linux users a supplemental installation pack. Out-of-the-box Elementory OS leaves much to be desired in software to support real everyday computing tasks.
Want to Suggest a Review?
Is there a Linux software application or distro you'd like to suggest for review? Something you love or would like to get to know?
Please email your ideas to me, and I'll consider them for a future Linux Picks and Pans column.
And use the Talkback feature below to add your comments!