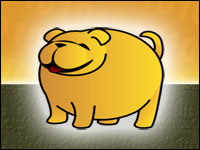 Fatdog64 has the potential to serve as an alternative lightweight OS to Linux distros such as Puppy Linux, Knoppix and Zephyr. However, it has some critical usability issues that need to be fixed first.
The latest update, released last month, does nothing to improve its disappointing performance. Fatdog64 seems to have lost its performance edge over earlier versions that made it more appealing as an alternative "frugal" Linux candidate.
The numerous Puppy Linux derivatives and Knoppix have solid reputations for fast and efficient performance on older, less powerful desktop and portable computers. Zephyr Linux is too new to have a reputation yet, but it is fast and stable, and it runs fully from a USB drive.
All three distros let you carry an entire Linux OS and all your documents and files on a bootable CD or USB drive to run on nearly all computers without having to install anything on hard drives.
Fatdog64 Linux is a small-footprint 64-bit Linux distribution that first appeared as a derivative of Puppy Linux. Early Fatdog64 versions made their mark by replicating the Puppy Linux design with additional applications that still loaded completely into RAM. That application bundle is the reason for the distro's "chubby" name.
Fatdog64 outgrew its Puppy Linux leash and became an independent Linux distribution. The new release still has the look and feel of its Puppy Linux lineage, but its reliability and usability don't measure up. It offers less and left me wanting more.
Falling Short
Fatdog64 lacks stability. It takes excessive time to load into RAM from bootable CDs and USB drives. This is partly due to an inability to place some of the standard system files on hard drives for reuse, like Puppy Linux does.
This does not require a partitioning of the hard drive — it is merely a missing feature. Once Fatdog64 is fully loaded from the CD/DVD, you can remove the optical storage platter and continue working.
A more serious issue is Fatdog64's failure to save system and app settings, and sometimes application data, to the save space created during the frugal installation process. Two glaring examples of the usability issues this causes are having to reset the number of virtual desktops and having to reconfigure the Internet connection for every new work session.
Fatdog64 gives you an option to create a personal save partition on the hard drive, rewritable CD/DVD or USB drive on first use. That is supposed to provide safe storage to all settings and data from the work session.
On subsequent booting, you have the option to start with a virgin environment or load the saved OS version from the persistent memory storage. Retrieving that data, however, is not consistent.
Troubles Worsen
A related problem involves the initial installation to CD/DVD or USB. I used the same ISO file to burn the images. The CD/DVD installation booted up, but the USB installation failed to boot — whether created by Fatdog64's own installation tool, manual dd commands, or applications such as USB Creator or Unebootin.
It made no difference which bootloader option I selected. The USB installation refused to let me boot from the USB drive. I had to use the much slower CD/DVD. However, the same USB did provide access to the persistent memory file.
A related serious problem is the bootloader installation. The safe or default method worked with the CD/DVD but not the installation to USB drives. All available bootloader options warned that using the automated methods would probably prevent default OSes on the hard drive from booting. There were no directions on how to manually edit the bootloader.cfg file in the hope of preventing that problem.
Pet Rock Syndrome
I was hopeful that since Fatdog64 was a close kin to Puppy Linux, I could use the large library of PET files from my various iterations of Puppy Linux distros. With only minor exceptions, PET files (the archived structure Puppy Linux software uses) would be interchangeable, according to the Fatdog64 documentation.
That may be the case in theory, but it was only partly true in practice. It took me considerable trial and error to adapt Puppyland programs to run well, if at all, in this latest Fatdog64 release.
This distro is based on the Slackware Linux family and uses the gslapt package manager. Gslapt uses Slackware-style TXZ packages rather than the PET package format used in Puppy Linux derivatives and the previous 500 and 600 Fatdog64 series.
Of course, I could spend countless hours fiddling with a special tool to convert PET packages into the TXZ package format. That system tool is packaged in the Fatdog64 release. However, the process is mostly hit-or-miss, thanks to system idiosyncrasies and missing package dependencies.
If those were the only issues, I could chalk up the conversion process to being a one-time set-up requirement. However, the reliability and usability issues made my experience with Fatdog64 frustrating and unsatisfying.
Look and Feel
Fatdog64 starts out with an uncluttered Openbox desktop environment. It shows only a few basic system icons in the upper left corner of the screen. The default desktop view also shows hard drive volumes, connected USB and optical drives along the bottom left corner of the screen.
One of my favorite features with Openbox is right-clicking anywhere on the desktop to pop up the complete cascading main menu. You also can click the menu button on the far left of the bottom panel.
You can add application launch icons by dragging them from the menu to the desktop. This is much handier than sending icons from the /USR folder to the desktop, but you can use that method in Fatdog as well.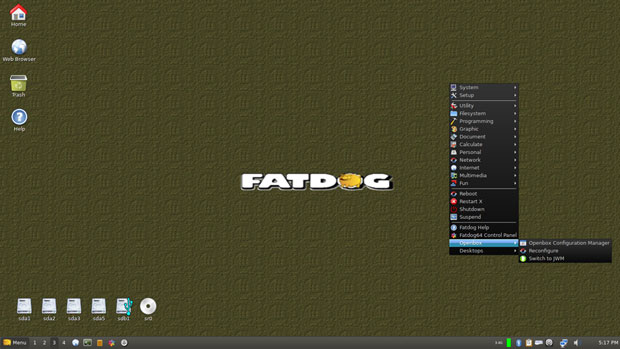 Fatdog64's desktop lets youcontrol clutter by keeping a minimalist view or dragging desiredapplication icons from the menu to the desktop.
The default configuration places two virtual desktops on the bottom panel. You can add more by clicking on the "add desktop" option in the Desktop button on the menu. Just as with the network connection, however, you have to reconfigure the additional workspaces after each new bootup.
A cool system tweak lets you switch between the Openbox and JWN window managers by simply clicking two buttons in the menu. One switches between environment options. The other quickly reloads the desktop without having to completely reboot the OS.
Controlling Factors
Another nice design element in Fatdgo64 is the placement of most of the system settings under seven tabbed panels in the Control Panel. The tabs are Localizations, Desktop, Sound, Network, System, Utilities and Updates.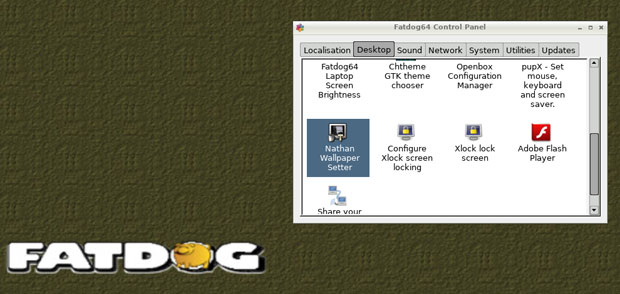 Fatdgo64 organizes most ofthe system settings within seven tabbed panels in the control panel.
I was impressed with the ease of maintaining the OS. For example, the Updates panel provides access to an automated System Updater. It tells you at a glance if the system is up to date. If it is not, you click options to install updated packages, replace SFS files, and update the kernel.
SFS files are specialized software bundles packaged as Squash File System collections. These are available from several repositories to make it easier to customize the software Fatdog64 uses. Puppy Linux also uses SFS files.
Bottom Line
Fatdog64 has the potential to outpace similar Linux distros, but its developers first must fix the numerous flaws that are holding it back.
Loading much of a distro's core elements into RAM is a proven method for delivering lightning-fast performance. However, Fatdog64 gets in its own way by failing to provide an option for storing essential files on the hard drive, which would reduce the need to read them from the CD/DVD or USB drives. Its performance is therefore noticeably sluggish compared to Puppy Linux and other "portable" distros.
Want to Suggest a Review?
Is there a Linux software application or distro you'd like to suggest for review? Something you love or would like to get to know?
Please email your ideas to me, and I'll consider them for a future Linux Picks and Pans column.
And use the Reader Comments feature below to provide your input!