The concept of reading literature — except for technical documentation — on a computer screen has come a long way in the last few years. No doubt the growing popularity of EBRs, or e(lectronic)-book readers such as the Amazon Kindle and the Barnes & Noble Nook are having a big impact on our reading habits.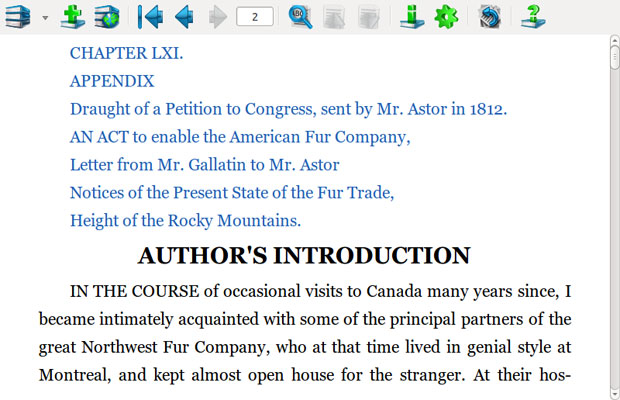 FBReader
Being able to extend our reading sessions to Apple iPhones and iPads, BlackBerries and Google Android-based smartphones and tablets pushes the accessibility and convenience of e-books even further. That sense of accessibility and convenience, however, is not lost on your Linux desktop or portable computer thanks to a FBReader.
Perhaps as a branding ploy, you might find this Linux app listed as a more generic-sounding e-book reader, depending on how your Linux distro bundles this package. Still, the official name is "FBReader" on the developer's Web site.
FBReader is an e-book reading program that makes it quick and simple to access thousands of free literature titles available on the Internet. It runs on the Linux, Microsoft Windows and Free BSD platforms. In addition, it runs on various Linux-based mobile devices such as Nokia, Motorola, Sharp and Siemens smartphones.
Very Flexible
A recent release makes FBReader very current. FBReaderJ is a Java-based clone of FBReader that runs on the Android platform. Neither version will let you read DRM (Digital Rights Management)-protected e-books, though. But the FBReader family of apps reads HTML, CHM, Plucker, Palmdoc, OEB, RTF, and FB2 e-book formats.
FBReader also supports direct reading from TAR, ZIP, GZIP, and BZIP2 archives. This ability can be very useful in accessing text and e-book documents stored in compressed file formats.
I am an avid e-book reader using both the Amazon Kindle and and the Kindle Android app on a Nextbook3 Tablet. The Tablet also has pre-installed the Barnes & Noble e-book reader app.
Despite this multiple access to various e-book reading devices, I often prefer the added eye comfort and additional convenience that reading on larger computer screens offer. That's when FBReader really comes in handy, even though I cannot use it to read DRM content.
Alternatives? Yes
I first mentioned the FBReader last June in a discussion of EBRs and the need for Calibre, an e-book library management application. It has tools for e-book file format conversions as well as reading and syncing with an e-reader. See my Calibre review here.
Another well-used EBR for Linux computers is Ereader. Ereader is a good, basic EBR app. But I much prefer the added features and flexibility in FBReader.
For example, FBReader keeps the last open book and the last positions I've read for all opened books between sessions. Its other features include automatic language and encoding detection, automatic hyphenations, full-screen mode and screen rotation.
That last feature is particularly useful when I read e-books and other documents on my netbook. Not much bigger than my dedicated Kindle and 8.4-inch tablet, the netbook clam can be rested on its side and the screen orientation changed so I can read the text on a longer screen from within the reading app.
Unique Interface
Another aspect that makes FBReader so appealing is its non-traditional interface. The emphasis is more like that found in a portable EBR device than a computer app. This enhances the reading experience.
You will not see any menu bars or drop-down menus. Instead, you see a single row of 14 icons and arrows that function much like the controls in a media player app.
No setup requirements exist. All you have to do is point the app to the location of the e-book library. The program worked fine with the default settings. I used it for several days before I discovered in plain sight a preferences setting.
There I was able to make adjustments to the display options such as scrolling choices, margins preferences and specific free book libraries to search for metadata.
Using It
Similar to adding music selections to an audio app library, you click the pile of books icon to view the e-book collection stored in the library on your computer. Clicking the big green plus mark icon adds titles to the library.
The third icon in the left-to-right sequence shows a magnifying glass over a computer. Click it to search the Internet free book libraries you have designated for titles or book genres to add to your local collection.
Two navigational arrows let you move to previous and next search results in the network library mode. In the reading mode, three arrows let you move to the start of text, go back a page at a turn or go forward page-by-page.
Library Maintenance
That is all you need to know about using FBReader. The interface does not get in your way as a distraction from instantly settling into reading. Just hover the pointer over an icon to see a call out of what it does. But the program offers a few more feature icons to enhance the reading experience.
One feature lacking in other more basic EBR apps is provided with the Book Info icon. This lets you see and edit cataloging details for your e-book library. This can be useful if your e-book source does not provide all of the details for your book download.
This information includes file location, author and title, as well as sort key and language preferences. Two other tabs let you add series information and search tag terms if you wish.
Getting Oriented
The preferences panel allows you to indicate — among more than one dozen other optional settings — your display rotation choices. You can disable screen rotation, set it for 90 degrees counterclockwise, 180 degrees, 90 degrees clockwise or cycle through all four directions.
An icon that closely resembles a Web browser's page refresh sign controls text rotation. Unless you have that option disabled, each click of the icon cycles you through the next rotation option.
In the preferences panel you can also make convenient adjustments to how the app scrolls text on the screen. You can select from among large and small scrolling as well as mouse and tap scrolling.
You can also set in milliseconds the delay between scrolling. A last choice lets you determine the scrolling mode. Four choices are No overlapping, Keep lines, Scroll lines and Scroll percentage.
Bottom Line
FBReader is a sophisticated e-book reader with a simple but functional interface. It is a handy alternative app to read free e-book content on dedicated EBR portable devices that are limited in the file formats they can handle.