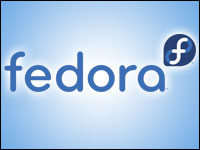 Fedora 18, dubbed "the Spherical Cow," was finally released on Jan. 15 after seven postponements that stretched two months beyond its scheduled six-month release cycle. Despite some noteworthy improvements overall to the operating system, I found little about Fedora 18 to justify adopting it over other Linux distros or upgrading to it from an earlier version.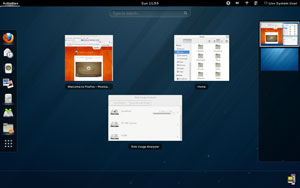 Fedora 18's default installation uses the GNOME 3 desktop. (click to enlarge)
Two software items caused the release delays. One was Anaconda, a revamped installer, and the other was FedUp, a new Fedora upgrade utility. The two are related in that the Fedora community removed all upgrade functionality from the installer in favor of having FedUp take on those duties in Fedora 18.
Perhaps the most significant addition to this current release is support for the UEFI Secure Boot. That could be key to installing the Linux OS as a dual boot on a new computer with the restrictive Windows 8.
New Inside
Fedora 18's use of an improved Linux kernel is a significant improvement. My installation package installed kernel 3.6.11 and upgraded it to 3.7.2 after installation. This adds many new device drivers and hardware support. That could make this latest release attractive to enterprise and other business users. The Fedora distro is sponsored, in part, by Red Hat, the commercial developers of Red Hat Enterprise Linux (RHEL).
Another potential plus for Fedora 18 is its support for ARM architecture, a family of RISC-based computer processors. The Fedora 18 runs on ARM-based platforms that include Versatile Express (QEMU), Trimslice (Tegra), Pandaboard (OMAP4), GuruPlug (Kirkwood) and Beagleboard (OMAP3).
I spent considerable time playing with Boxes. This is a lightweight Gnome virtualbox bundled with Fedora 18. It is similar to VMware or VirtualBox. It seems easier to use than the Kernel-based Virtual Machineor KVM application I recently tried.
More New Stuff
Fedora 18 comes with support for Samba 4and Eucalyptus. This is another boon to enterprise users.
The inclusion of the latest version of the Samba suite of tools provides file-sharing and print-sharing services in heterogeneous OS environments. It also brings free open source integration of Active Directory protocols.
Fedora 18 debuts Eucalyptus's cloud software's 3.2 release. Eucalyptus is open source software for building AWS-compatible private and hybrid clouds. Combine this with OpenStack's Folsomrelease for configuring large pools of virtual machines, and Fedora 18 is a hefty operating system for workplace activities.
First Impressions
Fedora 18 performed as expected during installation and setup in detecting my hardware and monitor's resolution. I had no glitches or trouble with the default settings that enabled mouse functionality, WiFi and LAN connections. Fedora 18 installs Firefox by default. That, of course needed an almost immediate upgrade. I would have preferred an initial setup option to install the Google Chrome browser rather than have to manually track down that package from the Google web site.
Fedora 18 does not install Adobe flash plug-in support as part of the default installation. As is normal with the Fedora distribution, no non-FOSS (Free, Open Source Software) software is included. An explanation of this, and instructions for downloading and installing the Adobe Flash Player for Fedora, are on the Flash – Fedora Project web page.
As part of this pure open source restriction, Fedora also does not install the restricted multimedia codecs some other Linux distros provide. Fedora does not ship those as a matter of policy.
If you want to play movie (.avi) and music files (mp3), you will have to go the RPM Fusion web site here to get the non-free codecs. The site provides a repository accessible using yum (Fedora's package installer system) for software that the Fedora Project does not offer.
Desktop Lacks Pizazz
If I were a newcomer to the Linux OS, and Fedora 18 was my point of entry, the encounter would leave me wondering about all the fuss over Linux. The default desktop environment is a very bland GNOME 3.6. Many seasoned Linux users have turned up their noses at its lackluster functionality.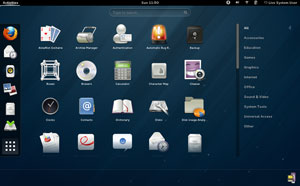 Fedora 18's GNOME 3 interface shows applications without a main menu icon on the panel. (click to enlarge)
This latest GNOME version seems to have taken more steps backward. GNOME developers have simplified the default Nautilus file manager's interface by removing some of its key features. For example, gone are the split pane and compact views.
I'm not saying that Fedora 18 is a bust. On the contrary, this latest release maintains the Fedora community's reputation for leading edge functionality. But you have to push through the GNOME 3 staleness to appreciate the otherwise solid offering. Annoyances with GNOME 3 include a dockless panel bar, multi-step actions to access applications, no traditional menu and an awkward virtual desktop switcher.
Installation Protocols
A better option for many Fedora 18 users might well be swapping out GNOME 3 for one of the other available desktop environments. Fedora 18 gives you several options in getting them. Currently, Fedora offers four desktop options besides GNOME 3: The KDE Spin, the LXDE Spin, the Xfce Spin and Sugar. All are available in 32-bit and 64-bit versions.
If you want to start off with a specific desktop option rather than the vanilla GNOME 3 version, go here. You can install one of the other desktop options after completing the GNOME default installation, or you can choose one of the other desktop alternatives initially by selecting a different download option from here.
Not unlike other Linux distros, each of these desktop options is packaged to integrate with Fedora. Each one has a slightly different look and feel, and comes with varying levels of customization. The differences amount to how each desktop environment affects how windows, icons, menus and various basic desktop interfaces look and feel.
Add More Spice
Linux Mint's Cinnamon desktop and the MATE replacement desktop for GNOME 3 are also available for Fedora 18. They do not come, however, as pre-packaged options in a separate download package at installation, except with one exception noted below.
Although not immediately available, the Fedora community now includes the Cinnamon and MATE desktop environments in the repositories. Adding them after installing the default GNOME 3 or one of the other desktop options is relatively easy and fast.
You can do this by searching the graphical package manager. Select the package you want and click the Apply Changes button.
Another Way
If you want MATE or Cinnamon right off the bat, you need to do a network installation. This allows you to choose any desktop environment before installing the operating system. When it comes to MATE/Cinnamon support, this is the main difference between Fedora 18 and 17. In 17, you could install either desktop through the command line after installing the whole operating system. Now you can do it either through the command line or during a network installation.
The easiest way is to download the lightweight network install media fromhere. This download option gives you access to an initial install of all the supported Fedora desktops in a 64-bit version consuming 294MB; make sure you choose the network version.
What's the Difference?
It all comes down to the user experience. Widespread dissatisfaction exists with the klutzy redesign of GNOME 3. Many Linux users lament the loss of functionality available in GNOME 2. The alternative desktops give Linux users a range of look and feel options.
For example, Cinnamon built a more familiar GNOME 2 functionality while maintaining the GNOME 3 structural changes. MATE supplants GNOME 3 with a forked version of GNOME 2. KDE is a more graphically developed window manager option.
The Xfce desktop is fast and lightweight with a trimmed look and feel based on an uncluttered user interface. The LXDE, or Lightweight X11 Desktop Environment, is another approach to giving users fast performance through a pretty but slimmed interface based on keeping keeping computer resource usage low. Sugar is the user interface originally developed for educational use in the One Laptop per Child Project.
Bottom Line
Fedora 18 may not be the best choice for getting acquainted with the Linux OS. Its close affiliation, however, with the commercial Red Hat Enterprise Linux, and strong support from the well-managed Fedora community, make Fedora 18 an ideal OS choice for the work place.
"We don't target any particular audience. I would say we have a fairly general user base," Robyn Bergeron, Fedora project leader told LinuxInsider. "Certainly a lot of enterprise types will look at Fedora Linux to see what might be coming in a future version of RHEL. And a lot of sys admins use it."