Feren OS is a polished and well-stocked Linux distro that comes close to being an ideal replacement for Microsoft Windows and macOS. In fact, this impressive Linux OS is a very attractive replacement for any Linux distro.
The only impediment to this assessment is dislike of the Cinnamon desktop. Feren OS does not give you any other desktop options. However, it comes with a wide assortment of configuration choices that let you tweak the look and feel into almost any customized appearance you could want.
It also is super easy to install. This makes it suitable for those migrating to Linux — or at least to this operating system. Feren OS offers a specialized software repository that is colorful and efficient to use. It has several specialized launchers to install and configure software packages with a single mouse click.
---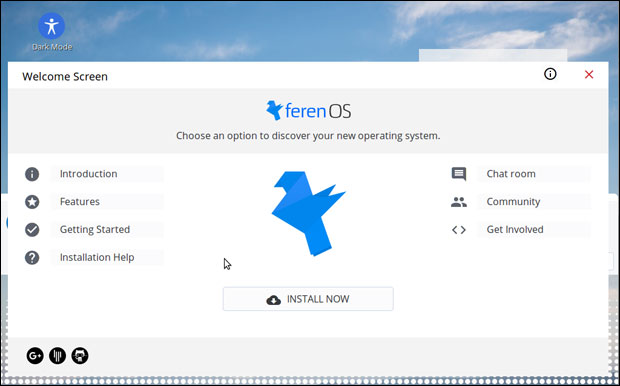 The Welcome Screen displayswhen you load the Feren OS DVD. All new users need to know is presented ineasy-to-understand guides. You can close the Welcome Screen to try out theOS in live user mode or click the install button for a fully automatedinstallation.
---
Feren OS 2017.0 "Murdock" was released earlier this month. This distro is a relatively obscure Linux OS based on Linux Mint's main edition.
Feren is a relative newcomer that first appeared in late 2015. Since then, Feren OS has acquired considerable maturity. It shows very little evidence of being a newcomer. It has its own personality, so you will not feel like you are using a Mint clone.
Even the in-house customization of the Cinnamon desktop environment gives it a considerably different atmosphere than the current Linux Mint Cinnamon iteration.
Out of the Box
Feren OS works right out of the box — but it is a big box. The download itself is a 3.6-GB ISO file. That is not a larger-than normal size, but installing it takes substantial resources.
For example, you need at least 18.2 GB of hard drive space for the installation. The OS purred along fine on 8 GB of RAM running on a test desktop computer. However, on a test laptop with 4 GB of RAM it ran noticeably slower when I opened numerous applications and did some screen grabs.
So, less-endowed hardware will be a bit of a challenge, especially if you install any of the optional proprietary drivers provided and the third-party software.
All of these goodies are partly responsible for making the Feren OS such an impressive computing platform, though. It is packed with so many bells and whistles that it needs lots of room to run.
The U.S.-based developer's website hints at upcoming plans to package Feren OS in a third-party laptop and eventually to fork the Cinnamon desktop to a Feren-branded design. It is positioned as a transition OS from Windows 10 and includes the WINE compatibility layer for running Windows applications.
The distribution ships with the WPS productivity software along with LibreOffice. It also runs the Vivaldi browser by default — but you can use the handy Zorein Web Browser Manager tool to easily uninstall the Vivaldi browser and supplement or replace it with several other browsers.
This is very helpful for inexperienced users. It eliminates the need to find applications in the Software Center, the Synaptic Package Manager or manually, using apt-get commands in a terminal.
You have to track down your own Linux games, but PlayOnLinux and Steam are waiting for you in the menu.
I was pleased to see how the developer integrated some of the finer elements of the Zorin Linux distro. In several ways, Feren is more like Zorin Linux than Linux Mint.
Cinnamon Flavoring
Feren OS is not a retread of Zorin, either. Zorin runs the Zorin Desktop 2.0, an in-house integration of the GNOME shell. The look and feel of GNOME 3 is a far cry from the Cinnamon appearance in Feren OS.
If you are not familiar with the Cinnamon desktop, you do not have to worry about much of a learning curve. The Cinnamon desktop is easy to use, especially with all of the customized features the Feren developer added.
---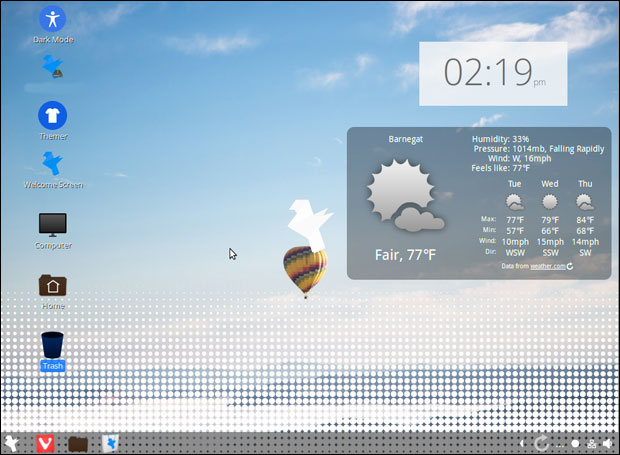 Feren OS uses an in-houseversion of the Cinnamon desktop that doesnot require a learning curve.
---
Both Feren and Zorin are designed to look like classic Windows. They both resemble many other Linux distributions belonging to the Debian Linux family. Feren OS displays a handful of system icons on the desktop if you want them. It shows a fully functional taskbar or panel on the bottom of the screen.
The left side of the panel is home to the main menu button and four launch icons for the Web browser, the file manager, the Software Center and a launcher to install proprietary icons. The right end of the panel houses the notifications tray and systems tool launchers.
You can add a broad assortment of applets to that task bar. You also can choose from a library of desklets on the desktop to display various readouts, such as weather and system monitors.
The main menu is a change from the typical cascading display used in Windows and many Linux distros. It is a two-column menu display with the categories in the left column. The wider right panel lists installed software titles in rows. Depending on how many software titles are installed, this panel slides out of sight and is replaced by another set of icons with titles as you click the buttons on the bottom of the menu. It is very classy!
---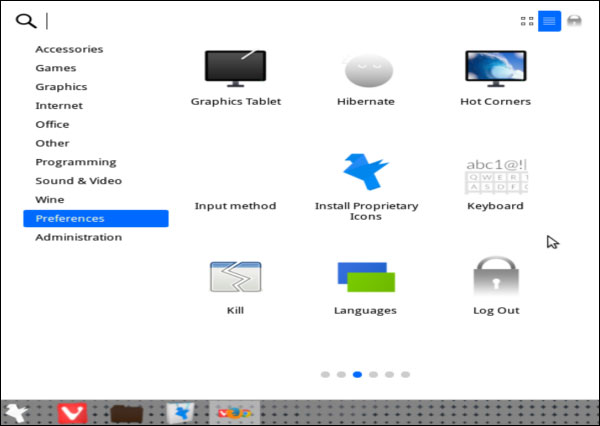 In Feren OS, the main menudeparts from the typical cascading display used in Windows and many Linuxdistros.
---
Bottom Line
Feren OS is a nearly flawless Linux computing platform. This distro is practically maintenance free. The updating process appears to be a modified rolling release version. System updates push to the Software Center under a separate tab for OS upgrades. This eliminates the hassle of downloading and installing new versions of the operating system several times per year.
The developers have taken the best parts of several innovative Linux distros and seamlessly integrated them into an ideal computing platform. Feren OS is very easy to use. It is attractively designed and has just enough desktop animation to make using it a tad more interesting.
Be sure to try the Theme Changer tool. It lets you alter the appearance of icons, background, window decoration and just about everything else in how Feren OSD looks on the screen.
Want to Suggest a Review?
Is there a Linux software application or distro you'd like to suggest for review? Something you love or would like to get to know?
Please email your ideas to me, and I'll consider them for a future Linux Picks and Pans column.
And use the Reader Comments feature below to provide your input!