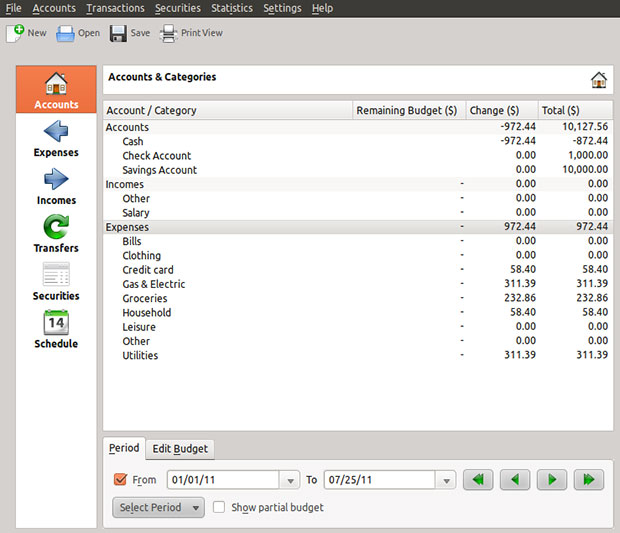 Eqonomizer
Eqonomize is a personal accounting package that is fast becoming my app of choice for all things financial. It is packed with features and is simple to learn. Plus, its KDE interface makes it an ideal solution to handle my small household economy.
Keeping track of personal and business finances is one of my essential computing tasks. That activity takes a secure browser to access financial institutions and a reliable, easy-to-use personal accounting app. The Linux platform has several really good financial apps that fit my needs. These include GnuCash, HomeBank and Skrooge.
Eqonomize goes head-to-head with these other Linux personal accounting packages. It is not as well-suited for small-business accounting as is GnuCash. But it has the simplicity of Homebank's single-entry accounting system despite its double-entry ledger structure. Other features that have endeared me to Eqonomize are its ability to handle recurring transactions and its resources in keeping me tuned into my budget.
Smooth GUI
Wrapping Eqonomize around KDE 4 was a good decision. The Graphical User Interface (GUI) goes a long way to making it easy to use this app without a financial degree.
That said, the features and performance available in the latest rendition, Version 0.6, could well be the end of the line. The last release was November 2008. Still, what you get in Eqonomize is a stable and polished personal accounting application that handles budgets, multiple bank accounts and securities transaction record keeping with relative ease.
The interface itself is clean and well-designed. Its approach makes Eqonomize more than a mere checking and savings account ledger. The drop down menus, tool bar and action panel make a click-and-view style natural and efficient.
Missing Stuff
What you do not get in Eqonomize is a connection to your bank or investment center from within the app. This app is strictly for planning and records analysis. For most users, this limitation is fine. I prefer to keep my banking records and online transactions isolated.
Another thing you do not get is the ability to reconcile checking account transactions. That could be a more serious omission if you rely on this app to handle your checkbook transactions.
Otherwise, Eqonomize comes close to being an all-around ideal choice for monitoring your personal finances. You can use a Web browser and a calculator to work around these two missing features.
Look and Feel
Eqonomize's layout works much like you would expect a personal finance app to function. Drop-down menus make short work of creating new accounts, setting up and maintaining new transactions and viewing account statistics.
Some financial programs expect you to start from scratch. Not so with this one. It is easy to import financial records from any application or online banking file download in CVS or QIF file format. Eqonomize's import function provides options for how to handle categories, columns and more. You can save or export tables as HTML files and charts in a number of different image formats, including PNG and JPEG.
The Settings menu makes it quick and simple to configure the tool bar and shortcuts. The Transactions and the Securities menus are loaded with options.
One of Eqonomize's biggest strengths is its action panel along the left edge of the app window. This puts access to Accounts, Expenses, Incomes, Transfers, Securities and Scheduled events a mouse click away. Clicking on any of these tabs opens the appropriate forms and fields for data entry in the large viewing window that consumes most of the Eqonomize window.
Feature Functions
Eqonomize provides an impressive list of bookkeeping features in five categories. The most significant ones in Bookkeeping are the ability to edit transaction properties and enter split transactions, refunds and repayments. You can set the parameters of the last entered transaction so it is automatically filled in when a description is entered.
Budgeting is less daunting with the ability to handle incomes and expenses separately as well as exclude categories from the budget. Eqonomize displays the previous month's performance and predicts future account values based on the budget and scheduled transactions.
Eqonomize displays the value, cost, profit and yearly rate for stocks, bonds and mutual funds. It can display a present total or show results for a specific period. It also estimates future value and profit based on previous quotation changes and dividends. Statistical readouts are readily available. For example, the main account view displays total values of accounts and categories for at present or a specified date and value change, as well as the budget/remaining budget for a designated period.
The application also shows line charts and tables for change of profits, incomes and expenses over time for your choice of all categories, a specific category or a specific description within a category. Similarly, pie charts and tables show comparisons of expenses or incomes between different categories, descriptions or payees/payers. You can display value, daily average, monthly average, yearly average, quantity and average value for a quantity.
Pick and Choose
Another strong attribute of Eqonomize is its compartmentalized structure. Unlike other personal financial applications, you do not have to buy into using all of this app's components.
For example, you might only need an electronic checkbook register or a simple way to track expenses and income to stay within your household budget. Eqonomize lets you use just what you need and ignore the other functions. What you do not need or do not use will not get in your way.
Whatever portions of the app you need, the forms are simple to complete. Clicking on any item in the display opens a detail window for data entry.
Using It
Eqonomize has a lot to like. The accounts view provides a concise summary of incomes and expenses by categories. You can edit each category and link it to a monthly budget. A data file at the bottom of the display makes adding new expenses a snap.
The Transfer tab has a similar display list with an editing form below it. This makes is a no-brainer to enter transfers among multiple accounts. Everything is in one accessible place.
Scheduling recurring events works almost the same. To enter a new event in the Schedule tab you must click on the New Schedule button and select Expense, Income or Transfer. Keyboard shortcuts makes this function even faster. Then fill in the details in the expense and recurrence tabs on the pop-up window.
Adding securities entries follows a similar approach. Select the New Security or New Transaction buttons after clicking the Securities tab. Then select the appropriate category. A sometimes complicated task could not be easier than Eqonomize makes it.
Bottom Line
Eqonomize takes the sweat and toil out of personal bookkeeping and banking tasks. The application shows an understandable overview of past and present banking histories.
Tracking your transactions, income and expenses with useful tables and basic charts could not be easier. Eqonomize's use-what-you-need mentality is a win-win solution to personal finance management.