Fotoxx is an unusual photo editing application that has its share of quirks. Still, it is a capable photo editing tool that has just enough power to make it an alternative to the standard Linux apps.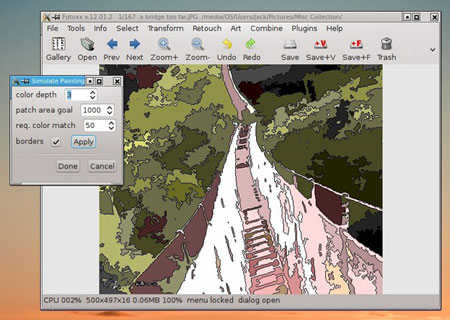 Fotoxx sounds more like a medical solution to fix a patient's physical appearance. It applies that concept to injecting tweaks on your photographic images. The results are impressive.
This photo editing kit has a look and feel that separates it from the expected approaches taken by the likes of Gimp and Krita, for instance. Fotoxx is geared toward photo enhancement; it's not meant to be an editing fix for other types of graphical images.
If the bulk of what you use a photo editor to do is make photos look better, Fotoxx is worthy of a try. A quick comparison with your current photo editor could bring pleasant surprises.
What It Does
Besides its quirky approach to editing, Fotoxx is a quite handy photo viewer that lets you organize your photo collection into galleries. It handles all the expected enhancements with ease. These include sharpening or blurring images, removing the red eye effect, cropping, rotating and flipping image orientation. And yes, it does a sweet job of correcting color as well.
If you set a default storage folder, Fotoxx automatically scans it to update its cataloging index with new additions. Fotoxx is less capable as a fully functional photo organizer.
If all you really need is a tool to perform batch tasks such as renaming and tagging, you will feel right at home with Fotoxx. Do not overlook another one of Fotoxx's tricks: Its HDR (high dynamic range) feature is quite good.
Fotoxx also is very handy at stitching together sequential scenes into a panoramic view. It makes horizontal and vertical panorama scenes. The process is a bit contrived and a lot less automated than some of the app's other features, but it does a nice job in sewing scenes together into one view.
Almost an Orphan
Fotoxx is not as well known as other photo editing packages, but its obscurity is not necessarily a bad thing. It is very capable at editing and managing photo collections.
What might be a problem is future development. It seems the developer has abandoned it out of frustration over the difficulty of packaging it into various Linux distro formats. So you must rely on other software centers to download Fotoxx if your distro's repository does not include it.
Visit the home page website. Even the user guide that installs with the package references the now nonexistent website as a source for tech support and add-ons.
Getting It
Even though I could not reach the Squarespace.com location manually, both the Linux Mint and the Ubuntu repositories found and installed the Fotoxx package without incident — except for a dependency that I had to install myself, that is. Fotoxx needs the libimage-exiftool-perl library for several of the editing functions to display properly.
Another potential dilemma is that only five mainstream distros provide direct access to the Fotoxx package in the resident installers. If you must do the installation manually, go here.
As a last resort, you can find Fotoxx in the Synaptic Package Manager. Your distro may not support that process, however.
Using It
On first run, a file picker window opens to set the default location of photo files. This begins the synchronization process. You can bypass this setup function — but if you do, every time you launch Fotoxx, the same process will repeat.
I installed Fotoxx on two of my Linux work laptops. Each runs either Linux Mint or Canonical's Ubuntu. After pointing to the picture folder stored on the Windows partition on each computer, it took Fotoxx about 15 minutes to create a lengthy list of thumbnails for 6,155 image files.
I exited the program and added a few more pictures to that directory. When I reloaded Fotoxx, the thumbnail synchronization was automatic and took only a few seconds.
Young GUI
The Fotoxx graphical user interface shows signs of immaturity. For example, on nearly every menu function that needs a dialog box for your response, the box plops smack in the center — or close to it — of the image you're editing. It is very annoying to always have to click and drag the box out of the way.
Another user adjustment is the lack of scroll bars. This is a big annoyance, especially when the images do not fit into the viewing space. The mouse wheel zooms in/out, so that is one way to deal with the situation.
Click on the Gallery menu item (where you would normally expect to find the File drop-down menu). This opens another full-size window showing all of the thumbnails of the synchronized collection.
Click on an image to load that photo into the editing panel — but Fotoxx does not let you see a thumbnail view of any photo file when you browse through the list of photos in the Open menu option, so expect to do a lot of clicking to open and close images.
Name That Tool
Most of the image editing tools in Fotoxx are self-explanatory. What is less obvious is the sometimes odd names for the menu labels. For instance, the menus are labeled "Retouch," "Combine," "Art" and "Transform."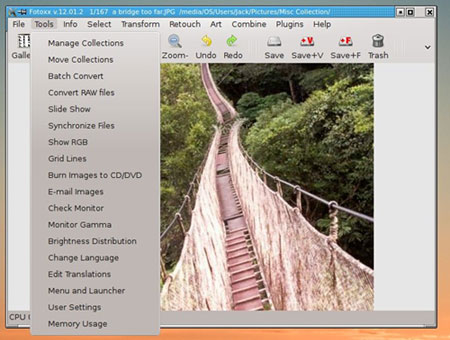 As part of the testing and familiarization process I use in reviewing software, I experience the apps I test in doing my everyday work tasks, so I attempted to create the screenshots for this week's column using Fotoxx. I am not suggesting that I deliberately alter or enhance any screen images, mind you, but some production work, such as cropping, is needed.
When I was ready to crop the background desktop view from the finished screenshot, I had to scratch my head. In untypical fashion, the cropping function was not listed by name.
Transformation Anew
I finally found the cropping function under the Transform menu listed as "Trim Image" and "Auto-trim Image." Then it took more head scratching to figure out where to find the selection tool and how to use the dialog box's weird explanations to frame and execute the cropped areas. Cropping took several more steps than is required in other photo editing apps.
You can use the selection tool to position the trimming borders manually. You can also pick preselected trim sizes to let Fotoxx do the trimming or cropping for you.
Resizing a photo in Fotoxx, however, is much more of a hassle than it should be. I prefer the grab and resize method, but I could not find any way to get Fotoxx to let me do that.
Instead, the Resize Photo menu option opens a dialog box with present resize button to click, or height and width windows with scrollable parameters. Press the Done button when finished.
Bottom Line
Fotoxx can be a good choice for enhancing your digital photos. It does an OK job as a photo collection manager. Its Retouching menu tools are extensive and fairly intuitive to use.
I hesitate to get too used to using Fotoxx, however. Its orphan status might have it fall by the wayside before more mature development is applied.