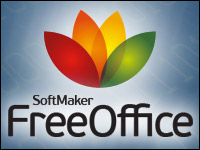 SoftMaker's FreeOffice 2018 Linux office suite is a high-end product that provides performance and compatibility with Microsoft Office and other office suites.
FreeOffice 2018, released this spring, is a free version that is nearly identical to the features and user interface of Softmaker's commercial flagship office suite, SoftMaker Office 2018. I recently reviewed the beta commercial version. The FreeOffice line is distributed under the Mozilla Public License.
The Germany-based software developer offers an impressive and very usable line of open source and commercial products. The FreeOffice 2018/SoftMaker Office 2018 products are Windows/Linux cross-platform applications with integrated modules for word processing (TextMaker), spreadsheets (PlanMaker) and presentations (Presentations).
If you are thinking, "Gee, why not keep the Maker moniker consistent by calling it 'SlideMaker'?" I totally agree.
Office suite compatibility is one of the major selling/rejecting points when consumers and enterprises consider migrating to the Linux OS. The Linux OS has its share of free lightweight word processors and a few worthy standalone spreadsheet apps. Generally, Linux office suites lack a really solid slide presentation creation tool, however.
Many of the Linux word processing packages are little more than glorified text editors. Graphics compatibility in page design are often their fail point. That trend has been changing for the better with applications such as SoftMaker's FreeOffice, The Document Foundation's LibreOffice and Ascensio System SIA's recently released free office suite upgrade OnlyOffice Desktop Editors, which I recently reviewed.
The FreeOffice 2018 suite has much to offer. It is a capable alternative to its commercial upgrade. It poses little trouble reading and writing to other document formats such as .docx, pptx, xlsx and provides very accurate page rendering when importing/exporting file formats. Except for the ability to save as earlier MS Office document formats, all that is missing from the SoftMaker commercial edition are a few dictionary-based and related tools.
---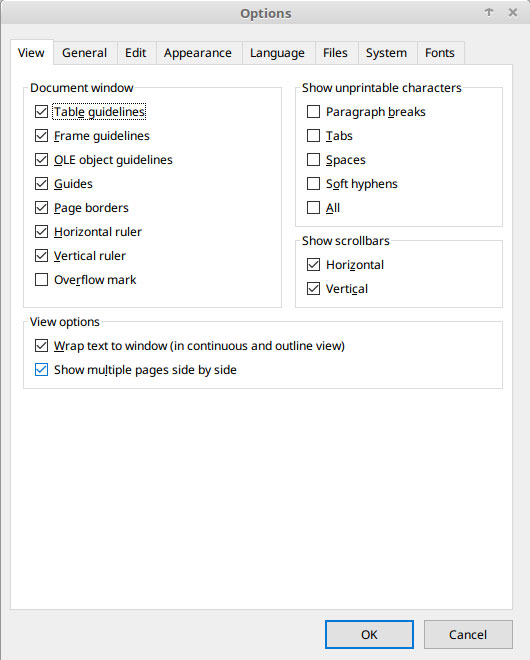 The FreeOffice 2018 suite lets you configure many aspects of each modules' operation with a detailed settings panel.
---
Switching Gears
I switched to LibreOffice years ago when The Document Foundation forked OpenOffice. Each major release closed the gap as a reliable Microsoft Office replacement. I rarely had difficulties with exchanging files among users of Microsoft Word. The user satisfaction got even better with FreeOffice, to a point.
I began using earlier versions of FreeOffice two years ago on several of my computers, which allowed me to settle in with long-term compatibility testing. I would create files in LibreOffice or FreeOffice. Depending on which computer I used, for subsequent editing sessions I would work on the file in either LibreOffice or FreeOffice. Rarely would I see page layout or formatting glitches in how FreeOffice rendered the display or printed the page.
I tested FreeOffice 2018 using the same process. Since some of the documents I create or edit require printed copies by a client using Microsoft Word, I also routinely check for compatibility between FreeOffice and LibreOffice outputs. Results are usually more than adequate. Sometimes, a bit of tweaking resolves display issues. I almost never have issues with the way FreeOffice 2018 prints documents.
This latest release of FreeOffice proved itself to be very adept at opening, displaying and saving documents with a high degree of fidelity — that is, as long as I wanted to use the latest Microsoft file format, as in .docx.
Was it flawless? Not always.
Compatibility Without Compromises – Not Quite
SoftMaker claims that you not only can open but also can save documents in the Microsoft file formats docx, xlsx and pptx. The company also boasts that users can share files directly with Microsoft Office users without first having to export them. That is true, but with a catch.
That catch can be a mild inconvenience or a deal breaker, depending on your file interoperability needs. Depending on the module involved, you can *only* save documents as docx, xlsx or pptx files.
If you want to save files in the older MS Office formats, you must buy the commercial version of FreeOffice. For instance, in TextMaker You have options for the .txt and SoftMaker-specific .tmdx and generic .rft formats along with a few other formats.
However, there is no support for the Open Document Text (odt) format used in LibreOffice and other open source applications. This can cause difficulties in exchanging documents with those who use these cross-standard formats.
Potential Problems
If your office suite needs are limited to working with documents only you create and print out, or deliver as attached files, then go for it. Typical real-world document usage goes far beyond being limited to just the latest Microsoft Office file format, though. Many small businesses and even large enterprises work in the realm of .doc /.xls /.ppt formats.
For example, in the case of one client, in-house copy exchanges are done in .txt format filed on the company's servers. I must save blogs and article submissions I provide to other publishers in a preferred file format of the editor involved.
In most cases, editors, publishers and my freelance clients care less what application I use to create or edit the documents we exchange. They only care if they can not open the document or its rendering is messed up when displayed on their screens or printed output.
On the other hand, the majority of press releases and slide presentations I receive or edit and return are done in .doc or .ppt file format, not .docx or pptx format. I have not found that situation to be much different outside my publications world, either. Personal correspondence from lawyers and government agencies, for instance, usually are in the older .doc/.xls/.ppt formats.
Ribbon vs. Traditional Interface
As good as LibreOffice is now with its 6.xxx series, its developers have been slow to implement the popular ribbon interface first introduced in Microsoft Office. SoftMaker's FreeOffice 2018 has a very workable ribbon interface option along with the traditional toolbar-style menu. Switching between the two user interfaces is easy.
That is important. The ribbon interface requires adjusting to navigating around the options in each of the office modules. It is sometimes more convenient to use the traditional dropdown menus from the fully populated toolbar.
---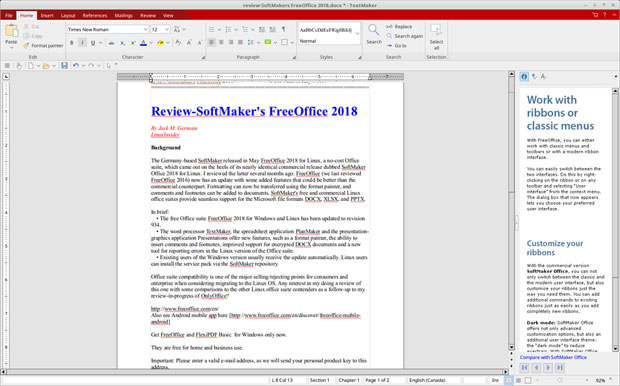 The ribbon interface includes a toolbar-style menu. Switching between the two user interfaces is easy.
---
The ribbon interface uses a tab line at the top line of the application's window to open menu categories. The actual options in each category display in the second row.
A third row provides a few basic function icons that do not change. These are icons to create a new document, open an existing file, save the current document, and a dropdown list of undo/redo previous typing.
These menu icons also have keyboard shortcuts displayed. You can add/remove additional icons for more toolbar options.
How the Ribbon Menus Display
The first item in this third-row toolbar is a button to open a two-column cascading menu of all options. That list contains the keyboard shortcuts for many of the menu items. This keeps the ribbon interface active while giving you a way to bypass the ribbons without switching to a more traditional menu setting.
---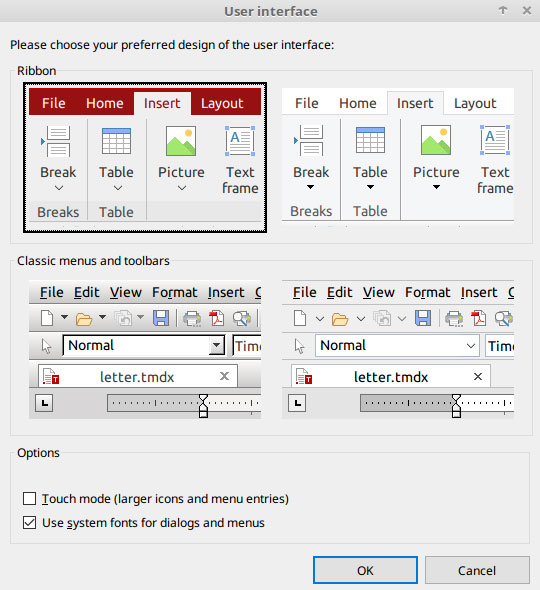 The FreeOffice 2018 productivity suite lets you easily switch between traditional and more modern ribbon menu styles.
---
The File tab ribbon provides commands to open, close, save/save as/save all, epub export, PDF export, print options and access properties for the file. The Options and Customize buttons display settings panels.
The Home tab ribbon holds all of the file formatting options for font, character, paragraph and style selections. The Insert tab holds page break, table, picture, text frame, comments, hyperlink commands and more.
The Layout tab has the ribbon controls for setting page margins, orientation, chapter markers and other layout and page design controls. The References tab opens the ribbon options for setting attributes for fields, footnotes, and table of contents. The Mailings tab displays ribbon settings for file-specific attributes to automate mailing lists for database output.
The Review tab shows spell check and hyphenation settings, a comments pane, and controls for tracking and working with text changes within the document. The View tab provides ribbon controls for Display Views, Forms, Fields, Grids/Guides/ ruler choices, Zoom and Windows display options.
The Latest Improvements
The FreeOffice 2018 suite for Linux is updated to revision 934. All three office modules have new features that include format painter, the ability to insert comments and footnotes, improved support for encrypted docx documents, and a new tool for reporting errors in the Linux version of the Office suite.
The latest release runs on any PC-based Linux distro, either 32 or 64 bits. The office suite is optimized for touchscreens. You can switch to touch mode with larger icons and increased spacing between user-interface elements. You can do this both with ribbons and with the classic menu-based user interface.
TextMaker combines easy use with a wide range of features. Formatting text is much simpler with the numerous new template catalogs and drop-down elements. Its advanced positioning and text-wrapping options let you create any style layout.
Master pages let you watermark each page and place repeating objects in your document. Character and paragraph styles add a consistent and professional look to your documents. TextMaker supports spell-checking using Hunspell dictionaries. The Assistant feature helps you to create PDF files and EPUB e-books directly from within the application.
PlanMaker lets you create complex calculations, worksheets and charts effortlessly. It includes more than 350 functions and a wide variety of analysis features. Easily insert pictures, drawings, text frames or impressive charts in 2D and 3D.
Choose from a large catalog of attractive cell styles that are compatible with Microsoft Excel 2016. PlanMaker supports large worksheets with up to 1 million rows and 16,384 columns and pivot tables. You can export worksheets as PDF documents or in a specified print format. You can select from five different scaling methods so that it fits on a specified number of pages. You can print 2, 4, 8 or 16 pages on one sheet of paper.
Other PlanMaker features include pivot tables that display data in a targeted way to meet individual specifications, and the ability to create database ranges within worksheets. You also can use an outline view for data grouping, sort by up to 64 columns, and apply auto filter and special filters.
Presentations is a powerful tool for creating impressive slide presentations. It is easy to combine text, images, tables and artwork to make attractive slides. You can apply a range of animations and slide transitions using OpenGL graphics acceleration.
Among its wide variety of design and drawing functions are the ability to Insert images, drawings and text frames, and apply type effects by using the TextArt or numerous other design templates. You also can insert static objects, movies and sound effects into presentations.
Bottom Line
SoftMaker's FreeOffice 2018 is a high-end productivity suite that is worthy of consideration. The TextMaker word processor module is one of the closest products I have used in Linux to being capable of handling page design and publication functions.
I often use it for design pages instead of Scribus for desktop publishing tasks. The PlanMaker and Presentation modules are equally adept at rounding out office documents needs.
However, FreeOffice 2018 has a few quirks. One of them is the spelling feature. The English language version is supposed to be included by default. It is not in the installed package. As a workaround, I downloaded the Canada English Hunspell dictionary from the Softmaker website. No U.S. English dictionary was available for download.
Another oddity is the right panel that has a show/hide button. In each of the three modules, the right panel displays handy tips on using some of the core features.
At the bottom are media buttons to move forward or backward through a slide-like presentation. Every time you click in the panel, the application automatically switches to a Web browser screen to view upsell details from the SoftMaker website.
A third issue is potentially more troublesome. You can set the auto-save (recovery) interval in the File/Options/Fields of the menu, but there is no auto-save feature. You must remember to save content frequently or you might lose information.
For example, I had saved the updated file as I completed writing section of this review and continued with a new paragraph. About two minutes later I clicked on a menu item. The application crashed. I declined to fill in the pop-up crash report prompt.
The window reported that the application recovered my file. When I reopened the file, however, the most recent additions that I entered after last saving the file were gone.
Want to Suggest a Review?
Is there a Linux software application or distro you'd like to suggest for review? Something you love or would like to get to know?
Please email your ideas to me, and I'll consider them for a future Linux Picks and Pans column.
And use the Reader Comments feature below to provide your input!