If you subscribe to the view, "if it ain't broke, don't fix it," perhaps Fuduntu is the Linux distro most ideal to your computing needs.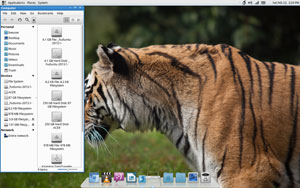 Fuduntu delivers a familiar GNOME 2 desktop experience powered with the latest kernel technologies that meets everyday user needs. (click to enlarge)
Fuduntu was first released in 2010 as a Fedora-based Linux distribution. Its developers forked it the following year. The result is a Linux distro that has a user desktop experience somewhere between Fedora's functionality and Ubuntu's user-friendliness. As part of its Fedora roots, Fuduntu uses the Yum packager manager.
As I continue to test and review the vast array of Linux desktop choices and latest recurring OS releases, I keep wondering if the GNOME desktop community made a wrong turn when it reinvented the user experience wheel. GNOME developers seem to have reinvented the GNOME 2 wheel and turned it into a GNOME 3 oblong shape.
Old Turns New Again
That is the issue Fuduntu lead developer Andrew Wyatt appears to be confronting with his efforts to maintain GNOME 2 to keep his distro viable. He released Fuduntu 2013.1 on January 7. It offers a true GNOME 2 experience and is more polished in its performance than the fledgling MATE clone desktop environment for GNOME 2. Many other distros provide alternatives to the GNOME 3 shell such as Unity, Cinnamon, KDE and other choices to avoid the classic GNOME 3 interface.
Fuduntu is impressive and seems very modern despite its GNOME 2 infrastructure. It easily exceeds two other GNOME2-based distros, Mageia Linux OS and SolusOS. It is available in 32- and 64-bit versions from the Fuduntu site.
Fuduntu gives you a frustration-free user experience on desktop computers, as well as laptops and netbooks, with up-to-date applications. This latest release even includes an installer for the beta of the Steam For Linux software distribution service.
First Impressions
I was particularly pleased with the tweaking done to Fuduntu to improve battery performance on my collection of notebooks and netbooks. It was not my imagination that I could work unplugged longer.
I ran the same applications and did the same computing tasks on my battery-powered gear running Linux Mint, Ubuntu and Fedora. I saw improved battery life ranging from 25 to 30 percent, depending on the distro and the device.
I also like Fuduntu's rolling release distribution system. This eliminates the hassle of installing a full upgrade to stay current with new software versions to the OS. Instead, Fuduntu pushes the new software incrementally as it becomes available for distribution.
User Useful
The Fuduntu desktop view is fresh and uncluttered. A fully functional panel sits at the top of the screen. This is a traditional Linux user's Nirvana.
It has the drop down applications menu at the left end that opens into a two-column cascading display. Two more buttons expose the Places and Systems menus. On the right end of the dock are the usual notifications area along with the day/date/time app.
Right click on the dock to access the panel properties. All of the familiar panel apps from GNOME 2 remain a click away. For me, the most important app to add is the Workspace Switcher. Once added to the dock, navigating the virtual workspaces is just a simple click on the desired workspace icon; say goodbye to finding corner hot spots to slide open a mini view of your workspaces.
An already populated Cairo dock bar sits at the bottom of the screen. This is a change from previous Fuduntu versions that used the Avant Window Navigator (AWN) dock. That app is no longer supported upstream. Cairo, however, is easy to configure and works well.
Other Features
If your hardware needs proprietary drivers, you can Jockey the initial set up very easily. Jockey is a specialty program that runs a hardware check to generate a list of drivers your system needs, but does not have installed by default.
Its handy user interface makes finding and installing the missing third-party drivers much more reliable. Jockey is not infallible, yet it still worked rather well on a few older laptops that almost never connect wirelessly out of the box, or displayed screen graphics at tighter resolutions.
If you are bugged about not being able to run Netflix on your current Linux distro, take heart. Fuduntu installs a work-around so you do not have to go without your movie fix. The Netflix Desktop app provides a convenient way to automate the downloads and installations of the components needed to run Netflix. It actually runs Netflix under the Wine Windows emulator using the Windows versions of Mozilla Firefox and Microsoft Silverlight v4.
On the Inside
A few significant differences exist within the new Fuduntu distro. The changes widen the gap between Fuduntu and its Fedora roots. For example, it does not use the new Anaconda installer that debuted in Fedora 18. The older installation system worked just fine for me.
Another change is seen in the desktop effects. If you are old-time Linux savvy, you will quickly recognize the GNOME 2 effects — you know, splashy stuff like woobly windows and spherical cubes. Those did not exist in the Fedora 18 release I reviewed last week. I like the old-time transitions and semi-translucent borders.
Fuduntu combines the eye-catching remnants of old-time GNOME 2 with the latest kernel technologies and current versions of popular applications. These include Kernel 3.6.9, Gimp 2.8.2, Thunderbird 17.0, Firefox 17.0, Chromium 23.0.1271.97, VLC 2.0.5 and Xorg 1.12.
I also like the included Nautilus Elementary version of the Nautilus file manager for GNOME 2. Its simplified redesign integrates nicely in Fuduntu's overall lightweight scheme.
No Desktop Choices
One of my biggest gripes about the Linux OS is its penchant for different user interfaces. The freedom of choice among numerous desktop environments — GNOME 3, Cinnamon, Unity, KDE, XFCE, LXDE and MATE — is also its strength. Freedom of choice is one thing, however; spreading desktop development resources in too many directions is another. Confusion among users is a clear obstacle for growing a non-techie user base.
All that means one of the biggest advantages to the Fuduntu distro is its lack of multiple desktops. Fuduntu comes in just one flavor: plain vanilla GNOME 2. The plainness, however, is a nice flavor.
Bottom Line
Fuduntu 1213.1 is lightweight, fast and user-friendly. It is a straightforward version of the Linux OS that meets everyday use.
Unlike the Fedora and Ubuntu distros, Fuduntu focuses squarely on desktop users. It does not try to be all things to all users. Still, Fuduntu is ideal for no-nonsense use in a home office as well as in the non-corporate workplace.
Want to Suggest a Linux Application for Review?
Is there a Linux software application you'd like to suggest for review? Something you love or would like to get to know?
Please send your ideas to me at [email protected], and I'll consider them for a future Linux Picks and Pans column.
And use the Talkback feature below to add your comments!