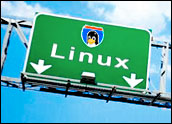 GanttProject is an impressive project management tool that can be a useful alternative to similar applications locked onto other OS platforms. For enterprise and small-business users, GanttProject's cross-platform access and easy data portability make it a winning choice for Linux users.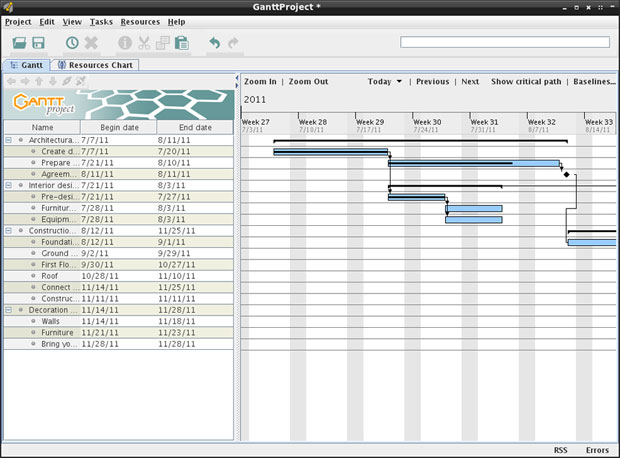 GanttProject
Compared to other project management tools for Linux such as TaskJuggler and Planner, GanttProject delivers fewer planning features. But what it does have available may be all that you need if you are not in a large corporate setting.
GanttProject's tool set offers a simplified approach to planning and controlling resources and schedules to meet the objectives of a project.
What you get is a variety of task-building, project-charting and milestone implementation tools. These come at you in a series of bars, graphs and charts.
GanttProject, now in version 2.5.3 for Linux, is a cross-platform Java desktop tool that also runs on Windows, OS X and other operating systems supporting Java.
First Reaction
I have used several Linux-based project-planning apps in recent years. None of them left me giddy with praise. But this one has enough going for it for me to consider using as a regular go-to planning tool.
That said, I had a poor first impression with its lack of a menu. GanttProject installed on my Linux Mint 13 desktop system without incident. It also loaded easily from the Run box or a terminal window by entering ganttproject. So other than a convenience factor, getting this app going is not an issue.
But I don't understand why Linux app programmers insist on shooting themselves in the foot with this no-menu massacre. I get that this application runs on Java. And I also get that the power of the Linux desktop lies beyond the pretty desktop interface of any flavor.
A Needless Problem
I also know that Unix CLI (command line interface) baggage easily deters newbies from adopting the Linux OS. In fact, not having a menu listing does little to dispel the often-repeated bad-mouthing from anti-Linux critics who say Linux is hard to use and not worth the switch from Windows.
So how tough can it be to include a script assigned to a menu entry to run Ganttproject with a mouse click? It's time for Linux app writers to stop hurting themselves and scaring away potential Linux desktop adopters with self-inflicted foot injuries from unnecessary gunfire.
Hey, the Ganttproject for Windows does this, menu entry and all. I have not checked this functionality on a Mac box, but I'm guessing it is menu-driven there as well.
What It Does
Project management software is a critical tool for some business owners and office execs. Depending on the work style and the company's needs, a spreadsheet might be a suitable stand-in for managing projects. For these needs, a full-fledged project management application could be overkill.
GanttProject, however, is a useful alternative. Its user interface is structured clearly so it is easy to understand. Despite this ease of use, first-time project manager app users will need to familiarize themselves with how Gantt's charts and similar tools function.
GanttProject lets you break down a project into a tree of tasks and lets you assign available human resources to work on each. This app makes it easy to establish dependencies between tasks. The approach prevents you from starting one task until an essential pre-requisite task is completed.
The Gantt Gauntlet
The key ingredient in any Gantt-based planning tool, including GanttProject, is familiarity with Gantt charts. This is a tool that allows planners to design a graphical rendition of a project task by task with dependencies drawn into the tree and project milestones defined.
The Gantt chart is a project management standard developed in 1917 by Henry Gantt. In its most basic form, the Gantt chart shows tasks on a series of horizontal timelines. The timeline measures progress for either short-term or long-term intervals.
There are a number of Gantt Chart applications for Linux users. One of the more notable choices is the GNOME Planner mentioned above. GanttProject goes beyond simply using a Gantt chart engine. It gives you a few other planning tools to expand project planning while avoiding complexities bundled into more full-featured offerings.
Feature Fearless
One of the nicest assets in using GanttProject is its portability. You can easily export some or all of a project's parameters. For example, you can save the project data in .XML format. This makes it easy to distribute in a spreadsheet file to others working on the project. Also, you can import and export project information to and from MS Project files or text files.
The app's Resource tab provides the ability to create new resources or import resource data from another source. The View Tab provides access to PERT charts. This is a tool for analyzing the tasks involved in completing a project. It is easy to generate PERT charts from Gantt charts in this application.
Portability is further simplified by the ability to export GanttProject charts as PNG images or generate PDF and HTML reports. Similarly, GanttProject Imports projects from and exports them to Microsoft Project formats. This type of functionality often causes data inaccuracies in some data-heavy programs.
I was pleased with the level of reliability that GanttProject has when importing and exporting files. GanttProject makes collaboration easy to maintain for project managers. They can also share projects with colleagues using WebDAV.
Some Drawbacks
GanttProject is not without its faults, however. After all, it tries to do more with less. Some usability factors are missing.
For example, you can not edit data in a PERT chart view. Instead, you must return to the Gantt chart screen and make changes there.
Another weakness is the time factor. GanttProject can only set the duration, not the work effort needed. Also, you cannot perform forward or backward calculations of the start date.
There are other less noticeable missing items. But one much-needed improvement is the ability to factor in cost estimates as another function tab in GanttProject.
Bottom Line
GanttProject gives project managers a good starting set of features. But it also leaves the door open for needed improvements.
Seasoned project managers will find what's missing somewhat limiting. Still, GanttProject is a good application for small businesses without the need of high-end extra features that other project management packages provide.