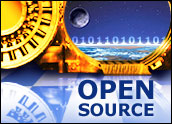 My interest in desktop eye candy vacillates with the seasons. The added productivity it brings to a particular desktop design is also a factor. Now that GNOME 3 forces a desktop without icons, I took a look at how useful the gDesklets Project might be.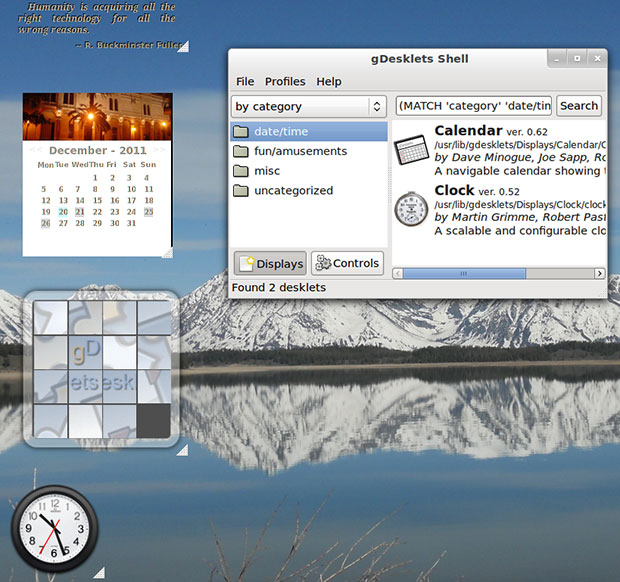 gDesklets
When it comes to little desktop applets or widgets on the Linux platform, you have two choices: gDesklets and Screenlets. While both projects have a similar look and feel, gDesklets is more of a latecomer to the party. It has a good amount of catching up to do in order to grow beyond the basics.
gDesklets, like Screenlets, is a system for bringing mini programs to your desktop. The system is not restricted to one desktop environment. This widget system works on most of the modern Unix-based desktops, including GNOME, KDE and Xfce. These desktop mini programs range from weather forecasts and news tickers to system information displays and music player controls,
I like the concept behind gDesklets. I am a lot more receptive to using widgets on my computers now that widget usefulness is ingrained in my psyche from my Android smartphone and tablet experiences.
But having two separate desktop widget projects is counter productive. I had used Screenlets previously. In the process of upgrading and changing Linux distros, I wandered away from that project. I recently tried gDesklets and was mildly happy with it.
Getting It
gDesklets is available in the package manager repositories for leading Linux distros. I found it in Ubuntu 11.10's Software Center and Linux Mint 12's Software Manager. It is also available at the project's home page listed above in archived format.
One of my big disappointments with this project is its lack of pre-packaged desklets. Its configuration panel has only four desklet categories. These are Date/Time, Fun/Amusements, Misc and Uncategorized. All totaled, only four desklets are available for immediate use.
By comparison, the Screenlets Project has more categories and almost two dozen Screenlet mini programs one click away from displaying on your desktop.
Expanding It
My dissatisfaction grew with the absence of any "Get More Desklets option from within the configuration panel. By contrast, Screenlets makes it easy to click a Get More button for instant download and installation of more mini programs.
gDesklet does have more desklets available. But you have to work a bit more to get them. Given the comparison with the Screenlets Project, gDesklet's developers make it easy to uninstall their offering in favor of the competition.
To get more desklets, you have to manually go to the main website of gDesklets project here. The mirror of this website is here.
A Bit Better
The project's home base provides more options. I felt a bit more enthusiastic as I browsed through the available add-on desklets.
For example, I found seven more categories. These additional areas include Internet and email, Music and Audio, News, System Information, Weather and Dictionaries/Translations.
Still, the choices are less than stellar. Clicking on many of the categories revealed only one or two desklets.
Using It
The current version of gDesklets (0.036.3) has a Float mode feature. Press the designated hot key to bring all of your desklets to the front, floating above your applications. Press that hot key again to hide the desklets. The default keybinding is , but you can easily change that in the configuration dialog.
To configure and customize the desklet, right-click on it and select "Configure desklet" from the context menu. This context menu also lets you restart, remove and move the desklet. A quicker way to move a desklet to another spot on your desktop is to press and hold the middle button or the scroll wheel.
Depending on the desklet, you can set up your choice of fonts and their colors, images, backgrounds and more. These options are divided into tabs in some logical way. You can also view and set up a group of options.
After you configure a desklet, you might have to select the Restart option form the context menu to activate the changes. Some desklets may not respond to configuration changes on the fly.
Updating It
In most cases, the resident package management system will not fetch updates to the installed gDesklets version. Neither will it get more desklet apps and add them to the installed base of offerings. An option to doing these tasks periodically yourself is to add the Personal Package Archive (PPA) to your system's software repository fetch list.
Do this with caution, though. Nobody will check on the security risks of what is added to the gDesklets source files. That said, adding the PPA can be a convenient time saver. Here is how to do it:
First, open a terminal and enter:
sudo add-apt-repository ppa:gdesklets/ppa
Depending on how your system works, it will fetch the PPA's key and display it as the last line in the terminal. If your system does not populate that key in your Software Sources panel, you must copy and paste the key there yourself.
Finishing Up
To do so, open your Software management program and select the Software Sources configuration panel. This will be in a drop-down menu under Edit or Preferences or a button somewhere in the management software window.
Click on the Other Software tab. Scroll through the list of software sources and click the box next to the gdesklets PPA to place a check in the box.
Lastly, tell your system to pull down the latest list of software from each checked software source. In the terminal window, enter:
sudo apt-get update
That is all there is to it.
Another Weakness
When you run gDesklets, an icon appears in the notification panel. But other than remind you that it is there, the icon does nothing else.
Normally, a left or a right click would provide access to the configuration panel at least. But that is not the case.
I suspect that this is a limitation of the GNOME 3 shell. I didn't check to see if this same behavior is present in other desktops.
Bottom Line
gDesklets is not as sophisticated or as well-stocked as Screenlets. But once you have the latest supply of mini programs, you can set it and forget it.
This desktop widget system is a fun way to add additional functionality to the computer. It is also an interesting way to spruce up the otherwise vacant Linux desktop.